/ Source: The Associated Press
From high aloft, U.S. fighter jets caught the men in their long-range video cameras, tracked their vehicle down Iraqi roads to a local house, then led American troops in for the capture.
In the war on Iraq's insurgents, the U.S. Air Force's "shock and awe" is giving way to eye in the sky. American warplanes are leaving their bombs in their racks more often, and turning powerful targeting eyes into reconnaissance tools instead.
It's an evolving mission, said Lt. Col. Peter Gersten, commander of the 4th Expeditionary Fighter Squadron.
"We weren't specifically trained for it. It was handed to us brand-new," the F-16 veteran said. And although highly skilled combat pilots balked at first, Air Force officers say they are adapting to the new role as a "video-on-demand" resource for the Army troops below.
The capture of the three alleged insurgents March 16, recounted by the U.S. Central Command, illustrated this new mission for 1,500-mph warplanes like Gersten's Fighting Falcons, designed not to reconnoiter the landscape but to deliver precision-guided bombs and fight supersonic dogfights among the clouds.
When insurgents fired a mortar at this central Iraq base, ground surveillance gear quickly pinpointed the origin, which controllers flashed to two F-15Es in nearby skies. Streaking to the location — and using their advanced video and infrared sensor equipment — the pilots picked up the suspicious trio driving away. At the house, the fighter pilots turned the monitoring job over to a pilotless Predator plane as U.S. troops moved in.
'Predator gap'
Here in the Sunni Triangle, where small-scale insurgent attacks are mounted daily, Balad Air Base's squadron of Predator drones is overtaxed.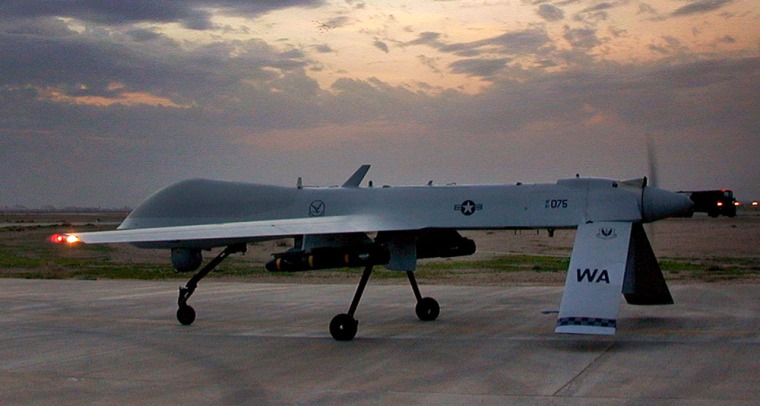 "We can't fly enough Predators. We have a very large commitment," said Brig. Gen. Frank Gorenc, Air Force tactical commander in Iraq as head of the 332nd Air Expeditionary Wing.
The Predator gap is one reason the fighters' "ISR" mission — intelligence, surveillance, reconnaissance — is rising in priority as the number of U.S. air strikes ratchets downward, three years after the Iraq invasion began with a display of devastating air power Washington strategists dubbed "shock and awe."
In the second half of last year, Gorenc's F-16s and other aircraft stepped up bombing runs to suppress insurgent activity during Iraq's constitutional referendum and national elections. But the number of strikes has since fallen sharply: From mid-January to March 22, Gorenc's 332nd dropped only 14 bombs or missiles, compared with 138 over the previous four months.
"They're coming back with their weapon racks still loaded," wing spokesman Maj. John Hutcheson said of the F-16s.
Gersten's and other Balad warplanes recently were fitted with upgraded targeting pods called "Litening," equipped with the latest gear for spotting targets and guiding munitions — high-powered "electro-optical" camera, infrared sensor and guidance laser.
The camera is like a "high-powered sniper scope," Gersten said. Its streaming video of up-close action can be transmitted right into a battalion commander's computer screen in his Humvee.
Watching out for forces on the ground
Besides the infrequent attack missions, the two-plane missions taking off from Balad are now assigned to monitor U.S. and Iraqi highway convoys, looking miles ahead for ambushes or improvised roadside bombs, and to back up U.S. military operations by monitoring objectives and insurgent movements the ground troops can't see.
The F-16s can circle several miles off, out of noise range, to spy on an unwitting enemy, Hutcheson said. Pilots can even use eye-safe laser pointers to mark individual suspects on the ground for the Army to pick up.
"This increased 'eye-in-the-sky' capability and the speed with which we can pass information around the battlefield are real force multipliers," said Air Commodore Ray Lock, a British regional air operations director for the U.S.-led coalition.
Gersten, 40, of Papillon, Neb., whose squadron's home is Hill Air Force Base, Utah, also pointed up the limitations of the jet fighters' reconnaissance work.
"We were looking for the source of mortar fire from the surrounding community here," he told a reporter. "Southwest of the base today, we spotted a man digging a hole next to a truck." They were suspicious and called in an Army helicopter, but the Army found "he was just a farmer."
With the new ISR work, "we've really become much closer to the Army," the squadron commander said. "Every day we're getting closer to being a joint fighting force."
The greater challenge may come later, however, if U.S. ground forces withdraw from the field, Iraqi units move in, and American air power must work not with the U.S. Army, but with a homegrown army of soldiers untested in ground-air coordination.