/ Source: The Associated Press
Joshua Medley and his mother clung to each other in a closet as a tornado bore down on their home. The ordeal lasted only a few minutes — but seemed like a lifetime.
"We got lifted up in the air and the house was spinning," said Medley, whose 1,500-square foot home was moved 12 feet from its foundation. "I didn't think we were going to make it."
At least 28 other people, including 24 in Tennessee, didn't survive when a series of storms ripped across eight states in the central United States on Sunday night, leaving a trail of destroyed homes and buildings. The death toll rose overnight with the discovery of the last unaccounted for resident in Tennessee, the governor said Tuesday.
"We're in a tornado alley here, we get tornadoes in the spring and the summer, but this one was amazing," Gov. Phil Bredesen told CBS's "The Early Show" as he prepared to tour the destruction.
Emergency crews were still out searching for possible victims, but no one else was known to be missing, Bredesen said. "Your heart just has to go out to these communities that have been hit in this way. It's been awful," he added.
Setting priorities
Bredesen said more than 1,000 buildings were seriously damaged or destroyed and about 75 people injured, 17 of them critically. He asked President Bush to declare the counties federal disaster areas.
"Our first priority is helping those impacted to get back on their feet quickly and to bring back a sense of normalcy at a time when they need it most," the governor said.
Strong winds were blamed for at least three deaths in Missouri. A clothing store collapsed in southern Illinois, killing one man. About 18,000 customers in Tennessee and Kentucky, 17,000 in Illinois and 20,000 in Missouri were still without electricity Monday.
The storms developed after a cold front approaching from the West slammed into a mass of warm, humid air, said Memphis meteorologist Jody Aaron. Preliminary reports indicated a swarm of 63 tornadoes touched down.
Compared to a war zone
Kentucky Gov. Ernie Fletcher compared the destruction to "Sherman's march" through the South — referring to Union Gen. William T. Sherman, who in 1864 burned Atlanta during the Civil War.
Part of K&G Fashion Superstore's roof and wall came crashing down in Fairview Heights, Ill., killing Delancey Moore, 54. His best friend, Doug Young, an off-duty police officer working security, survived in an air pocket for about 45 minutes before being freed.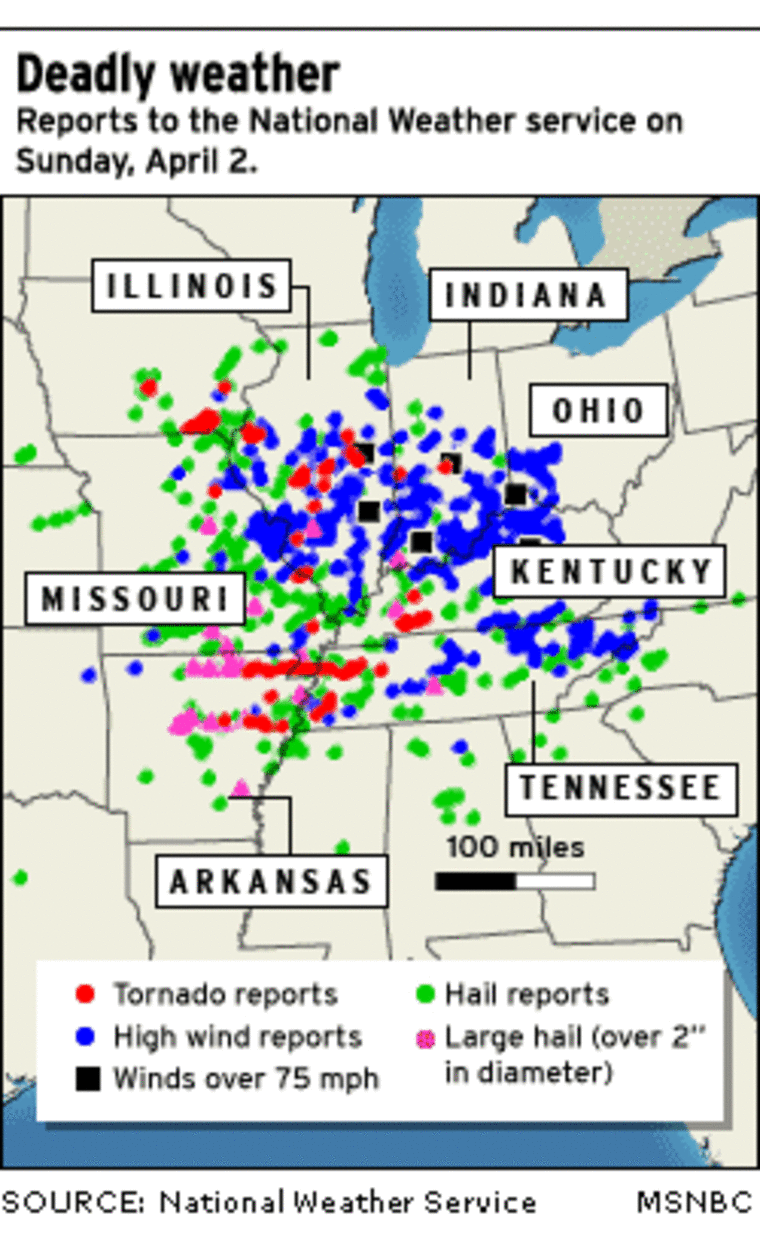 "I'm so blessed," Young, 54, said Monday by telephone from his hospital bed, where he had a bruised chest, 10 stitches in a knee, and various cuts and bruises on his back and elbow.
Lingering problems forced the closure of public schools in Champaign, Ill., where power lines that had been sheared in half closed a four-lane thoroughfare on the city's south side.
The violent weather injured dozens of Arkansans and destroyed numerous homes and businesses. Gov. Mike Huckabee authorized the National Guard to help clean up the town of Marmaduke — where brick shells were all that remained of some houses — and said he expected other disaster aid requests to come in.
In downtown Indianapolis, tornado-force winds shattered dozens of windows in an high-rise office building.
Back in Newbern, Larry Taylor, who owns the town's only funeral home, planned to hold services later this week for his son and daughter-in-law and the couple's two young sons.
"I have to," Taylor said of his task of preparing their bodies for burial. "I'd give everything I had for that not to have happened. Those little boys were my life."