At 105 years old, Western wear maker Jack Weil may be the oldest CEO in America, but he's making new fans daily from cowboys to Hollywood.
Customers from Ronald Reagan, Clark Gable and Elvis Presley to Bob Dylan and Meg Ryan have donned Rockmount Ranch Wear, which also recently starred in the movie "Brokeback Mountain."
Weil says the reason he's outlasted his competitors is obvious.
"Because they're all in the cemetery," he deadpanned in a recent interview.
But Rockmount Ranch Wear Manufacturing Company, which he founded 60 years ago, is a style leader in his realm.
"Papa Jack", as he's known, was the first to use snaps rather than buttons on shirts, a revolution for the industry.
The diamond-shaped snaps and jagged "sawtooth" pocket designs that he created are the gold standard in Western shirts even today.
"It's the longest-running shirt design in America -- Western or otherwise," said Steve Weil, the third generation Weil to work at the family business.
Eric Clapton sported a Rockmount -- personally delivered by Steve Weil -- while performing at Cream's 2005 reunion concert in London's Royal Albert Hall.
Heath Ledger and Jake Gyllenhaal wore Rockmounts in last year's Academy Award nominated movie, "Brokeback Mountain."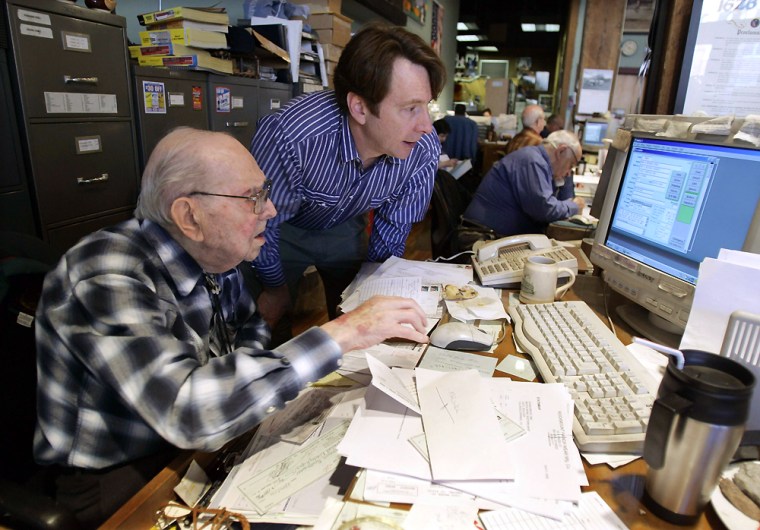 Papa Jack regales customers and visitors with tales of the American West that he came to love when he moved to Denver in 1928. There were only 200,000 in the city at the foot of the Rocky Mountains. It was a "new world" for a young man, he said.
Weil's grandson, Steve Weil, says he is the undisputed oldest CEO in America. But the company founder puts in several hours a day at Rockmount's flagship store in Denver's historic district, pouring over bank deposit slips, checking credits and chatting with customers.
Each generation of the Weil family has added something to the business. Originally a wholesaler for haberdasheries in the western United States, Papa Jack's son, Jack B., began selling the Rockmount line to East Coast retailers in the mid-1950s.
"It was a natural progression to try and expand our market," said Jack B., who at age 77 shows no signs of slowing down either. Jack B. also began designing Rockmount shirts for women, which until that time were the same as men's except for fastening on the opposite side.
"Women wanted something more feminine," he said.
The company, which employs some 100 people, now sells through some 1,500 stores worldwide, and offers Western apparel for men and women including shirts, bolo ties, scarves, hats, belts and more.
Grandson Steve has expanded the company's international business and opened a company Web site. Two years ago, he persuaded his elders to selling retail from their flagship store.
Steve Weil is quick to point out that Rockmount doesn't solicit celebrities to wear their clothes; it's the other way around. He said the company wouldn't give away its shirts for the popular Academy Award gift bags handed out to A-list Oscar attendees.
"I offered to give them a good price on them, though, " he said.
Pausing from work, his grandfather mused that he struck it rich by picking a business that everyone could love.
"I guess I was just lucky that every kid wants to be a cowboy," he said.