|
Why the White Sox will win  (Keith Olbermann)
NEW YORK - So pink shirts may be the new white shirts, but the Houston Astros are not the new Boston Red Sox.
And Albert Pujols is a footnote to history - like the Mickey Mantle and Yogi Berra RBI.
And instead of a World Series predicated on a history-making comeback instigated by Pujols, it'll be the White Sox, of whom very few can say they ever saw them win a World Series, and the Astros, of whom none can say it.
I admire Phil Garner, I've known Craig Biggio since 1988 and Jeff Bagwell since 1992, Chris Burke quoted one of my old SportsCenter catchphrases back to me when he introduced himself last April, and the Astros deserve a World's Championship - especially considering the 5-1 victory over the Cardinals was the first occasion out of six in franchise history when a win meant a ticket to the World Series, and the Astros didn't lose.
But I still think there's an excellent chance they could get swept by the Chicago White Sox.
The deficiencies in the St. Louis Cardinals - particularly the bullpen, so bad that Tony LaRussa would not go to it with a 2-1 lead in the 7th inning Monday night and the Houston rally fomenting - were predicted here, and came true. But the Astros also got a hatful of breaks that are not likely to be repeated in this match-up of franchises that have combined to complete 130 seasons without winning a World Series.
The White Sox are not going to get four more complete games from their starters, nor the kind of tone set for them by the A.J. Pierzynski third-strike call in Game Two against the Angels. But they didn't need such acrobatic leaps of fate to dispatch Los Angeles, and they won't need to do the same to the deserving Houstons.
Consider: The White Sox are also not likely to have to use their fourth-string third baseman. When Abraham Nunez - already subbing for superstar Scott Rolen - was knocked out in the sixth inning of Game Three, his replacement Hector Luna promptly threw a groundball to the backstop for Houston's final run in what proved to be a 4-3 win. Luna sat down for Game Four in favor of John Mabry, but, in Game Five on Monday, Luna got embarrassingly caught between hops on Craig Biggio's grounder. Two batters latter, the 2-1 St. Louis lead was a 4-2 Houston margin.
Consider: Especially after the controversy over a self-important home plate umpire named Phil Cuzzi actually ejecting a cornerstone of the St. Louis offense, Jim Edmonds, for arguing balls and strikes (not even a third strike), the umps will be warned to keep their egos in their pants. Nobody's going to throw Chicago's Paul Konerko out of a one-run game in the Series.
Consider: one of the Houston wins and the rally that had put them ahead in Game Five were predicated on home runs (Mike Lamb's in Game Three, Lance Berkman's in Game Five) into the so-called "Crawford Boxes" in leftfield. The Astros had the 3rd least potent offense in baseball (they were shutout 17 times this year) and need every advantage they can get. If they simply survive through Game Five of the World Series, they will have done what neither the slugging Red Sox nor the run-creating Angels did - and under those optimum conditions, they will still get only three games at home to shoot at that inviting offensive target.
Consider: the White Sox guys also get to aim for the Crawford Boxes. They include righthanded swatters Konerko and Joe Crede, who combined for four homers in the series against the Angels, to say nothing of Jermaine Dye, Tadahito Iguchi, and Aaron Rowand, and switch-hitter Carl Everett.
Houston's best hope lies not in the vast experience of Roger Clemens nor the resuscitated composure of Brad Lidge (why didn't Garner pitch him last night? Do you want to see him try to get back up on that horse in his first World Series appearance?), but rather in the hope that the White Sox - who will have had a week off and will have played just nine games in the 19 days preceding the Series - will mistakenly assume that the off-season has already begun.
Oh and about Albert Pujols and the comparison to Mickey Mantle and Yogi Berra? They were the Yankees who drove in the clutch runs in the top of the ninth inning against the Pittsburgh Pirates - the ones that tied up Game Seven of the World Series 45 years ago. And while that epic comeback was being digested, Bill Mazeroski promptly led off the bottom of the same inning with the home run that won the Series. So much for momentum.
Comments?  E-mail:
• October 12, 2005 |
The Nexus of Politics and Terror (Keith Olbermann)
Secaucus - Last Thursday on Countdown, I referred to the latest terror threat - the reported bomb plot against the New York City subway system - in terms of its timing. President Bush's speech about the war on terror had come earlier the same day, as had the breaking news of the possible indictment of Karl Rove in the CIA leak investigation.
I suggested that in the last three years there had been about 13 similar coincidences - a political downturn for the administration, followed by a "terror event" - a change in alert status, an arrest, a warning.
We figured we'd better put that list of coincidences on the public record. We did so this evening on the television program, with ten of these examples. The other three are listed at the end of the main list, out of chronological order. The contraction was made purely for the sake of television timing considerations, and permitted us to get the live reaction of the former Undersecretary of Homeland Security, Asa Hutchinson.
We bring you these coincidences, reminding you, and ourselves here, that perhaps the simplest piece of wisdom in the world is called "the logical fallacy." Just because Event "A" occurs, and then Event "B" occurs, that does not automatically mean that Event "A" caused Event "B."
But one set of comments from an informed observer seems particularly relevant as we examine these coincidences.
On May 10th of this year, after his resignation, former Secretary of Homeland Security Ridge looked back on the terror alert level changes, issued on his watch.
Mr. Ridge said: "More often than not we were the least inclined to raise it. Sometimes we disagreed with the intelligence assessment. Sometimes we thought even if the intelligence was good, you don't necessarily put the country on (alert)… there were times when some people were really aggressive about raising it, and we said 'for that?'"
Please, judge for yourself.
Number One:
May 18th, 2002. The first details of the President's Daily Briefing of August 6th, 2001, are revealed, including its title - "Bin Laden Determined To Strike In U.S."  The same day another memo is discovered - revealing the FBI knew of men with links to Al Qaeda training at an Arizona flight school. The memo was never acted upon. Questions about 9/11 Intelligence failures are swirling.
May 20th, 2002. Two days later, FBI Director Mueller declares another terrorist attack "inevitable." The next day, the Department of Homeland Security issues warnings of attacks against railroads nationwide, and against New York City landmarks like the Brooklyn Bridge and the Statue of Liberty.
Number Two:
June 6th, 2002. Colleen Rowley, the FBI agent who tried to alert her superiors to the specialized flight training taken by Zacarias Moussaoui, whose information suggests the government missed a chance to break up the 9/11 plot, testifies before Congress. Senate Intelligence Committee Chair Graham says Rowley's testimony has inspired similar pre-9/11 whistle-blowers.
June 10th, 2002. Four days later, speaking from Russia, Attorney General John Ashcroft reveals that an American named Jose Padilla is under arrest, accused of plotting a radiation bomb attack in this country. Padilla had, by this time, already been detained for more than a month.
Number Three:
February 5th, 2003. Secretary of State Powell tells the United Nations Security Council of Iraq's concealment of weapons, including 18 mobile biological weapons laboratories, justifying a U.N. or U.S. first strike. Many in the UN are doubtful. Months later, much of the information proves untrue.
February 7th, 2003. Two days later, as anti-war demonstrations continue to take place around the globe, Homeland Security Secretary Ridge cites "credible threats" by Al Qaeda, and raises the terror alert level to orange. Three days after that, Fire Administrator David Paulison - who would become the acting head of FEMA after the Hurricane Katrina disaster - advises Americans to stock up on plastic sheeting and duct tape to protect themselves against radiological or biological attack.
Number Four:
July 23rd, 2003: The White House admits the CIA -- months before the President's State of the Union Address -- expressed "strong doubts" about the claim that Iraq had attempted to buy uranium from Niger. On the 24th, the Congressional report on the 9/11 attacks is issued; it criticizes government at all levels; it reveals an FBI informant had been living with two of the future hijackers; and it concludes that Iraq had no link to Al-Qaeda. 28 pages of the report are redacted. On the 26th, American troops are accused of beating Iraqi prisoners.
July 29th, 2003. Three days later, amid all of those negative headlines, Homeland Security issues warnings of further terrorist attempts to use airplanes for suicide attacks.
Number Five:
December 17th, 2003. 9/11 Commission Co-Chair Thomas Kean says the attacks were preventable. The next day, a Federal Appeals Court says the government cannot detain suspected radiation-bomber Jose Padilla indefinitely without charges, and the chief U.S. Weapons inspector in Iraq, Dr. David Kay, who has previously announced he has found no Weapons of Mass Destruction in Iraq, announces he will resign his post.
December 21st, 2003. Three days later, just before Christmas, Homeland Security again raises the threat level to Orange, claiming "credible intelligence" of further plots to crash airliners into U.S. cities. Subsequently, six international flights into this country are cancelled after some passenger names purportedly produce matches on government no-fly lists. The French later identify those matched names: one belongs to an insurance salesman from Wales, another to an elderly Chinese woman, a third to a five-year old boy.
Number Six:
March 30th, 2004. The new chief weapons inspector in Iraq, Charles Duelfer tells Congress we have still not found any WMD there. And, after weeks of refusing to appear before the 9/11 Commission, Condoleezza Rice finally relents and agrees to testify. On the 31st:  Four Blackwater-USA contractors working in Iraq are murdered, their mutilated bodies dragged through the streets and left on public display in Fallujah. The role of civilian contractors in Iraq is widely questioned.
April 2nd, 2004.  Homeland Security issues a bulletin warning that terrorists may try to blow up buses and trains, using fertilizer and fuel bombs - like the one detonated in Oklahoma City - stuffed into satchels or duffel bags.
Number Seven:
May 16th, 2004. Secretary of State Powell appears on "Meet The Press." Moderator Tim Russert closes by asking him about the "enormous personal credibility" Powell had placed before the U.N. in laying out a case against Saddam Hussein. An aide to Powell interrupts the question, saying the interview is over. Powell finishes his answer, admitting that much of the information he had been given about Weapons of Mass Destruction was "inaccurate and wrong, and, in some cases, deliberately misleading."
May 21st, 2004, new photos showing mistreatment of Iraqi prisoners at Abu Ghraib Prison are released. On the 24th - Associated Press video from Iraq confirms U.S. forces mistakenly bombed a wedding party - killing more than 40.
Wednesday the 26th. Two days later, Attorney General Ashcroft and FBI Director Mueller warn that intelligence from multiple sources, in Ashcroft's words, "indicates Al-Qaeda's specific intention to hit the United States hard," and that "90 percent of the arrangements for an attack on the United States were complete." The color-coded warning system is not raised, and Homeland Security Secretary Ridge does not attend the announcement.
Number Eight:
July 6th, 2004. Democratic Presidential candidate John Kerry selects Senator John Edwards as his vice presidential running mate, producing a small bump in the election opinion polls, and a huge swing in media attention towards the Democratic campaign.
July 8th, 2004. Two days later, Homeland Secretary Ridge warns of information about Al-Qaeda attacks during the summer or autumn. Four days after that, the head of the U.S. Election Assistance Commission, DeForest B. Soaries, Junior, confirms he has written to Ridge about the prospect of postponing the upcoming Presidential election in the event it is interrupted by terrorist acts.
Number Nine:
July 29th, 2004. At their party convention in Boston, the Democrats formally nominate John Kerry as their candidate for President. As in the wake of any convention, the Democrats dominate the media attention over the ensuing weekend.
Monday, August 1st, 2004. The Department of Homeland Security raises the alert status for financial centers in New York, New Jersey, and Washington to orange. The evidence supporting the warning - reconnaissance data, left in a home in Iraq - later proves to be roughly four years old and largely out-of-date.
Number Ten:
Last Thursday. At 10 AM Eastern Time, the President addresses the National Endowment for Democracy, once again emphasizing the importance of the war on terror and insisting his government has broken up at least 10 terrorist plots since 9/11.
At 3 PM Eastern Time, five hours after the President's speech has begun, the Associated Press reports that Karl Rove will testify again to the CIA Leak Grand Jury, and that Special Prosecutor Fitzgerald has told Rove he cannot guarantee that he will not be indicted.
At 5:17 PM Eastern Time, seven hours after the President's speech has begun, New York officials disclose a bomb threat to the city's subway system - based on information supplied by the Federal Government. A Homeland Security spokesman says the intelligence upon which the disclosure is based is "of doubtful credibility." And it later proves that New York City had known of the threat for at least three days, and had increased police presence in the subways long before making the announcement at that particular time. Local New York television station, WNBC, reports it had the story of the threat days in advance, but was asked by "high ranking federal officials" in New York and Washington to hold off its story.
Less than four days after revealing the threat, Mayor Michael Bloomberg says "Since the period of the threat now seems to be passing, I think over the immediate future, we'll slowly be winding down the enhanced security."
While news organizations ranging from the New York Post to NBC News quote sources who say there was reason to believe that informant who triggered the warning simply 'made it up', a Senior U.S. Counter-terrorism official tells the New York Times: "There was no there, there."
The list of three additional examples follows.
Number Eleven:
October 22nd, 2004. After weeks of Administration insistence that there are terrorist plans to disrupt the elections, FBI, Law Enforcement, and other U.S. Intelligence agencies report they have found no direct evidence of any plot. More over, they say, a key CIA source who had claimed knowledge of the plot, has been discredited.
October 29, 2004. Seven days later - four days before the Presidential election - the first supposedly new, datable tape of Osama Bin Laden since December 2001 is aired on the Al-Jazeera Network. A Bush-Cheney campaign official anonymously tells the New York Daily News that from his campaign's point of view, the tape is quote "a little gift."
Number Twelve:
May 5th, 2005. 88 members of the United States House of Representatives send a letter to President Bush demanding an investigation of the so-called "Downing Street Memo" - a British document which describes purported American desire dating to 2002 to "fix" the evidence to fit the charges against Iraq. In Iraq over the following weekend, car bombings escalate. On the 11th, more than 75 Iraqis are killed in one.
May 11th, 2005. Later that day, an instructor and student pilot violate restricted airspace in Washington D.C. It is an event that happens hundreds of times a year, but this time the plane gets to within three miles of the White House. The Capitol is evacuated; Vice President Cheney, the First Lady, and Nancy Reagan are all rushed to secure locations. The President, biking through woods, is not immediately notified.
Number Thirteen:
June 26th, 2005. A Gallup poll suggests that 61 percent of the American public believes the President does not have a plan in Iraq. On the 28th, Mr. Bush speaks to the nation from Fort Bragg: "We fight today because terrorists want to attack our country and kill our citizens, and Iraq is where they are making their stand. So we'll fight them there, we'll fight them across the world, and we will stay in the fight until the fight is won."
June 29th 2005. The next day, another private pilot veers into restricted airspace, the Capitol is again evacuated, and this time, so is the President.
--
To summarize, coincidences are coincidences.
We could probably construct a similar time line of terror events and warnings, and their relationship to - the opening of new Walmarts around the country.
Are these coincidences signs that the government's approach has worked because none of the announced threats ever materialized? Are they signs that the government has not yet mastered how and when to inform the public?
Is there, in addition to the "fog of war" a simple, benign, "fog of intelligence"?
But, if merely a reasonable case can be made that any of these juxtapositions of events are more than just coincidences, it underscores the need for questions to be asked in this country - questions about what is prudence, and what is fear-mongering; questions about which is the threat of death by terror, and which is the terror of threat.
Comments?  E-mail:
October 11, 2005 | 8:29 p.m. ET
Earthquake overwhelming, all too familiar (Monica Novotny)
The images of devastation this week after Pakistan's 7.6 earthquake are overwhelming, and unfortunately, all too familiar.
Six years ago, in August of 1999, I traveled to Istanbul to report on Turkey's 7.4 magnitude quake that left about 20,000 people dead. If you haven't personally witnessed the results of a quake of this magnitude, I can tell you it is everything you might imagine, and worse. What I remember most vividly about that trip, perhaps not surprisingly, is the first day.
I recall arriving with my producer and cameraman in Istanbul, the city virtually untouched, and dropping off our things in an air-conditioned, comfortable, western hotel room. It was hard to imagine the devastation we knew was just a drive away. We soon would not have to.
Our group loaded quickly into a van and drove out to the Golcuk area, near the quake's epicenter. As we made our way closer, we saw the beginning of ruins that stretched for miles. First, buildings along the sides of the main road toppled... then entire neighborhoods wiped out. We eventually found side streets that were drivable (not an easy task) and ventured into what had been a thriving community made up almost entirely of apartment buildings. Buildings that once stood five stories high, now reduced to piles of rubble, twisted steel bars, and personal mementos.
We stepped out of the van into the dry summer heat when the road became impassable, and in a moment I will never forget, I felt my body jolt instinctively at the smell of death. Before my brain could identify it, my senses did.
As we walked among the piles, we saw what for me was the most heartbreaking image: survivors, family members who had not been present, now seated in groups on the ground or on plastic folding lawn chairs, next to many of the crumbled cement mounds. Patiently, quietly, they waited. Unwilling to move until they could retrieve what must be in the rubble - the bodies of their loved ones. It would take days if not weeks to get everyone out (in this neighborhood there were at least a few hundred bodies trapped) but these people were not swayed. Their calm, mournful demeanor in the face of such tragedy made it all the more difficult to witness. 
We made our way to a crowd surrounding a small group of rescue workers. Every few minutes, the workers hushed the bystanders, as they used listening devices in an attempt to find survivors in the rubble. It was hard to imagine that anyone could survive in the remains of an multi-level apartment building that now only stood about 15 feet high. But some locals thought they heard a cry for help, and they would not give up hope until they were absolutely sure. Soon enough, they were.
Between hushed moments, neighbors approached us, methodically explaining who lived in which apartment, which family was likely under the pile to our right, which family to our left. Which mother had recently given birth to a child, which couple just moved in.
It was difficult to grasp the reality, even standing there. And though as we walked from pile to pile we hoped we might hear a cry for help, none came.

We would eventually learn the earthquake in Turkey caused $20 billion in damage. The personal damage of course, impossible to quantify.

This week, Turkish aid teams arrive in Pakistan. As a reporter, I would love to be with them, to ask them how they will use their own experience to help the thousands now in need. To watch as they again pull out their listening devices in hopes of a miracle. But as a viewer, I must admit it's much easier to watch the images, as awful and familiar as they seem, from a distance.
Monica is a correspondent for Countdown with Keith Olbermann.  Send her your story ideas to Countdown@msnbc.com.

October 11, 2005 | 9:02 a.m. ET
Angels win -- and lose (Keith Olbermann)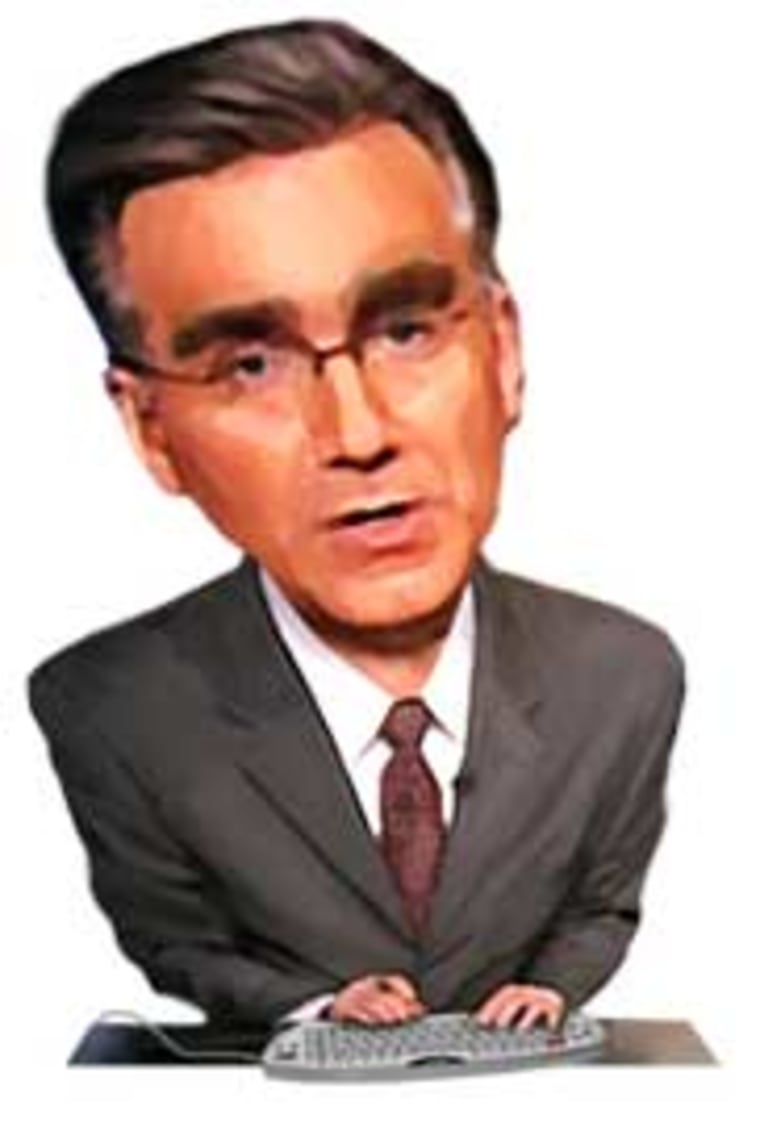 NEW YORK -- Since the third game of the regular season, when Mariano Rivera blew a save against the Boston Red Sox, the New York Yankees have been walking across a figurative tightrope -- on their hands. Last night, even with the Los Angeles Angels repeatedly offering them safety nets, guide dogs, and training wheels, the Yankees finally fell off.
The Angels' 20-game winner had to come out in the second inning; their nervous rookie replacement gave up two quick runs; they were willing to end their first rally with a sharply-hit but manageable fly to right field; their Gold Glove catcher was nice enough to drop a third out, third strike with two men on in the 5th; their unhittable closer helped out by putting the tying runs on in the 9th.
And the Yankees took advantage of none of it.
Their valiant season will be memorialized by the sight of outfielders Bubba Crosby and Gary Sheffield -- unable to hear each other over the din of the crowd as that sharply-hit but manageable fly headed their way in the 2nd -- nearly running head first into each other. Two Los Angeles runs scored, and the game went on for another seven innings, but it had all ended when (and this is a joke for the three British Football fans reading this) Crosby and Sheffield united.
Unfortunately for the Angels, while the Yankees' season literally came to a crashing end, theirs may have done so figuratively. Bartolo Colon was the 20-game winner who exited stage right, his shoulder barking after just 23 pitches. Jarrod Washburn, scheduled to start Game Four for the Angels, had to be scratched with a throat infection so serious that before last night's game the Angels admitted there was a good chance he would not pitch again this season. The club's emergency starter, Ervin Santana, had to come in for Colon and acquitted himself marvelously.
But unless manager Mike Scioscia has dreams of returning reliever Kelvim Escobar to the rotation, he suddenly finds himself at least two pitchers short of a rotation in the A.L. Championship Series against the Chicago White Sox. Paul Byrd -- the Game Three starter against the Yanks in the Friday night rain -- will presumably start Game One against the White Sox, and then it's anybody's guess. Scioscia -- who in the post-game news conference said he'd spend much of the three-hour flight to Chicago trying to figure out who'll start that first game -- may wind up dropping Washburn from the active roster (and maybe even Colon) and giving a spot to one of two youngsters -- Chris Bootcheck or Joe Saunders -- who between them made four starts for the Angels this season and combined to go 0-1.
The Angels showed enough flaws (the bullpen is not infallible, Vladimir Guerrero is not unstoppable, Chone Figgins is not an automatic base runner) that weakness in the rotation will be enough to guarantee a Chicago victory, probably in short order - five or six games.
The White Sox will meet the Astros in a World Series that will pit two teams that between them have gone a nice even 130 years without winning one. The "schedule flip" to which I referred here yesterday did not occur and Houston thus gets enough time to recover from its marathon win over the Braves on Sunday. It will be next spring, however, before the lynchpin of the Cardinals' bullpen -- Al Reyes -- returns from his late-season injury, and the statistics we pointed out previously here (8.1 innings in relief versus San Diego, 16 hits, eight runs) will only be amplified by the greater strength of Houston's offense compared to that of the Padres.
If these two series end at the right time, the 2005 World Series could easily begin with ex-Yankee Jose Contreras of the White Sox starting Game One against ex-Yankee Andy Pettitte or ex-Yankee Roger Clemens of the Astros. That will not please He Who Makes Ex-Yankees, George Steinbrenner.
And back on the news beat, a special report on the coincidences of timing between political developments and terrorism developments -- "The Nexus of Politics and Terror" -- is scheduled to air Wednesday night on Countdown.
Comments/ predictions?  E-mail:
Playoff Schedule may flip; so may Astros (Keith Olbermann)
NEW YORK - Several New York Yankees players were told last night that Major League Baseball would "flip" the schedules of the next round of the playoffs, giving them, or the Los Angeles Angels, an additional a day to recover from about 5,000 miles of air travel in under 30 hours.
Unless those players misheard or misunderstood - or unless common sense makes an unlikely comeback - the American League Championship Series would thus open Wednesday and not tomorrow, and the National League event would open tomorrow and not Wednesday.
Some sources insisted the switch was part of an informal deal among the players' union, management, and the television networks. The Yankees and Angels players agreed to play last night's game in primetime (and not in the afternoon), thus denying themselves the chance of an early evening flight to the West Coast and a slight chance of getting to bed before midnight Pacific Time. As the quid pro quo for that, the survivors of the team's decisive fifth game would be rewarded with a full travel day on Tuesday. Those sources' information could not be confirmed as of early this mornng.
This would come as something of an unhappy surprise to Manager Phil Garner of the Houston Astros, some of whose strategy in yesterday's epic 18-inning win over the Atlanta Braves was probably predicated on a seemingly ironclad assumption that his team would have two days to recover from the Sunday marathon, and not just one.
The manager of the Chicago White Sox, Ozzie Guillen, would probably be none too pleased either. His team efficiently swept the Boston Red Sox in three games and had earned the advantage of facing a road-weary opponent that a Tuesday opener would provide.
Instead - if those Yankee players are correct - baseball is to justify the "flip" as a merciful gesture to whoever wins the Yankees-Angels series tonight. The teams were rained out in New York Saturday and were thus forced to play here last night, then take red-eye flights to Southern California for the decisive game of their series tonight, with the winner then being forced to again fly overnight for the opener in Chicago Tuesday.
This would be baseball's way to give either the Yankees or Angels a fighting chance against jet lag and exhaustion, but of course it would be seen merely as a sop to the Yankees (some of whom, even before they had earned the right to the all-night flight to Anaheim, were complaining about it), and a disservice to the Astros and White Sox.
As of the end of last night's game in the Bronx, a baseball spokesperson insisted no "flip" decision had yet been made, but confirmed it was still being considered. The correct route, of course, would have been to make the decision or at least announce its possibility before Sunday's games and not wait until after the Astros and Braves had finished up.
And how they finished up!
Last April, in the freezing dugout at Shea Stadium here, a Houston player I didn't recognize sidled up to me and said, simply, "The other team's quarterback must go down, and he must go down hard." When I looked at him blankly, he gently scolded me. "Remember? You used to say that on SportsCenter?" I told him I remembered but he must've been pretty young the last time he actually heard it. "High school," he finally calculated.
Kid's name - and he was a 25-year old rookie who would hit just .248 with only five homers for the Astros this year - was Chris Burke, and he's now a lot more famous than he was in that dugout last April. It was Burke's homer with one out in the bottom of the 18th inning that let Houston prevail in the longest post-season game in baseball history, 7-6, over Atlanta (for the obsessive, like myself, the teams did not shatter the record for most innings played by two teams in one post-season series in one day - the Detroit Wolverines and St. Louis Browns played two full games of the marathon 1887 World Series on one day that year - October 21st).
The number of epic moments in "The Burke/Clemens Game" may well be uncountable. The key might've been Atlanta's Adam LaRoche - who had earlier hit a seemingly cinching Grand Slam - watching the ball, the fielders, and everything but his own third base coach's wildly windmilling arms, and getting himself thrown out of the plate in the 7th inning, instead of scoring what would've been Atlanta's 7th run.
Part of the mystery of the Braves' perennial post-season failures may be contained in an awful anniversary. It is now just about a decade since Manager Bobby Cox has gotten away with pitching a starter on three days' rest in the playoffs. Since Greg Maddux won Game Four of the 1995 World Series on short rest, the Braves have now lost on all six occasions when Cox has tried to sneak a starter back early. He often has not had many other options, and often (as in this game) it wasn't even the starter's fault, but it still reflects Atlanta's often fatal - and fatally-timed - pitching weaknesses.
So my predictions here are now one-for-three with one still outstanding.
YANKEES, ANGELS, TIED AT TWO APIECE
Atlanta - whom I had picked here to beat the Astros - left 18 men on base. 18! By contrast, last night in New York, the Los Angeles Angels stranded exactly one. They had blown their few chances against the Yankees by bad base-running and throws (one example of each from Vladimir Guerrero). The Yankees won 3-2, and considering that in their Game Three loss they overcame one five-run Angels' lead and nearly erased another, there is nothing in the Angels that suggests they are unbeatable in a Game Five at home.
The two teams played incredibly crisp baseball - as if they had a plane to catch (which they did, as it proved). Their first three games were not particularly enthralling - in fact, clearly the strongest part of the series had been the radio work of my friends Dan Shulman and Dave Campbell, who are, simply, the best announcing team in baseball.
WHITE SOX ELIMINATE RED SOX, 3-0
Got this one pretty good (Boston didn't even take the two gratuitous victories I forecast for them). Chicago manager Ozzie Guillen was on the radio with Dan Patrick and me the day before the decisive game, and I asked him how he'd succeeded in stifling Boston's big bats, David Ortiz and Manny Ramirez. He said he told his pitchers to focus not on them, but on the guys batting ahead of them, Johnny Damon and Edgar Renteria. Those Boston batters came to the plate 28 times in the three games and reached based exactly four times each. Thus, even though Ramirez homered twice and Ortiz once in the series, the Boston hitting machine never got started.
This outcome - and the holes throughout the Boston pitching staff - should underscore what a terrific job Terry Francona did in managing the Red Sox into the playoffs in the first place.
CARDINALS ELIMINATE PADRES, 3-0
The Cards' domination of San Diego, and the Jake Peavy fiasco in Game One, obscured some very ominous data for St. Louis. Not only did Larry Walker go hitless in the series and get banged up going for a fly ball in the finale, but the Cards scored 21 runs - 10 driven in by Reggie Sanders, and 11 by everybody else.
Worse even than the offensive inconsistency was one of the worst imaginable performances by a bullpen in a sweep. Five Cardinals' relievers pitched a total of eight-and-a-third innings - and gave up 16 hits and eight runs. If they perform similarly while the Astros  are close, the Cards are going to get smoked.
I'll wait to give you a formal prediction here until the American League Series is settled.
NOTES
This is why I love baseball - and periodically still write about it: It will always surprise you, even if you're sitting on the bench, waiting for the monsoons to stop long enough for them to get in the ballgame.
Pedro Gomez, the ESPN reporter, was passing the time with me when his old friend Felix Rodriguez passed in front of the dugout. In the last year-and-a-half, Rodriguez had gone from being a very good relief pitcher with the San Francisco Giants to a not-very-good relief pitcher with the New York Yankees, but he had remained one of the sport's most popular people.
Pedro went out to greet him and they conversed in Spanish. When he returned to the bench, he had a smile on his face. "One of your viewers," Gomez said. "He said to me 'Is that the guy who used to be on ESPN? Who does the news for NBC on cable? I watch him all the time. He's great.'" I don't know who was more surprised - Pedro or me.
This is not a gratuitous means of getting Rodriguez's compliment into a blog. It's designed to underscore the variety of people who've identified themselves to me or my staff as regular viewers of Countdown - the people I'm thinking of as we're putting together special items like the upcoming report on the coincidences of the last four years in which bad news for the Bush Administration has been followed within days by a terror alert or similar terror-related news story.
It also emphasizes that the typical depiction of sports figures as self-absorbed and detached from reality couldn't be further from the truth. Among the Countdown "baseball" audience are big league managers Bobby Cox (Atlanta), John Gibbons (Toronto), and Ned Yost (Milwaukee), and Jack McKeon, who just left the same post with Florida. Among the players, we have Todd Jones of the Marlins and Jeromy Burnitz of the Cubs, and among retired stars: Tommy John, Jerry Coleman, and, to my eternal surprise, Phil Rizzuto ("maybe some day you'll actually hit the camera with that crumpled-up piece of paper.")
Comments/ predictions?  E-mail:
|
Exes and Errors (Keith Olbermann)
NEW YORK - White Sox fans saw utility infielder Tony Graffanino make 31 errors in just 273 defensive games over three-and-a-half years in Chicago. Last night, they watched him - as the new second baseman of the Boston Red Sox - kick an ordinary Juan Uribe groundball and turn a two-run rally into a five-run death knell, and give Chicago a 5-4 win and a two games to none lead in the American League Division Series.
New York Yankees fans suffered through two largely frustrating years from outfielder Juan Rivera. Last night, they watched him - as the rightfielder of the Los Angeles Angels - homer leading off the bottom of the fifth, to break Chien-Ming Wang's magic leading off the bottom of the fifth. Two innings later, Rivera led off again by beating out an impossibly high chopper, touching off the Angels' decisive rally in a 5-3 win that evened their Division Series.
So, it's all pretty much as I forecast here the other day. Except that the Yankees, Braves, and Padres aren't winning their series, and the Angels, Astros, and Cardinals aren't losing theirs.
WHITE SOX LEAD RED SOX, 2-0
The immortal humorist and sometimes Chicagoan Jean Shepherd put it best: Chicago White Sox fans "have known death every day of their lives, and it holds no terror for them." The Sox "represented not just Chicago, but the South Side. Do you know what it feels like to be a South Sider in a world of North Siders?"
These are fans of the team that won its last World Series the year before the Boston Red Sox had won what had been their last, until last season. Worse still, they have in their collective consciousness the awareness that either their greatest team - the 1919 squad starring Shoeless Joe Jackson - deliberately lost the World Series to the longshot Cincinnati Reds that year, or, probably worse yet, they lost while not trying to.
Thus for a true South Sider, is a 2-0 lead over the Red Sox in a three-game playoff series nothing to write home about (as it isn't, for anybody who remembers last year's 3-0 Yankee lead over said same Sox). In Chicago's only World Series appearance since the infamous 1919 clash, the 1959 "Go-Go" Sox eviscerated the Dodgers 11-0 in the Series opener, and dropped four of the next five.
Still, the White Sox have underscored three ugly truths about the Red Sox. Like the Yankees, Boston has an intemperate bullpen. But it also has an unreliable rotation. Boomer Wells might have been 10-3 in the post-season before last night's loss, but he's also the same guy who during the 2003 Series didn't tell the Yankees his back was killing him until it was too late for them to do anything about it.
Secondly, Boston's defense is a roller-coaster - ask Graffanino.
The final harsh truth is: teams that stifle David Ortiz and Manny Ramirez really don't have much to fear from the Boston line-up. And through two games, Ortiz and Ramirez are a harmless 4/15 with two RBI between them.
YANKEES AND ANGELS TIED, 1-1
There is comfort and concern for the Angels as they head to New York to face the Yankees and a Randy Johnson on a six-game winning streak. They rallied from down 2-zip to even the series last night in the home city that dare not speak its name.
But they did it largely because the Yankees handed it to them. Other than Rivera's fifth-inning homer, the Angels didn't score a meaningful run that wasn't enabled by Alex Rodriguez losing the proverbial groundball in the lights, or pitcher Wang panicking on a bunt Steve Finley caromed off the very edge of home plate an inning later. In two games at home against the Yankees' shakier two starters, the Angels still managed to get nothing (0-for-8) from leadoff man Chone Figgins and nearly nothing (1-for-7) from clean-up man Vladimir Guerrero. These are not strong augurs.
Neither is this. Baseball is actually suing a scholarship pre-school, for four and five year olds, on a copyright claim. The school logo is the interlocking initials "CA" - and baseball is worried that objects bearing that logo might infringe on its rights to the logo the then-California Angels used until 1996 - before they renamed themselves the Anaheim Angels (and redesigned the logo) and then re-renamed themselves the Los Angeles Angels of Anaheim (and re-redesigned the logo).
Baseball helped overshadow part of its post-season by suing a bunch of kids.
ASTROS LEADING BRAVES, 1-0
Good grief! You're trailing in the 7th inning of the playoff opener and your first guy out of the bullpen was the closer at North Carolina State until four months ago, had pitched in five previous big league games, and had a 12.60 ERA?
Bobby Cox - who is not merely one of the best managers in baseball but also one of its gentlemen - must've had his judgment clouded by those off-red uniform tops the Braves were wearing. Not only don't they match the team's caps and batting helmets, but they are so bright that - especially when you see Brian Jordan or Julio Franco in them - they look like they belong to a second-place club in an Over-50 Park Softball League.
My pro-Braves prediction may not have survived its first test here, but the 10-5 victory (with closer Brad Lidge warming up as it ended) at least erases the presumption by the cognoscenti that the Astros were going to close down Atlanta with infallible pitching.
CARDINALS OVER PADRES, 1-0
All those who predicted a San Diego upset are hereby given Mulligans.
Starting with me.
I cannot be expected to telephone each member of the Padres' pitching staff to ask them how manyribs they broke last week and didn't tell anybody - especially when it's their pitching ace, Jake Peavy.
It was remarkable how readily commentators were willing to assume Peavy had been hurtduring San Diego's first-game loss at San Diego. Readily, that is, until Peavy explained that he'd crunched himself as the Pods celebrated clinching the National League Western titlea week ago.
"We were jumping around on the field," Peavy said. "The next day I thought I had some bruised ribs, that I caught an elbow or something. But I never would've imagined it would have been this."
Thanks for mentioning it, Jake. Nice to know David Wells is your role model.
NOTES
Which veteran slugger appearing in one of Wednesday's games looked so thin and non-muscular, compared to his old self, that it seemed as if he'd had a Siamese twin removed?
A classic case of "What have you done for me lately?" in Oakland. As of May 29th, the A's were 17-32 and had lost 20 of their last 25. They finished with 88 wins, seven games out of first place, despite a late rash of injuries. So, of course, Manager Ken Macha won't be back next year. "We offered a three-year deal with a club option," said General Manager Billy Beane, "and they countered with a three-year deal without a club option. I don't think we were ever going to be able to bridge the gap. It was a significant gap." Just because Beanesays it was a significant gap doesn't mean it was - not if you wanted to keep a man as your manager.
And for the interested, Dan Patrick and I are doing our weekly radio hour today (Thursday) this week - 2 PM Eastern. I'd explain why, but this rescheduling happens so often that I'm just exhausted from the re-telling.
Comments/ predictions?  E-mail:
• October 3, 2005 | 7:47 p.m. ET
Yankees, White Sox, Braves, Padres (Keith Olbermann)
SECAUCUS — "What," my friend the CBS Sports producer asked, as we stood there in the field-level runway between the two clubhouses, just as the bottom of the ninth inning of Game One of the 1988 World Series began, "are we going to ask Dennis Eckersley after this game?"
"We're going to ask him," I replied, "how he feels about giving up that game-losing home run to Kirk Gibson."
She laughed. "No, seriously."
I laughed back. "I am serious. It's too obvious! Can't you see it coming down the hallway? The guy is too hurt to play, the Dodgers have no business being here without him, he's a football player who learned to play baseball — it's obvious."
Ten minutes later Gibson was hobbling around the bases with his game-winning homer off Eckersley and my colleague from CBS was looking at me real funny. "I also called the Bucky Dent home run in the Yankees-Red Sox playoff game in '78," I said as we scrambled towards the Dodger clubhouse.
All this is mentioned: a) because it makes me look good, and more importantly, b) because it underscores that the best baseball forecasting is a combination of hunch work, history, and instinct. On this eve of the 2005 playoffs, I have tried to keep my research to a minimum and gone more with my considerable gut.
I saw a list of the predictions of fifteen baseball experts today — six of whom are friends and/or colleagues. Six of them think the Angels will win the World Series; five pick the Astros; two choose the Cardinals, one each the Red Sox and Yankees, and, significantly, none the Braves, White Sox, or Padres. This alone should almost guarantee that the Angels and Astros won't even make it to the Series.
Yankees-Angels: An extraordinary Yankee team that has been teetering on the edge of extinction since the third day of the season and Mariano Rivera's first blown save against the Red Sox. No other Yankee first-place finisher has ever spent such little time actually in first place. Yet the Yanks finished by winning 20 of their last 29, and the back-up rotation cobbled together by Joe Torre and Brian Cashman, Of Chien-Ming Wang, Shawn Chacon, and Aaron Small merely combined for a 25-8 season. Neither Torre nor Cashman has ever done a better job, and unless the Yankees are exhausted by their season-long travails, they should be razor-sharp, even against that well-built Angels' club. Dismiss what you've heard about a slumping closer in Francisco Rodriguez - he was flawless down the stretch. The key to this series is the number of times you hear the "other" F. Rodriguez (Felix, of the Yankee arson squad), or the name Scott Proctor. If it's less than five, the Yankees will win in five.
White Sox-Red Sox: A season of vomiting managers, vomiting fans, and a nearly vomited 15-game lead. What a lovely image! The White Sox are the poster boys for underachievement, but a funny thing happened on their annual way to oblivion: they not only halted their own skid, but also knocked the upstart Indians out of the post-season. In the season's last thirty games, Chicago managed the second-best pitching in the league, and if the Yankees' turbulent staff could stave off David Ortiz and Manny Ramirez, there's no reason the more reliable White Sox pitchers can't. Terry Francona did nearly as much of a smoke-and-mirrors job in Boston as Torre did in New York, but when the smoke clears, Torre has Mariano Rivera and four behemoths in the middle of his line-up, while Francona barely has a back end of his bullpen. The White Sox in five.
Astros-Braves: Talk about fickle. Six weeks ago Bobby Cox was a genius again and the Braves' New World was a triumph of regional scouting, focused player development, and the flawless swing of Jeff Francoeur. Now, the Astros come within a loss of coughing up the Wild Card to the Phillies — the Phillies! — and because the Braves went 13-13 down the stretch, the Astros are the hip pick to win it all. I don't believe a word of it. I love Phil Garner as a manager, but the Braves are a mix of guys who have grown old waiting for a second World's Championship, and a bunch of kids who have grown up waiting for it. Waves of talent and decades of frustration take this one for the Braves, also in five.
Cardinals-Padres: Ah, poor Padres. In the playoffs only because you have to have a National League West team in there - like the obligatory Tampa Bay Devil Ray at the All-Star Game. No one seems to recall the three-over-.500 1973 New York Mets, who not only surged out of a sagging East to beat the Reds in the playoffs, but should've gone on to win the World Series. And no one seems to have noticed that in the last month, the Padres and Cards have fashioned almost virtually identical pitching stats (in the last week, the Padres were 5-2, 1.94; the Cardinals 3-2, 4.60). St. Louis barely has a player - pitcher or fielder - without a ding or a slump. Do not dismiss the prospects for a major shocker here: the Padres, perhaps quicker than five.
By the way, if you're at either of the far ends of the spectrum — fanatics and people who don't care at all about the sport — the just-concluded season was probably summed up for you in one word: "Steroids."
For everybody else, it was a stunningly successful year. Total attendance went up again; the New York Yankees became the first team in twelve years to draw 4,000,000 spectators; the Los Angeles Dodgers had their biggest audiences in 23 years; and the new team in Washington drew 2,700,000 fans — more than the old team in Washington drew in its last three seasons combined.
Comments/ predictions?  E-mail:
SCountdown airs weeknights, 8 p.m. ET on MSNBC.