|
Buns and puns (Monica Novotny)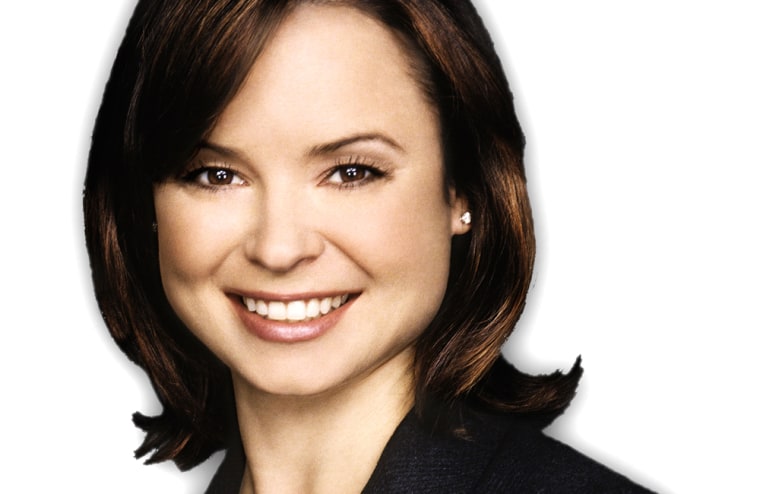 I'm often asked what my job is like. I usually point out that every day is different, and that while we plan out many of our stories, the truth is I never really know what each day will bring. Case in point — today. As I walked into our newsroom, our executive producer, Izzy Povich, breezed by with her all-too-familiar mischievous grin. "I think I have something for you," she said quietly as she passed by. Sounds innocuous. Maybe a follow-up on yesterday's ? Perhaps. Something on the Supreme Court hearing its first abortion case in five years? Maybe. But having worked for Izzy for years, I know when there's something extra special behind the smile. And today was one of those days. Turns out, I was right. There was something behind it. Literally. Behinds. As in bums, buttocks, rumps, derrieres.
      
You get the idea. And you've probably heard people talking about my assignment... "the big butts need big needles" story. According to a study presented this week in Chicago at the annual meeting of the Radiological Society of North America,  women with rounder rumps aren't getting the medication they need because standard-sized needles are no longer long enough to cut through the cushion. Painful but true.  In order to be most effective, drugs like painkillers and vaccines must be injected into muscle, where far more blood vessels are found. This allows for better distribution of the medication throughout the body.
But when doctors in Ireland administered shots which each included an air bubble into 25 women, a CT scan revealed the bubble, and thus the meds, only reached the buttock muscle in two of the them. The other twenty-three faced the potential of infection and irritation. Bummer.
The larger problem behind all this, of course, is obesity. Sadly, the only solution for the well-endowed backside — a longer needle.  So if you're like me and you hate needles already, when it's time for dessert it may be time to turn the other cheek.
In case you're wondering — I'll freely admit this is not my favorite assignment. Though we did chuckle all day about it. But when it comes to my executive producer — and I'll say this to her to directly — Izzy, I've got your back... side.
Comments?  E-mail: mnovotny@msnbc.com
|
Bartering for healthcare (Monica Novotny)
A modern-day use for an old-fashioned practice is changing the way one neighborhood thinks about healthcare.
The idea is a simple one. At New York's , artists are being offered the chance to barter their talents in exchange for medical treatment.
It's a natural for Woodhull, a public hospital located in Williamsburg, a part of Brooklyn with a strong artist population.
The hospital's medical director, Dr. Edward Fishkin came up the idea after conducting field research in the neighborhood. When he asked area residents what they did for insurance or their healthcare in general, he was saddened to hear that most of the artists didn't — couldn't — do much. They often don't have a choice. Much of the time artists' work on a freelance basis, and the cost of individual healthcare (ranging from a few to several thousand dollars annually) is prohibitive.
So Dr. Fishkin, an innovative and energetic leader who redefines the cliché of "thinking  out of the box" came up with a plan. He decided to offer artists the chance to earn their healthcare by using their talents in the hospital. Today, the program is called Artist Access. So, for example,  a painter now paints once a week with children in the pediatric ward. (We profiled muralist and illustrator .) Dancers dance. Singers sing. Actors act. And according to Dr. Fishkin, all of this helps patients heal.
Artists earn forty credits for each hour of work. Each credit is worth one dollar toward paying their medical expenses. And because the artists are also enrolled in a subsidized healthcare program, those credits go a long way. They pay for everything from lab tests to x-rays to doctor visits.
And now, the artists and patients aren't the only beneficiaries. Dr. Fishkin told us they're now using actors to help train their interns. The actors are given scripts and symptoms, and play sick patients. The interns interact with their "patients" and are later evaluated on their bedside manner and ability to diagnose.
After just a few months, the program is already a tremendous success. About 250 artists are currently enrolled at Woodhull, and the plan is to extend ArtistAccess to all of the city's public hospitals.
Comments?  E-mail: mnovotny@msnbc.com
|
At least they're not fighting at The Pierre (Keith Olbermann)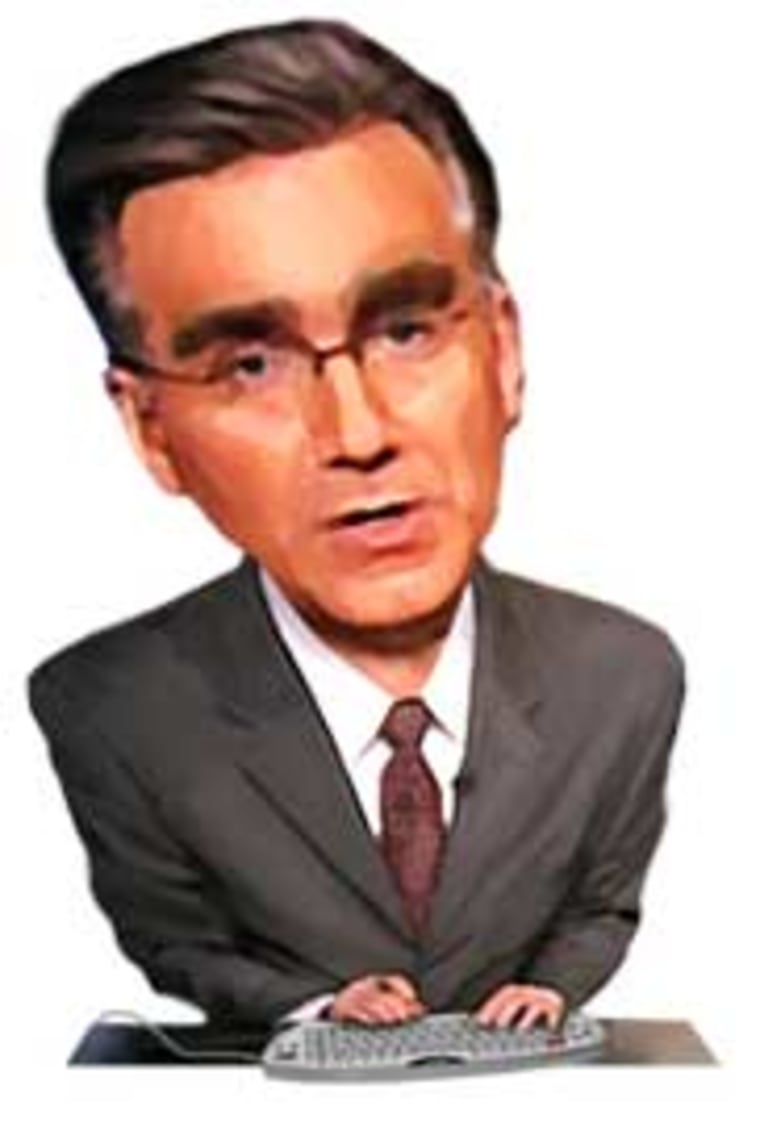 NEW YORK - Jean Schmidt of Ohio, the least grammatically-inclined member of the United States Congress, was happily calling Jack Murtha a "coward," before the chair gaveled her into silence and the House mics were shut off.
Hours earlier, Colonel James Brown, head of the 56th Brigade Combat Team, was talking to the media from a base north of Baghdad, talking about the "beautiful day in the free nation of Iraq" (90 dead in bombings), and refuting Murtha's call by saying "here on the ground, our job is not done" - kind of strange given that his is - it was two days before he was due to be rotated back to Texas.
Where was Bill O'Reilly during all this? Spending the night with me!
It was the annual fundraiser at New York's Hotel Pierre for Joe Torre's Safe At Home Foundation, combating domestic violence, filled with athletes and broadcasters of every imaginable stripe. No barbs or punches were thrown (instincts of some sort are shared here - we never got closer to each other than ten feet), John Mellencamp performed an extraordinary acoustical set, and just to round-out the small-world department, one of the dozens of other table hosts was our old MSNBC pal Deborah Norville, another was an eminent Yankees fan named Ari Fleischer, and the emcee was Bob Costas, whom I believe is now dabbling in cable news his ownself.
To my knowledge, not a word of politics was spoken among the principals. There is a time and a place for this stuff (evidently, any time on the floor of the House, at the top of your lungs, making sure you debate not the issue but the assumption that criticism at home is somehow more dangerous to our soldiers than the bullets and bombs of Iraqi insurgents).
And by the time of my return from one of the truly consciousness-raising events on the charity gala circuit, I had a stack of inquiries about the "big announcement" Dan Patrick and I teased on our ESPN radio hour Friday afternoon. I should give you a quick warning: Dan and I hype everything. This one, which will be made in the 2 PM ET hour of Dan's show Monday, we described as something that "will change your world."
If I'm using a different set of headphones than usual, we'll call that a "major development."
I'm not going to steal my own thunder here - we're going to announce this Monday and that's that. But I just wanted to clarify the relevant part: contrary to a lot of guesswork, this announcement won't impact MSNBC or Countdown.
Comments?  E-mail:
|
'Deep Throat Junior' no blockbuster for Libby (Keith Olbermann)
SECAUCUS -- We finally find out who "Deep Throat" is, and five months later, we're back trying to figure out who is Bob Woodward's latest secret source in a White House scandal.
There are many implications to Woodward's belated revelations of his firsthand knowledge of the CIA Leak Case, but the exculpatory "blockbuster" portrayed by Scooter Libby's attorney Ted Wells, is not one of them.
Wells released a beautiful hunk of "chaff" - the stuff submarine captains expel to try to throw off enemy torpedoes - in his claim about Woodward's announcement that someone at the White House told him about Valerie Plame in June, 2003. Wells made it seem as if Woodward had just proved that Libby was not the first to leak Plame's name and/or job to a reporter, and that in so doing, Special Prosecutor Patrick Fitzgerald's case had just tumbled to the ground.
But he did it only by altering the truth.
Wells issued a statement at midday, the key passage of which concludes that Woodward's "disclosure shows that Mr. Fitzgerald's statement at his press conference of October 28, 2005 that Mr. Libby was the first government official to tell a reporter about Mr. Wilson's wife was totally inaccurate."
But Fitzgerald didn't say just that.
The transcript of Fitzgerald's news conference is not disputed - nobody from his office has called up trying to get it altered after the fact. On October 28, in his opening statement Fitzgerald actually said: "Mr. Libby was the first government official known to have told a reporter" about Ambassador Joe Wilson's wife.
That word "known" is a significant qualifier. And although much later, in the question-and-answer portion of his news conference, Fitzgerald described Libby as "at the beginning of the chain of phone calls, the first official to disclose this information outside the government to a reporter," the second statement cannot simply be used in preference to the first. Either the qualifier - expressed virtually at the outset - is considered still in force, or both versions ("first official" and "first government official known") have to be included.
Even if the idea that somebody else in the administration might've beaten Libby to the leaking punch is relevant to a trial on five counts of lying, the cornerstone of the Wells statement is erroneous - at best, a serious misinterpretation. Fitzgerald was clearly and meticulously leaving his case open in case an earlier leaker later turned up - as evidently he just did.
This is no one-word parsing nonsense. Not only does that meaning of "known" change entirely the meaning of Fitzgerald's statement, but its related root words (know, knowing, knowingly etc) have been the keys to whether or not anybody was indicted for revealing Plame's covert status at the CIA.
The problem, of course, is that such subtlety can shoot right past those who either want to miss it, or are in too much of a hurry to check the transcript. I read Wells' quote and thought 'that doesn't sound right.' The producers of ABC's World News Tonight read Wells' quote and evidently didn't hear any such alarm bells. The transcript is not yet out, but at 6:30 EST last night, Elizabeth Vargas stated - and I am paraphrasing - that the Woodward revelations were important because they contradicted Patrick Fitzgerald's statement that Libby was the first to leak.
Something deeply symbolic had happened just minutes before ABC's gaffe. Libby and Wells - a former attorney for Philip Morris in the "big tobacco" lawsuits, by the way - emerged from a district courthouse, having spent the afternoon reviewing documents in the case. Wells made a big thing of "thanking" Woodward and asking other reporters to come forward - it's a clever, albeit transparent spin-job. He and Libby then walked a couple of blocks down the street - in pouring rain. Wells couldn't even provide Libby the protection of an umbrella today. He is not going to be able to shield him with Woodward's fascinating - but, from the Libby point of view, irrelevant - disclosure.
The question now becomes, of course, is who told Woodward and what kind of hay Fitzgerald can make out of that. From among Woodward's statement in The Washington Post today, and Jim VandeHei's first article, and Howard Kurtz's midday follow-up, we have these simple facts in front of us:
Woodward had conversations with three current or former Bush Administration officials in June, 2003, that he thought relevant to Fitzgerald's investigation.

He identified one of those three - Scooter Libby - in his piece in the Post Wednesday.

Woodward said he prepared a list of questions for Vice President Cheney that included a reference to "yellowcake," that he was sending to Libby in June of '03.

Karl Rove's legal spokesman told

During the day, Woodward said he'd been authorized by White House Chief of Staff Andy Card to reveal that Card was one of the three White House conversants, but that they did not talk about Plame.

Don't be misled by the "current or former" Administration figures - the "former" part could easily be a clever sleight-of-hand from Woodward; he provided reams of them in protecting "Deep Throat."
The deduction would be that Woodward's source was not Card, Cheney, Libby, or Rove - assuming everybody's telling the truth.
E-mail: KOlbermann@msnbc.com
Ten television shows worth watching (Keith Olbermann)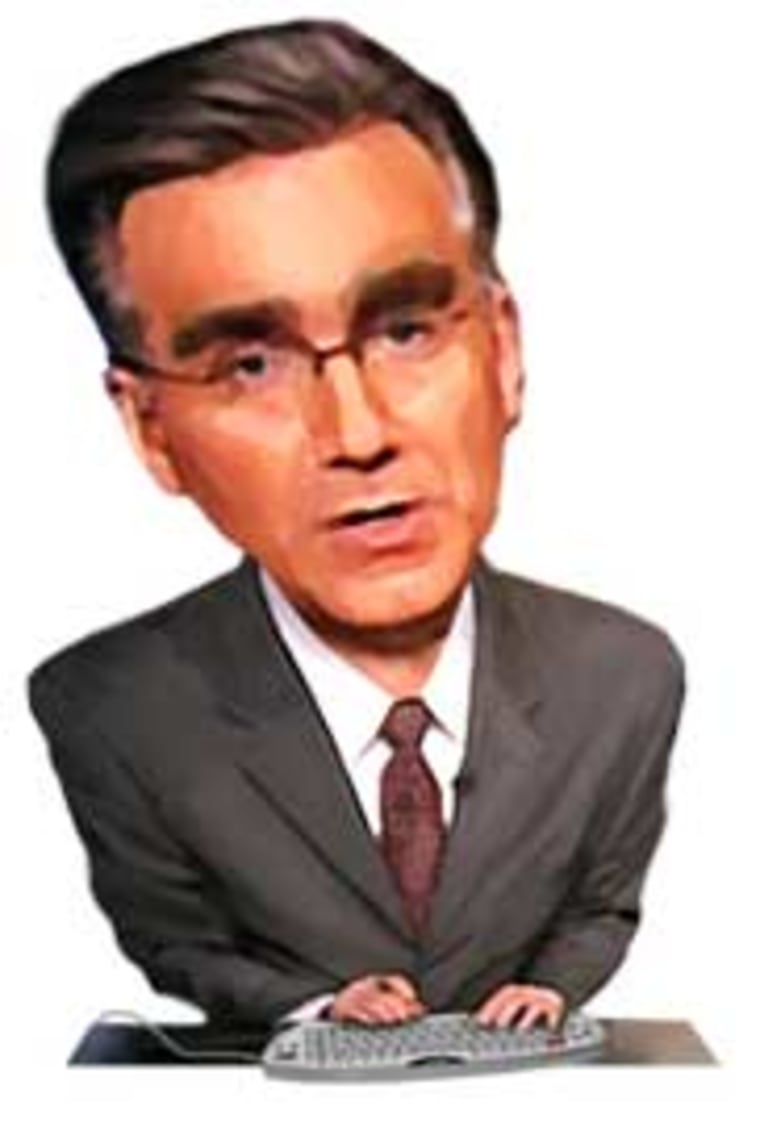 NEW YORK - With the political picture finally focused - oh, I see, Iraq isn't a 21st Century Vietnam War, it's the 21st Century Spanish-American War (national post-traumatic stress disorder, international scapegoats required, most villainous enemy nominated, evidence massaged to make it seem plausible, everything except the title "Operation Remember The Maine!) - let me digress again.
I've been compiling this list for months in my head and finally have it to share with you: ten television shows actually worth watching. The rule is that they must be new (or new to us), thus eliminating two shows that would probably still be on anybody's top ten (SCTV, still running on TVLand, and Monty Python, hobbling along with commercial breaks on BBC-America).      
You will notice a decided lack of dramas and sports and not much news. I can only thank the producers for making those topics so easy for me to deal with. You will also notice a lot of obscure shows you may not have heard of - give them a try.      
10. ITV News at 10:30 - If your cable system carries this one, more power to you. We happen to get it at work; it's Britain's leading non-BBC newscast. It's anchored by a former sportscaster (yeah, like that works) and has glitzy animation, non-traditional production techniques, and amid all that fluff, the content is usually as serious as anything you'd find on BBC or PBS. The reportage from New Orleans had all of the anger and human interest of much of America's work, without the cornball self-absorption.      
9. Battlefield Britain, PBS - An over-the-top British newscaster and his over-the-top British son narrate reenactments of the defining military events on U.K. soil. You don't have to care about Britain, history, or armies, to be stopped by the computer-generated living maps, or the attempts to marry Dr. Bronowski's The Ascent of Man with Miami Vice.      
8. Greg The Bunny, IFC - An alarming number of my top ten shows feature no, or few, human characters. I suppose this is because television puppeteers and animation actors are far more believable than their unadorned human counterparts. This bizarre show, featuring gratuitous violence and endless movie satires, is just spectacularly strange, fast-paced, and, for a show with cheap-looking puppets, high on production values.      
7. Fox News Watch, FNC - That's right, I put a show from Fox News on my list. This is apparently the program Roger Ailes created to fulfill some legal requirement that his network actually be at least .0005% "fair and balanced." A weekly roundtable on media coverage in which the conservatives (Jim Pinkerton and the woefully-hair dyed Cal Thomas) often burst out in liberalism, and the liberals (Neal Gabler and Jane Hall) often finger-wag conservatively. How host Eric Burns can maintain such a program of actual value on a network devoted to reinforcing prejudices and stereotypes, is testament to his integrity as a journalist. Skip the last segment - the viewer e-mails are apparently all from mental patients.     
6. Prime Minister's Question Time, C-SPAN - The best political broadcast on television (until somebody picks up the South Korean Parliament, in which fistfights break out weekly). Prime Minister Tony Blair answers questions (pre-scripted softballs from his party, pre-scripted, delightfully venomous sweeping generalities from the opposition) more-or-less extemporaneously, live on Wednesday mornings with a replay Sunday night. It is not only great theater, but underscores the point that if our leaders tried such fluid give-and-take, 98% of them would run screaming into the streets and the others would wind up weeping uncontrollably.     
5. The Simpsons, Fox - Yes, they're nearly out of plots, and the early indications are that this is not going to be a particularly active year for content, politically, but the value of the satirizing of our values still endures. One pet peeve: the show has earned about $77 billion since it went on the air - would it be too much to re-draw the opening sequence so the characters look like they do after the re-design in 1992?     
4. Hopeless Pictures, IFC - Oh, is this strange. Bob Balaban's low-tech animation series about the endless spiral of stupidity in Hollywood. You'll think it's satire until you realize that the films the vapid characters are trying to pitch to each other aren't much removed from what passes, each weekend, for the latest "blockbusters." Michael McKean voices the lead character, the film exec who named his studio after his parents, Hope and Les.     
3. The Family Guy, Fox - Probably shouldn't be rated this high but I'm late to hop on the bandwagon so it's all still new to me (despite this list, I really don't like animation). There seldom seem to be coherent plots - even Simpsons level of coherence - but the A.D.D. effect is part of the charm. Besides, to see Mel Gibson voluntarily walk off a cliff and plummet to his death while someone says the punchline "Christians don't believe in gravity," is by itself worth the price of admission. And the absolute acceptance of an evil genius super baby with a football head, and a talking dog, as ordinary members of society, is almost unparalleled in art.     
2. Mythbusters, Discovery Channel - I've praised this show before and had its two stars, Jamie Hyneman and Adam Savage, on Countdown as guest experts. I'm not mechanical at all, don't understand much of the science they enact, but I've never failed to be hooked and entertained. Ostensibly, the pair - with a trio of "sub-hosts" adding a little pace to what was often a slight stodginess - go about testing urban myths, like the woman supposedly stuck to the airplane toilet due to suction, or the idea that you can save yourself from bullets by staying underwater. But even they would admit that it's really about finding Rube Goldbergian ways to blow or smash stuff up.    
1. Private Life Of A Masterpiece, Ovation - There's a theme in this list. I don't like animation (yet there are three cartoons and a puppet show). I loathe Fox (yet there are two of its programs, and one of its news broadcasts). I'm not a gearhead (yet my runner-up is hosted by two movie Special Effects wizards). And most of all, I don't know much about art, and I'm really not even sure what I like. Yet here at the top is a BBC series, intermittently scheduled on the proudly effete Ovation Network, devoted to hour-long profiles of great paintings and sculpture. Perhaps the premise has become clear to you. If a show overcomes my native disinterest, that's a television broadcast.     
Such it is, here. "Private Life" treats its many subjects - Van Gogh's "Sunflowers"; Rodin's "Kiss" - not as objects for artistic study, but almost as living creatures. The shows are virtually biographies - not of the artists per se, but of their works. And it is somehow fascinating to know that Edward Munch was marketing "The Scream" a century ago, and somehow validating to see the story of "Le Dejeuner Sur L'Herbe" include a parody of the painting by the '80s schlock group Bow Wow Wow.      
Sister Wendy it ain't.
Comments?  E-mail: