There never seems to be lack of venues for ostentatious displays of wealth, but the Kentucky Derby appears to hold special place in the snob universe.
And now the annual Run for the Roses has come up with the ultimate way for their well-heeled patrons to show how much they're feeling flush: A $1,000 mint julep.
The super-sweet cocktail that has long been a part of Derby lore will be made with one of the state's finest bourbons (and at $63-$75 a bottle, one of the most expensive) and served in a 24-carat gold-plated cup with a silver straw to the first 50 people willing to put down the cash at the May 6 race.
Mint from Morocco, ice from the Arctic Circle and sugar from the South Pacific will put this mint julep in a class of its own, the distillery selling the drink said.
"We thought we would reflect on and complement the international nature of the Kentucky Derby," said Chris Morris, master distiller for Woodford Reserve. The distillery, owned by Louisville-based Brown-Forman Corp., will sell the drink only on race day to raise money for a charity for retired race horses.
The company already sells about 90,000 mint juleps at the Derby each year but hopes what's being dubbed the "ultimate" mint julep will catch on. Those who buy the $1,000 cocktail will get to watch Morris and others make it.
"People want a memory," said Wayne Rose, Woodford Reserve's brand director. "This is something they can take home and share with friends."
Just don't be tempted to drink five of them, as that will probably erase that precious memory and replace it with the world's most expensive hangover.
Not-so bad ideas
For those of us not willing to drop 10 benjamins on a good-bourbon-ruining drink, we are probably more likely to be a frequent user of that fast-food innovation known as the drive-through lane. While we all appreciate its speed and convenience, we've also had those lost-in-translation moments where "no pickles" becomes "more pickles" during the order-taking process.
So imagine our surprise when we read in the New York Times this week that McDonald's and some other burger joints were testing a system whereby drive-through orders are rerouted to call centers hundreds or even thousands of miles away.According to the report, Mickey Dees as well as CKE Restaurants chains Hardee's and Carl's Jr. are testing the long-distance drive-through concept. Admittedly there are some snags — recently order-takers in California were vexed when heavy rainstorms in Hawaii drowned out customer requests.But there's an upside too, at least for the call-center workers. The Times quoted one as saying while it was sort of weird not being where the food was, at least "I don't smell like hamburgers."
It's always easy to spot the diehard sports fan: He's the who never misses the opportunity to show the colors of his favorite team, whether it be a NASCAR decal on the back of his truck, or wearing that official NFL team jersey on game day. And now retail giant Home Depot has found a way to take that obsession with the shades of sport to the major-league level with the launch of a new home paint line called Team Colors.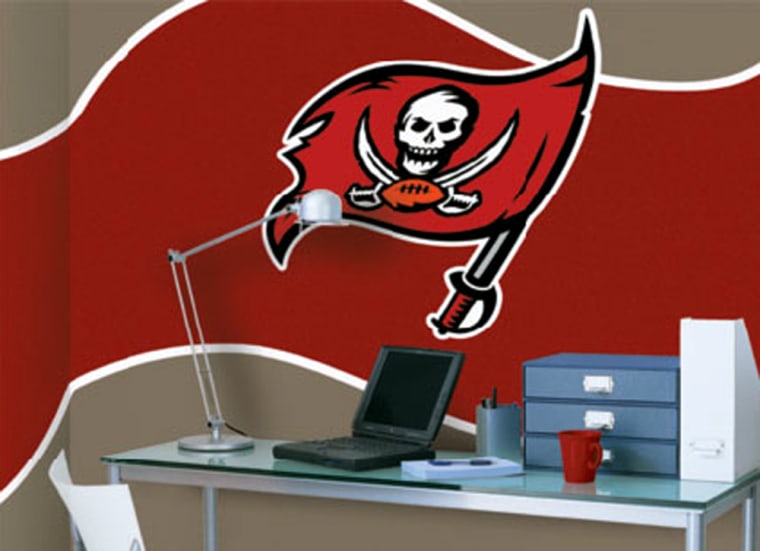 Home Depot, working with ICI Paints' Glidden brand, will offer more than 400 paint colors representing more than 125 different teams through agreements with Major League Baseball, the National Football League, 44 colleges and universities, NASCAR and 14 drivers/teams, Major League Soccer, U.S. Soccer, the Federation of Mexican Fútbol and the U.S. Olympic Team.The company sees strong demand for Team Colors, citing a study that found more than one in three U.S. sports fans (68 million people) have expressed support for their favorite team in a variety of color-related ways, such as buying an item of clothing in that color (51 million), actively seeking out colored items (19 million), decorating for a party in a team's tint (15 million), or even painting their face or body in that color (7.5 million).That last category is what worries us. And while the latex paint is designed for indoor use only, we're pretty sure it won't be long until entire Nebraska towns will be covered in Cornhusker Red and that Green Bay, Wis. will require all homeowners to paint their residences Packers Yellow.And here's a thought for the rest of us not-as-fanatical athletic supporters: Who's got time to paint when there's a game on?