/ Source: The Associated Press
There won't be a fairway or a green in sight, and it's a far cry from Augusta National, but the international space station could be turned into a driving range this summer.
Cosmonaut Pavel Vinogradov, who took over command of the space station last week, hopes to hit a gold-plated golf ball during an August spacewalk.
Because of zero gravity, Vinogradov's drive will make golf's long-distance hitters like John Daly look positively feeble. The ball will be equipped with a tracking device.
The low drive from the space station — which travels at 17,000 mph, 250 miles above Earth — is a publicity stunt for Element 21 Golf Co., a Canadian-based golf club manufacturer.
NASA officials met on Tuesday to review the safety of the stunt, which already has been approved by the Russian space agency. NASA is expected to make a decision at a later date.
"Being a golfer, I'm interested in it, too," Kirk Shireman, NASA's space station deputy program manager, said recently. "But we're absolutely going to make sure it's a safe thing to do before we execute it."
NASA officials want to make sure a bad slice or hook won't send the golf ball careening into the spacecraft, or that a bad backswing or follow-through won't cause Vinogradov to strike the station with his six-iron.
Vinogradov has practiced driving the ball in his baggy spacesuit in a training pool and in an airplane that simulates weightlessness.
Element 21 Golf paid the Russian space agency an undisclosed amount to allow the stunt. Golf balls, the six-iron and a special platform were delivered to the space station in October.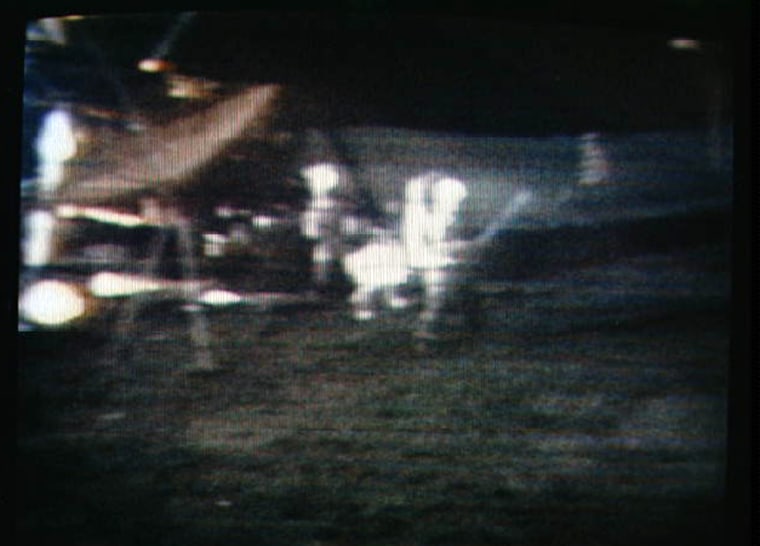 The company says it wants to publicize its new line of golf clubs and commemorate the 35th anniversary of the time astronaut Alan Shepard hit golf balls on the moon during the Apollo 14 mission.
Certain adjustments for zero gravity were made. The company designed a special platform in which Vinogradov can hook his feet and a tee that spirals around the ball to hold it in place. Because of Vinogradov's bulky spacesuit, his swing will be one-handed.
"Golf is not a Russian game at all," said Nataliya Hearn, the company's president and chief executive. "It probably would have been easier for Pavel to hit with a hockey stick."
Russia's cash-strapped space agency has allowed three space tourists aboard the space station for $20 million each and once charged PepsiCo $5 million to have cosmonauts float a replica of a soda can outside the Mir space station. The Russians also allowed Pizza Hut to paint its logo on a rocket and have a pizza delivered to the space station.