/ Source: The Associated Press
Japan's space agency says it has set up a team to send an unmanned mission to the surface of the moon, possibly within the next 10 years.
Keiji Tachikawa, chairman of the Japan Aerospace Exploration Agency, or JAXA, provided no further details of the composition of the team, but said he hoped the mission would be launched within a decade.
The unmanned surface landing is a key element of Japan's overall space strategy, which was once the most ambitious in Asia but has recently fallen behind China.
JAXA's Selene moon orbiter is due for launch in 2007, and for years the Japanese have discussed a potential soft-landing mission called Selene-B, which may include a rover as well as a lander. Last year, officials announced that they hope to send a manned mission to the moon by 2025.
Currently, only the United States, Russia and the European Space Agency have landed probes on the moon. But China, which leapt ahead of Japan by putting astronauts into orbit in 2005, has also announced it has set its sights on a moon landing. Japan has yet to launch a manned flight of its own. No timelime for the manned program has been announced, other than the tentative 2025 goal for a landing.
Over the next decade, JAXA's plan calls for scientists to develop robots and nanotechnology for surveys of the moon, and design a rocket and space vessel capable of carrying cargo and passengers. By 2015, JAXA will review whether it's ready to pour resources into manned space travel and possibly building a base on the moon.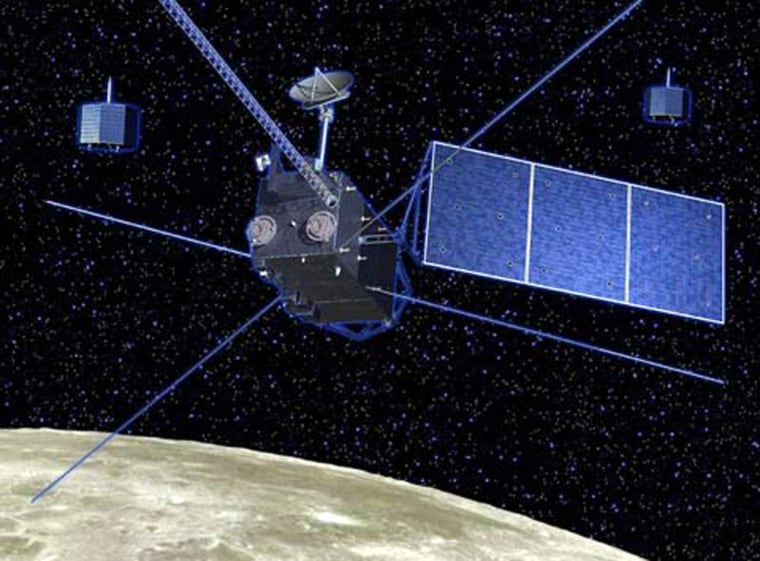 A decision whether to try for Mars and other planets would be made after 2025.
Japan's long-term plan resembles those of President Bush and European space officials, who hope to land astronauts and robots on the moon as a first step to sending space shuttle missions to Mars.
But Japan's program has been plagued by delays.
The Selene probe — designed to release two small satellites that will measure the moon's magnetic and gravitational field — was originally scheduled for launch in 2003, but that had to be postponed after the failed launch of one of Japan's domestically developed H-2A rockets.
JAXA also had to abandon a mission to Mars two years ago, and earlier this year the agency nearly lost its most recent mission — a probe sent to collect samples from an asteroid — but managed to re-establish communications with it last month.