/ Source: msnbc.com staff and news service reports
Chinese President Hu Jintao arrived in the Seattle area Tuesday to meet with business leaders eager for a bigger share of China's markets before he heads to Washington for talks with politicians wary of his nation's muscular stance in trade, energy and currency policy.
At Microsoft Corp.'s suburban Redmond campus, Hu said he admired what Microsoft Chairman Bill Gates had achieved. He also sought to reassure Gates that China is serious about protecting intellectual property rights, a key concern for the company as it battles widespread piracy of its Windows operating system there.
"Because you, Mr. Bill Gates, are a friend of China, I'm a friend of Microsoft," Hu said through a translator. "Also, I am dealing with the operating system produced by Microsoft every day," he added, to laughter.
Gates responded: "Thank you, it's a fantastic relationship," and then quipped: "And if you ever need advice on how to use Windows, I'll be glad to help."

Hu planned to tour a Boeing Co. commercial jet plant on Wednesday. The Chinese leader began his trip in Everett, about 30 miles north of Seattle, where members of the Seattle Kung Fu Club and a handful of ribbon dancers from a Seattle elementary school welcomed him.
Hu also was greeted by government and business leaders, including Gov. Christine Gregoire and Starbucks Corp. Chairman Howard Schultz.
Hu told Gregoire he didn't choose Seattle simply because it's the closest major U.S. city to China.
"It is also because your state enjoys very good cooperative relations with my country," Hu said through a translator.
Mission to Microsoft
After meeting with Gregoire, Hu headed to Microsoft to mingle with executives and take a tour of the software maker's "Home of the Future."
Tuesday night, about 100 guests were expected at Gates' home for a dinner Gregoire was hosting there.
The menu features such delicacies as smoked Guinea fowl with hazelnuts, spring radish and Granny Smith apples, filet of beef with Walla Walla sweet onions, Washington-grown asparagus and rhubarb brown butter almond cake.
China is Washington's third-largest export market, while Washington imported more than $16 billion worth of products from China in 2005.
Hu has set an ambitious mission for his four-day U.S. tour. It comes at a time of substantial unease among American businesses, political leaders and the public about how China is using its new power.
Meetings with Bush, Kissinger, others
His summit Thursday with President Bush will cover a broad agenda, from China's much-criticized currency and other trade policies, to its aggressive search for oil and its stance toward nuclear programs in Iran and North Korea.
While in Seattle, Hu is also scheduled to meet with a group of senior China experts, including former Secretary of State Henry Kissinger, who was instrumental in orchestrating President Nixon's 1972 trip to China. Nixon held landmark talks with Communist leader Mao Zedong.
Also in the group slated to meet Hu are former national security adviser Brent Scowcroft, former Secretary of Defense William Perry, and scholars from China, according to a release from the Trade Development Alliance of Greater Seattle, which is handling press logistics for Hu's visit.
Protests planned
In the Seattle area, at least three groups planned to protest Hu's visit: Taiwanese-Americans calling on China to let the island of Taiwan make its own decision about whether to rejoin the mainland; Tibetans seeking independence for their homeland; and practitioners of Falun Gong, a spiritual movement considered an "evil cult" by China's communist government.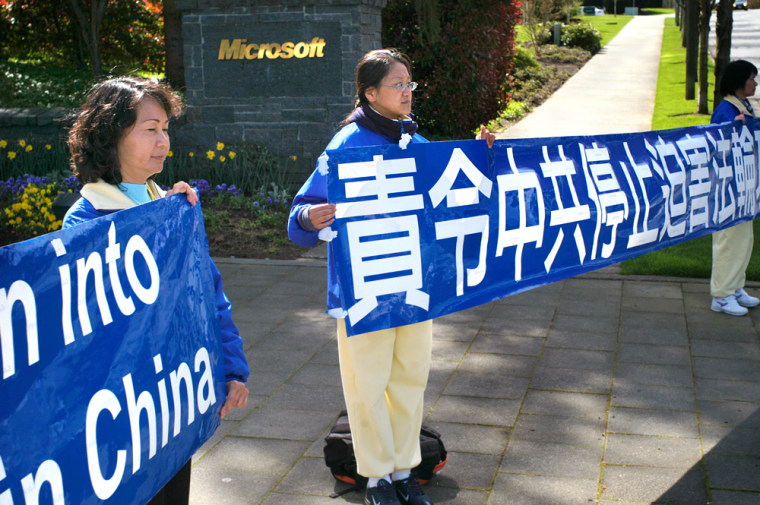 Tuesday's protests followed those in Seattle on Monday, when several hundred Falun Gong members marched through the city's downtown.
Demonstrators both in support and opposition to Hu lined the streets near his downtown hotel. Supporters waved Chinese and American flags.
"Seattle is so close to Asia," said Ida Zhu, a Chinese-American businesswoman. "They cannot ignore China anymore."
Falun Gong practitioners gathered Tuesday near entrances at Microsoft headquarters, waving signs in Chinese and English that read "Stop web censorship" and "Release all political prisoners."
Protesters called for investigation into "death (labor) camps in China," where, they say, Falun Gong practitioners and other prisoners are killed and their organs are harvested.
"I can't verify that (the persecutions) started under Hu," said David Jerke, volunteer coordinator for local Falun Gong practitioners. "But they have continued under Hu."
Software piracy issue on the table
Hu's visit comes as Microsoft, after years of battling widespread software piracy in the potentially lucrative China market, is hopeful that things are changing.
Chinese government officials say they are serious about cracking down on sales of illegal copies of Microsoft's Windows operating system, and some computer makers are pledging to ship more computers with legitimate Windows software installed.
One of those companies, Lenovo Group Ltd., met Monday with Microsoft officials to reaffirm Lenovo's 5-month-old commitment to ship computers with genuine operating systems.
In an interview Monday with The Associated Press, Lenovo Chairman Yang Yuanquing said 70 percent of the computers Lenovo sells in China are now loaded with licensed Windows copies, up from 10 percent six months ago.
Pledges to smooth the waters Microsoft held a similar meeting last week with Chinese computer manufacturer Founder Technology Group Corp., also among the companies that have pledged to promote legal Windows use.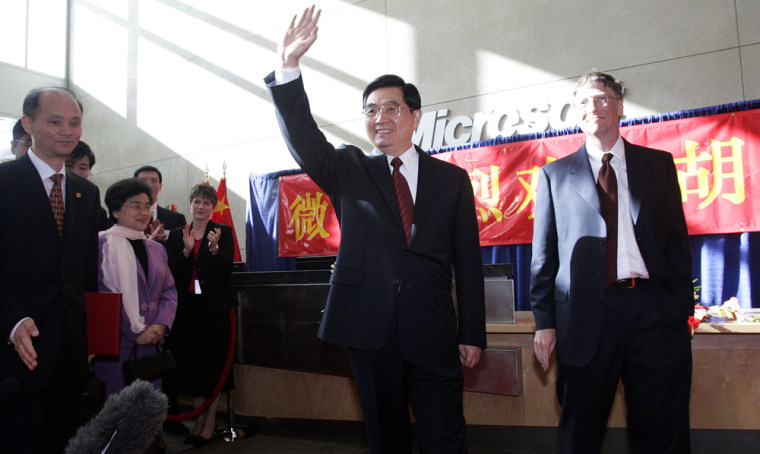 Although analysts say it could be some time before the promised changes have a significant effect on Microsoft's sales, the pledges are a feel-good backdrop for Hu's visit with Gates. (MSNBC.com is a Microsoft-NBC joint venture.)

Chinese government officials promised their U.S. counterparts last week to fight software piracy, as they tried to ease tension over the record trade gap between the two countries.
Yang said the Chinese government has been a major force behind the change, both by requiring government agencies and big companies to install legal software and by cracking down on piracy.
Lenovo expects to buy $1.2 billion worth of Microsoft software in the next 12 months, including about $200 million for the Chinese market. The company also is eager to improve protections on intellectual property because of its own international aspirations.