/ Source: The Associated Press
Black-owned businesses are among the fastest-growing segments of the American economy, the government said Tuesday.
The number of black-owned businesses grew by 45 percent from 1997 to 2002, more than four times the national rate for all businesses, according to a report by Census Bureau.
Revenues from black-owned businesses increased by 25 percent during the period, to about $89 billion.
However, nearly all black-owned businesses are small — 92 percent had no employees other than the owners. By comparison, about three-fourths of all U.S. businesses had no employees.
"We do have challenges, we are making progress," said Ronald Langston, director of the Commerce Department's Minority Business Development Agency. "This is the real challenge: to move these smaller businesses into the next step of growth."
The report is the third in a series of Census Bureau reports on businesses owned by women, Hispanics and blacks. Together, the reports show that the three groups are underrepresented in business ownership but are narrowing the gap with white men.
From 1997 to 2002:
The number of all U.S. businesses grew by 10 percent, to about 23 million.
The number of businesses owned by women grew by 20 percent, to 6.5 million.
The number of businesses owned by men grew by 16 percent, to 13.2 million.
The number of Hispanic-owned businesses grew by 31 percent, to nearly 1.6 million.
The number of businesses owned by white entrepreneurs grew by 8 percent, to 19.9 million.
Black entrepreneurs owned 1.2 million companies in the 2002, or about 5 percent of all nonfarm businesses in the U.S. Hispanics owned about 7 percent and women of all races and ethnicities owned 28 percent, according to the Census Bureau.
Blacks made up about 12 percent of the population in 2002.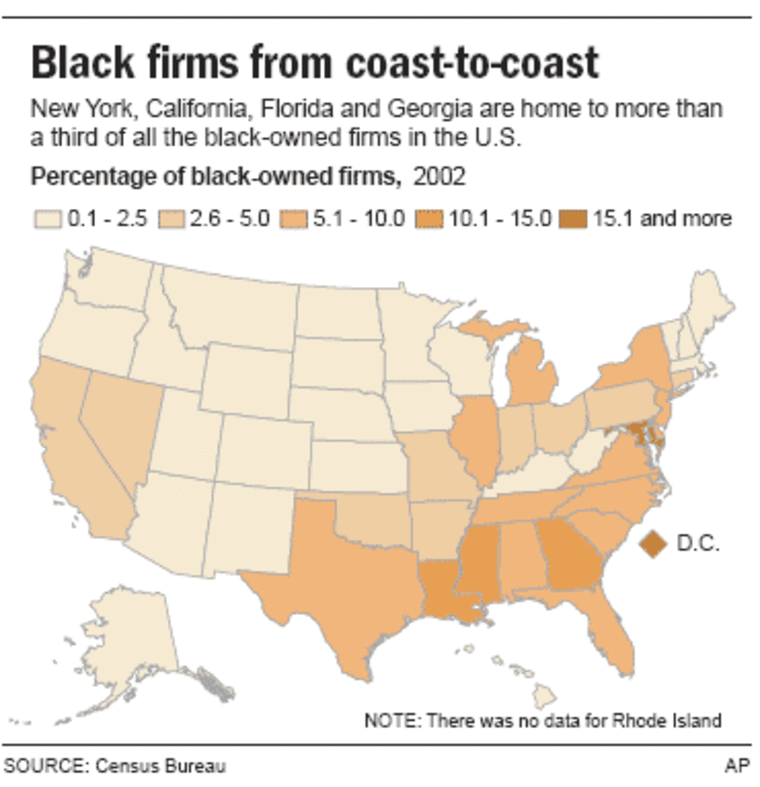 "We're about halfway there," said Harry Alford, president and CEO of the National Black Chamber of Commerce. "The future is bright. We will continue to spiral up."
Alford said black entrepreneurs have been helped by improved education levels and increased incomes among black consumers and business owners.
Blacks as a group still trail whites in education and income, but they have made gains in the past half-century. In 1950, only 14 percent of black adults had high school diplomas, compared with 36 percent of whites, according to the Census Bureau. The gap narrowed by 2000, when 72 percent of black adults had at least a high school diploma, compared with 84 percent of whites.
"We've got the first generation of significantly educated people," Alford said. "There's a black middle class like never before."
The report is based on administrative records and a survey of 2.4 million businesses. The Census Bureau defines black-owned businesses as private companies in which blacks hold at least 51 percent of stock or interest. The report does not classify public companies, with publicly traded stock, because they can be owned by many stockholders of unknown races and ethnicities.
The largest sector for black-owned businesses was health care and social assistance, with 246,000 back-owned firms. The second largest was other services, such as personal services, repair and maintenance, with 210,000 firms.
However, in some states, black-owned firms are concentrated in urban areas. About 80 percent of all black-owned businesses in Illinois were in Cook County, home to Chicago. Los Angeles County was home to nearly half the black-owned firms in California.
New York state had the most black-owned firms, with 129,324. It was followed by California, Florida, Georgia and Texas. Together, the five states are home to 44 percent of all black-owned firms in the country.