/ Source: Canoe & Kayak Magazine
"Wow! Oh my gosh! Cool! Awesome!" exclaims our son, Skyler, as we wind along the rocky cliffs above the Pacific Ocean near Ensenada, just south of San Diego. Huge waves crash along the beach, sending white plumes of sea spray into the hazy air. After two days of monotonous driving through mountains and the scorching Mojave Desert, this postcard view of the Pacific is a welcome sight. We crossed through the border sprawl of Tijuana into Baja and are headed south on Highway 1. Midway down the narrow peninsula, 500 miles to the south, are the chartreuse waters of the Sea of Cortez and Conception Bay, our final destination. But this Baja road trip is different. This time our five-year-old and his friends are along for the ride.
Like most parents, we had our concerns about taking a five-year-old to Baja. We weren't flying into a five-star resort decked out with air-conditioned rooms and pools with swim-up bars. Instead, we were bouncing down dusty, rocky dirt roads, miles from any hope of roadside assistance, and camping on the beach with the occasional scorpion or rattlesnake for company. And that is just what we wanted. My wife, Cree, and I had guided kayaking trips here for years, so we knew the truth of Baja travel. In reality, Baja is a gem in the rough, poised to become another hotel high-rise sprawl. So far only Cabo San Lucas, at the tip of Baja, has been inundated with tourists, Jet Skis, and golf courses. The majority of the peninsula is still a mix of sleepy towns, cactus forests, and crystalline ocean waters. If you are looking for a little adventure in your vacation, Baja is perfect.
We had mentioned our Baja road trip to friends, and they quickly jumped on board for the adventure. All told, we had five kids and seven adults, forming a colorful caravan of SUVs heavily loaded with kayaking gear bouncing down the pavement toward Baja. Driving 1,500 miles, crossing the border, and not having instant access to bathrooms can be interesting with kids. Our first stop in the Catavina Desert resulted in the "wilderness bathroom" concept, which became the norm on long deserted stretches of highway. What we hadn't foreseen was the potential hazards of desert bathroom breaks. No sooner had our clan of kids gone into the desert than we heard a yell, then a distant scream, and then another shout; virtually our entire group of youngsters had been poked, stuck, or cut on a cactus or sharp rock. After a quick first-aid session and some basic instruction on "bad plants" (anything with a thorn), we set off again for the warm waters of Conception Bay.
"Dad, look at that machine gun! Is it real? Can I touch it?! Wow!" Skyler blurts out the window while camo-clad soldiers inspect our truck.
We are stopped at one of the numerous military checkpoints on the drive, allowing the soldiers to search our cars for drugs and contraband. Drug trafficking into the United States via Baja has increased over the years, so the Mexican government has set up military checkpoints to solve this problem. While it looks intimidating, the soldiers we encounter are very friendly, especially when they see our kids. The children's attempts to speak Spanish with the soldiers add a humorous, friendly tone to the scene. After a few cursory questions, we are quickly waved through. For the kids, talking with real soldiers is widening their perspective of the world.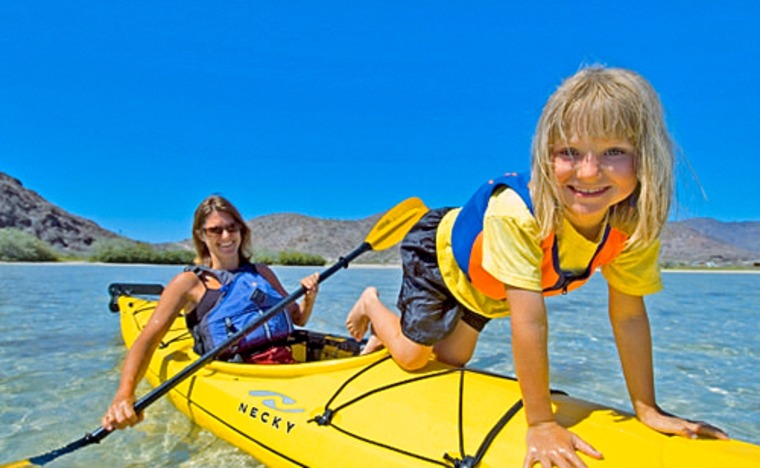 On day three, after numerous "wilderness bathroom" breaks, 3,237 cardon cactuses (counting them is a great way to keep kids occupied), and one burro encounter, we crest a hill and descend toward the stunning beauty of Conception Bay, just south of Mulegé. Small gumdrop-shaped islands surrounded by vibrant green water punctuate the azure waters of the bay, like chocolate drops floating in a bathtub of Cool Blue Gatorade. Steep rocky mountains and tawny-colored cliffs line Conception Bay, dotted with endless towering cardon and less stately organ-pipe cactuses. Stocky brown pelicans, elegant coal-black frigate birds and torpedo-shaped blue-footed boobies soar through the skies, each searching for small fish using its own unique hunting strategy. This slice of Sonoran paradise will be our home for the next two weeks, and soon the long road trip from Colorado fades away.
Tonight, as the adults are relaxing on the beach with cool Pacificos in hand, the kids make the first of many exciting discoveries. "The water is green! The water is green! The water is glowing!" they shout.
We stroll down and realize that the kids are right. The water is bioluminescent, and any disturbance, from waves to splashes, creates an eerie green glow, reminding me of some radioactive experiment gone wild. Everybody takes turns throwing sand into the water for the best effect, which in turn leads to people jumping in and splashing. Before long, our entire group is frolicking in the dark ocean in the dreamy moonlight, like some crazy sect of bioluminescence worshippers! I can only imagine what anyone hearing us on the beach in the middle of the night would think. Crazy gringos!
"Crab! Big mamma crab! Oh my gosh, this crab is HUUUGGGGEEE!"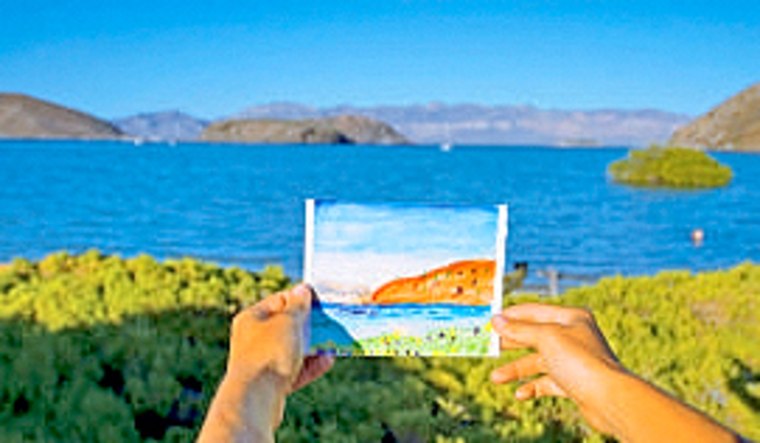 Our first morning on the beach we awake to the "crab alarm clock." Skyler and his friends Taylor and Morgan have found something way more interesting than kayaking or snorkeling. Hermit crabs run for cover as our army of kids parades down the beach, searching for anything moving. One aspect of this trip we are enjoying is seeing everything through the eyes of children. Even the simplest activity provides hours of entertainment. Crab hunting is a favorite activity, and the occasional sighting of the larger swimming crab puts the kids in a frenzy. Add a little sugar to the mix, say grape soda and some chocolate, and the youngsters are wound up like Energizer Bunnies, busy for hours scouring the beach and mangroves for crabs and fish.
We are staying at EcoMundo, the perfect base camp for exploring Conception Bay. Greg and Tracy, the owners, have palapas (palm frond huts) for rent, along with kayaks, snorkel gear, and about anything else you need to enjoy the beach, including freshwater showers. EcoMundo is the perfect blend of luxury and wilderness for our group.
"We have a great location," Greg explains, while we rest in the shade of the main palapa. "You can begin multiday kayak expeditions right here, or go for day paddles in the bay. People like being able to sleep in a queen-size bed [in a palapa], and still wake up camping on the beach."
Our typical morning starts with loading up snorkel gear in kayaks, both sit-on-tops and closed-hull boats, and paddling off to one of the numerous islands to spend the day. We have renamed each island in the bay according to what we discover there. One small rocky island where we find stingray and turtle carcasses on the beach instantly becomes "stingray island."
On a clear, calm morning (we hardly see a cloud in two weeks) we paddle to Isla Luz, about three miles out in the bay. Our small pod of boats glides over the placid, glassy waters while the warm sun pierces the jagged ridge across the bay. We pass a barnacle-covered reef stacked with roosting cormorants and pelicans, and our stealthy kayaks enable us to get within mere feet of the birds without disturbing them. Closer to the island we spot what appear to be dolphins swimming farther out in the bay. Earlier in the trip we spotted a whale, and whale sharks have been sighted in the area, too.
Isla Luz is stunning, a cactus oasis perched on a canvas of blue and green. This rocky isle, about the size of a football field, has an idyllic sandy beach, transparent aquamarine waters, and a virtual aquarium of brightly colored fish swimming nearby. Numerous varieties of cactus, including lofty cardons, cover the island in a spiny blanket. Yellow-footed gulls nest in the rocks. We watch the downy chicks wobble near their nests, while the brightly colored adults hover, constantly squawking.
The snorkeling is fabulous. With no wind this morning, the visibility is the best we have seen. Schools of black-and-yellow Panamic sergeant major fish weave through the rocks, while in the distance larger orange-colored parrot fish lurk in deeper water. An inch below the surface, small schools of pencil-thin California needlefish dart in the water, wary of pelicans in the sky above. Cree finds a large hole under some rocks loaded with yellow snapper. She tries her luck at spearfishing, but the fish quickly take cover deeper in the shadows, virtually disappearing; these fish have seen fishermen before. Later in our trip we will have better luck spearfishing, catching yellow and dog snapper for tasty dinners on the beach. The kids find huge piles of brown clam and spiny scallop shells on the beach, and even a seahorse skeleton. On the paddle back, Eric, a friend from Seattle, finds a live seahorse, which is a high point for all the kids (and adults).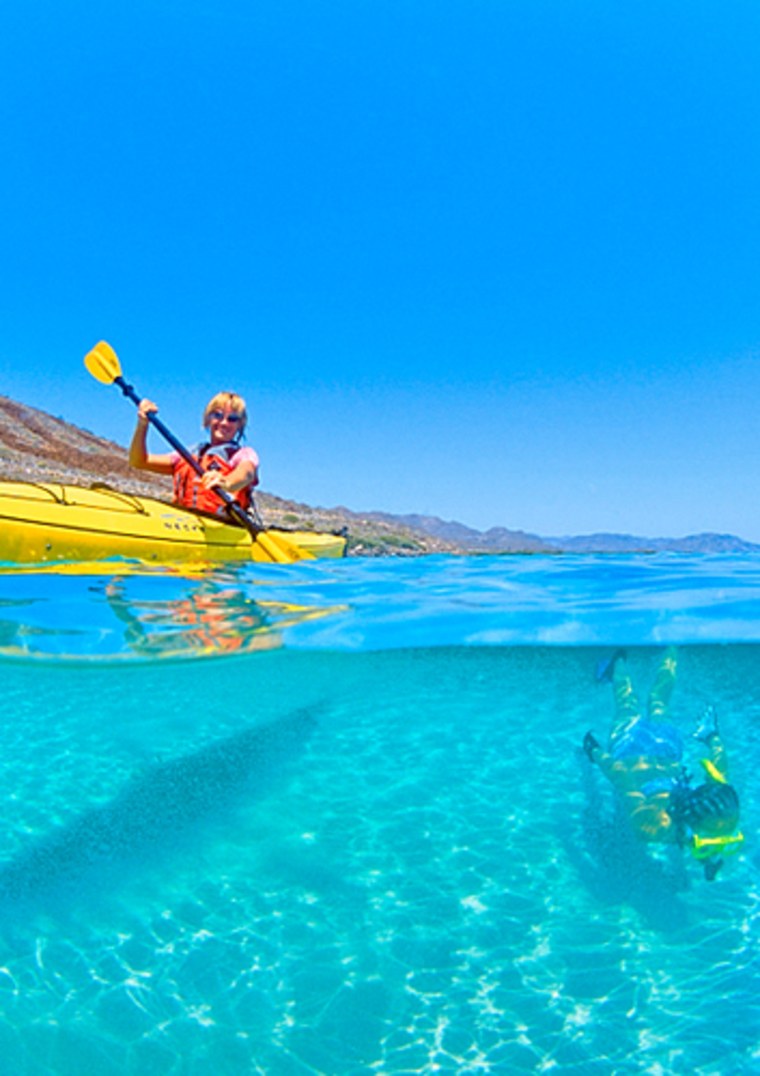 One of the main reasons why we have come to Baja is to introduce our son to sea kayaking. Early one morning I load up Skyler in the bow of a yellow Seda Tango and we head out toward nearby Isla Liebre.
"Dad, can we look for crabs along the way?" Skyler asks as we glide over the sandy shallows.
"Sure," I reply. "Let's see how many we can see." I want his sea kayaking experiences to be positive ones, so we start by searching for crustaceans via kayak. Skyler seems to enjoy riding in the bow. Unlike canoeing, kayaking gives him his own space, and he settles right into the boat. The water temperature is 82 degrees, and the air temperature is 90. Since we are staying close to shore, we are not wearing spray skirts. Skyler has his own kid-sized Werner paddle, and he obviously enjoys being able to actively contribute to the paddling. He feels like an adult. I'm trying to match his pace stroke by stroke, which is a little tough considering our different sizes.
We cruise along the rocky coastline, watching small blue wrasses dart in the coral below, while vultures lazily soar in the thermals above. I closely watch Skyler in the bow as we paddle. He seems to slowly wind down from a frenzied crab-hunting state to a euphoric, contemplative mood, methodically paddling in the bow. He stops talking, instead watching the fish swimming below our kayak. The first shafts of orange sunlight reflect off the cliffside, bathing the whole scene in warm light.
Skyler has a content, serene look on his face. Suddenly it hits me. He is not just enjoying this paddle with his dad, he is loving it. This is one of those childhood moments that is ingraining itself in his impressionable mind, and will help form the person he will become. He is absorbing a love of the ocean and sea kayaking right at this moment, and no doubt he will want to paddle for years to come. I get a warm, fuzzy feeling all over. I'll remember this moment for the rest of my days.
"Dad," Skyler quietly says, "I love Baja."
Mission accomplished.
is the number one paddlesports resource, with a wealth of information about canoeing and kayaking destinations, gear, and techniques.