/ Source: The Associated Press
Shares of Google Inc. surged Friday after the company's first-quarter results proved the search-engine leader still has the golden touch.
Defying recent skepticism that tarnished its stock, the Internet's search king dazzled investors late Thursday by reporting first-quarter earnings that obliterated analyst estimates.
The results appeared to validate recent research showing Google has widened its lead over its fiercest rivals to grab a bigger piece of the Internet's increasingly lucrative advertising market.
The Mountain View, Calif.-based company said it earned $592.3 million, or $1.95 per share, during the first three months of the year. That compared with net income of $369.2 million, or $1.29 per share, at the same time last year.
Quarterly revenue surpassed $2 billion for the first time in Google's 7½ year history, reaching $2.25 billion — a 79 percent increase from $1.26 billion last year.
After subtracting the commissions that company pays to thousands of advertising partners, Google's revenue totaled $1.53 billion.
Google's profit increase would have been even larger if not for new accounting rules that require companies to deduct the costs of their employee stock options. That requirement, imposed over the high-tech industry's loud objections, wasn't in effect last year.
If not for the stock option expenses and a charge for a recently announced legal settlement, Google would have earned $2.29 per share, well above the average estimate of $1.97 per share among analysts surveyed by Thomson Financial.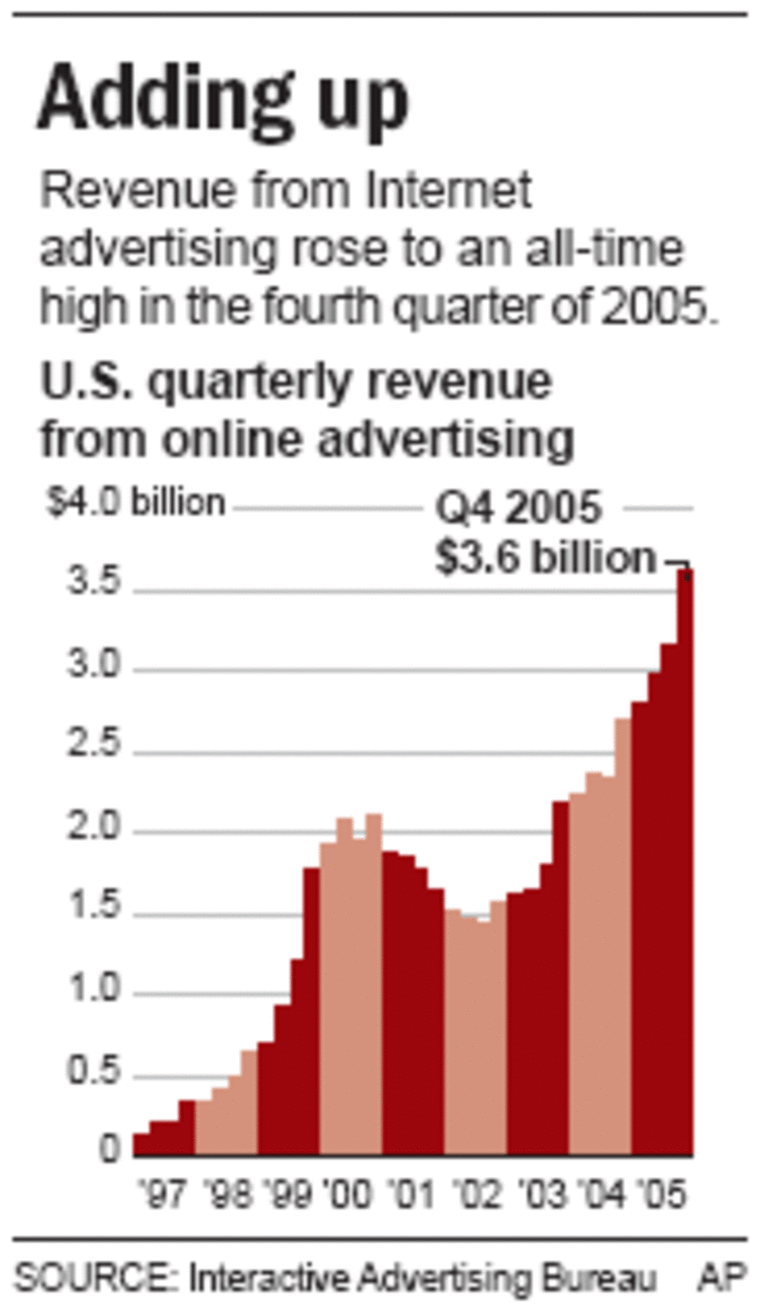 Google's revenue, excluding ad commissions, exceeded the average analyst estimate by $90 million.
"We are obviously very happy with our first-quarter results," Google CEO Eric Schmidt said during a conference call with analysts. "We basically have good news across the business."
A lower than expected tax rate increased Google's first-quarter earnings by about 8 cents per share, estimated American Technology Research analyst Rob Sanderson. Google's effective tax rate was 27 percent in the quarter, below the 30 percent rate the company anticipates paying for the year.
"It was still a solid quarter," Sanderson said. "There shouldn't be any doubt about this company's ability to make money."
Google is profiting as advertisers shift more of their spending to the Internet. Merrill Lynch analyst Lauren Rich Fine recently estimated Internet advertising this year will total $14.5 billion, surpassing magazine advertising for the first time.
The strong showing provides another lift for Google's stock, which has surged by more than 20 percent since its addition to the Standard & Poor's 500 index was announced a month ago.
The inclusion to the widely watched market barometer reversed the negative sentiment that had been swirling around Google after the company missed analyst earnings estimates in its previous quarter.
The concerns raised by that shortfall were compounded in late February when George Reyes, Google's chief financial officer, said it was becoming more difficult for the company to find new ways to get people to click on its ads.
That didn't appear to be a problem in the first quarter though, particularly abroad. Google said 42 percent of its revenue came from outside the United States during the period, up from 39 percent last year.
The results also appeared to validate recent research indicating that the company has raced further ahead of its closest competitors, Yahoo Inc. and Microsoft Corp.
Yahoo, which runs the Internet's second-ranked search engine, had challenged the notion that it was losing significant market share when it released its first-quarter earnings this week.
But Google's first-quarter growth outdistanced Yahoo's by a substantial margin. Excluding ad commissions, Google's first-quarter revenue increased 19 percent from the previous quarter while Yahoo's inched up by just 2 percent.
Google ended March with a 42.7 percent share of the U.S. search engine market, up from 36.4 percent at the same time last year, according to comScore Media Metrix. Yahoo's market share fell to 28 percent from 30.6 percent last year, comScore said, while Microsoft's dropped to 13.2 percent from 16.5 percent.
Bolstered by its success, Google is sitting on a large pile of cash that could finance acquisitions and other investments to grow even larger. The company has about $10.5 billion in the bank, including the proceeds from a recently completed sale of 5.3 million additional shares.
Google already is investing heavily in the computer data centers that power its search engine and increasing array of other products. The company's capital expenditures totaled $345 million in the first quarter, putting it on pace to invest about $1.4 billion in that area this year, up from $838 million last year.
In another sign of its rapid expansion, Google hired 1,100 employees — an average of a dozen per day — during the first quarter to increase its payroll to 6,800 workers.