/ Source: The Associated Press
The government plans to crack down ever harder on employers who harbor and hire illegal immigrants, pursuing companies that ignore the law so they can exploit cheap labor.
"We are going to move beyond the current level of activity to a higher level in each month and year to come," Homeland Security Secretary Michael Chertoff said Thursday. He pledged to "come down as hard as possible" on violators.
Federal agents on Wednesday arrested seven current and former managers of IFCO Systems, a manufacturer of crates and pallets, on criminal charges, and more than 1,100 people were arrested on administrative immigration charges at more than 40 IFCO sites in the U.S.
"Our nation's communities cannot be a wild frontier where illegal aliens and unscrupulous employees subvert our nation's laws," said Julie Myers, assistant secretary for Immigration and Customs Enforcement.
Don Sherman, director of the Cincinnati Interfaith Committee for Worker Justice, an advocate for immigrant workers and their rights, was skeptical about the government's move.
"I think the timing is very suspicious because there are a number of rallies coming up around the country promoting immigration reform," he said.
Chertoff denies ties with recent protests
Chertoff denied the timing of the stepped-up enforcement had anything to do with recent immigration demonstrations, saying the investigations began more than a year ago.
Messages left with IFCO officials were not immediately returned Thursday. In a statement Wednesday, the company pledged to cooperate with the investigation and comply with state and federal requirements.
The Germany-based company describes itself as the leading pallet services company in America.
More than half of the company's roughly 5,800 employees during 2005 had invalid or mismatched Social Security numbers, the government alleges.
The case began after officials got a tip that IFCO workers in Guilderland, N.Y., were seen ripping up their W-2 income statement forms because they did not intend to file tax returns, Chertoff said.
Six of seven current and former IFCO managers charged with felony conspiracy to harbor illegal aliens were released on bond and are to appear May 4 in Albany, N.Y., where the criminal complaint was filed and the investigation began at a suburban IFCO facility.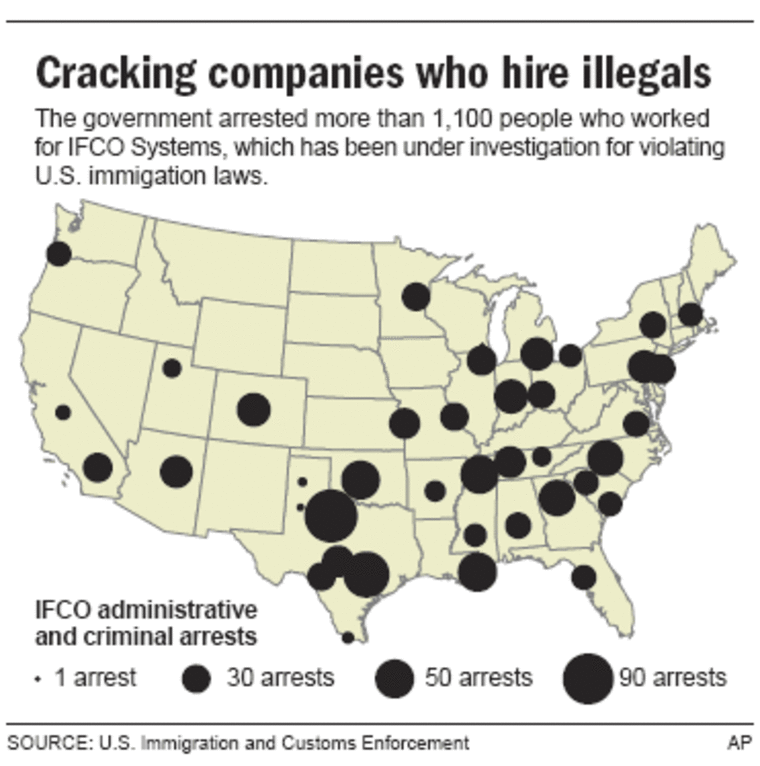 The managers could face up to 10 years in prison and a $250,000 fine for each alien involved, as well as forfeitures.
"Just a small fine or a slap on the wrist is not a deterrent," Myers said.
Most of the 1,187 illegal immigrants arrested are being processed for deportation, said Assistant U.S. Attorney Tina Sciocchetti in Albany.
Up to 20 workers living together
"They were getting cheated on their overtime," she said. "There were 10 to 20 people living in a house sleeping on air mattresses. They weren't the greatest employment conditions."
In other recent high-profile immigration cases:
The operators of three Baltimore restaurants pleaded guilty to immigration charges last week.
Nine people affiliated with two temporary employment agencies with business in New Jersey, Ohio and Pennsylvania were charged in an alleged $5.3 million scheme involving illegal immigrants.
If Congress provides the money, officials said they plan to add about 200 more agents by the end of next year as they go after companies that violate immigration laws. There are now about 325 agents.
Federal officials also are asking Congress for greater access to workers' Social Security data to help uncover illegal aliens who use bogus identification data.