/ Source: The Associated Press
A 7.7-magnitude earthquake hit a distant, sparsely populated region of Russia's Far East on Friday, and there were reports in at least one coastal village of minor injuries and damaged buildings — including schools and a hospital.
The quake hit at around 12:30 p.m. local time in the Koryak region, nearly 4,350 miles east of Moscow and some 625 miles north of the largest city in the area Petropavlovsk-Kamchatsky, said Oleg Kotosanov, a duty officer with the regional emergency situations ministry.
The U.S. Geological Survey and Japan's Meteorological Agency estimated the quake's magnitude at 7.7. There were numerous aftershocks ranging from magnitude 4.5 to 5.4.
Kotosanov told The Associated Press by phone that there were reports of damage in some villages in the Pacific region, and that emergency officials were flying by helicopter to several locations. Federal emergency officials in Moscow said they had no information about the quake.
Russian news agencies said buildings had been damaged in the coastal village of Tilichiki, including schools, a hospital and an airport. The agencies said there were also some minor injuries in the village, which has a population of about 2,000.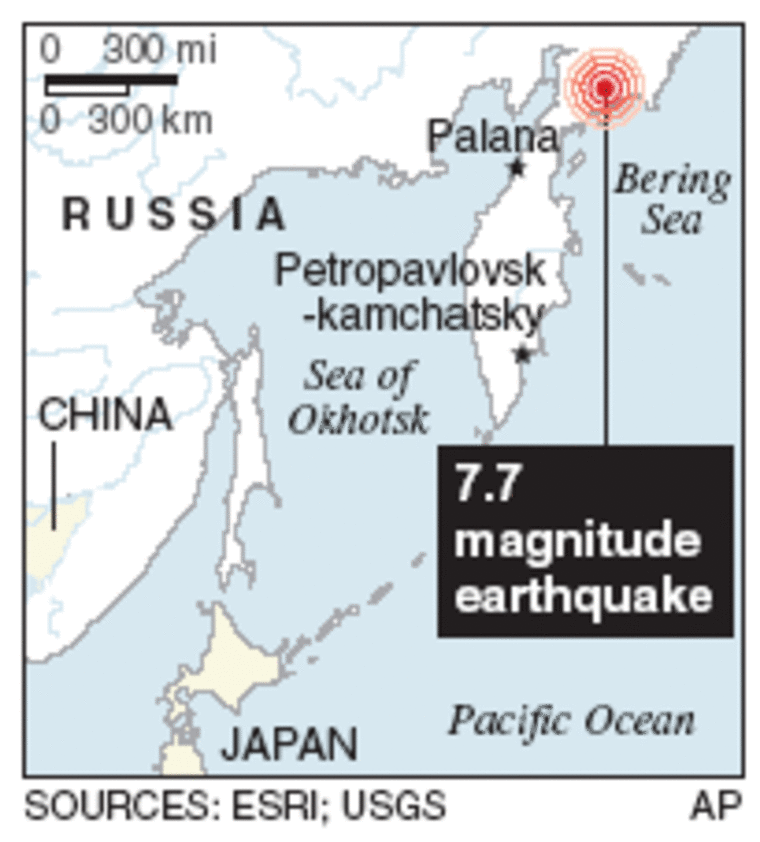 Russia's north Pacific coast sits along a major tectonic plate and is frequently hit by earthquakes and volcanic eruptions.
"It's the largest event in this area since 1900," A.B. Wade, a spokeswoman for the USGS, told the AP. "It's a sparsely populated area; up to 2,000 people were exposed to intensive shaking."
By comparison, the great San Francisco earthquake of 1906, which destroyed more than half of the city's buildings and left between 3,000 and 6,000 people dead 100 years ago this week, was estimated at a magnitude of between 7.7 and 7.9.
The Russian quake, centered about 30 miles below the surface, posed no tsunami risk to the western United States and Canada, according to the West Coast and Alaska Tsunami Warning Center.