/ Source: The Associated Press
A federal jury on Tuesday convicted a 23-year-old man of supporting terrorists by attending an al-Qaida training camp in Pakistan three years ago.
Hamid Hayat, a seasonal farm worker in Lodi, an agricultural town south of Sacramento, was convicted of one count of providing material support to terrorists and three counts of lying to the FBI.
His attorney said she would seek a new trial. "Hamid Hayat never attended a terrorist training camp. This fight is not over," Wazhma Mojaddidi said.
The verdict came hours after a separate jury hearing a case against the man's father deadlocked, forcing the judge to declare a mistrial.
The father, 48-year-old ice cream truck driver Umer Hayat, is charged with two counts of lying to the FBI about his son's involvement in the training camp. Defense attorneys and prosecutors will meet in court May 5 to decide whether he will be retried.
Both men are U.S. citizens. They stood trial in federal court before separate juries. They have been in custody since their arrests last June.
Fears of terror in wine country
Both cases initially generated widespread interest because they raised concerns about a potential terrorist cell centered in the wine-producing region about 35 miles south of the state capital. But the government presented no evidence of a terrorist network during the nine-week trial.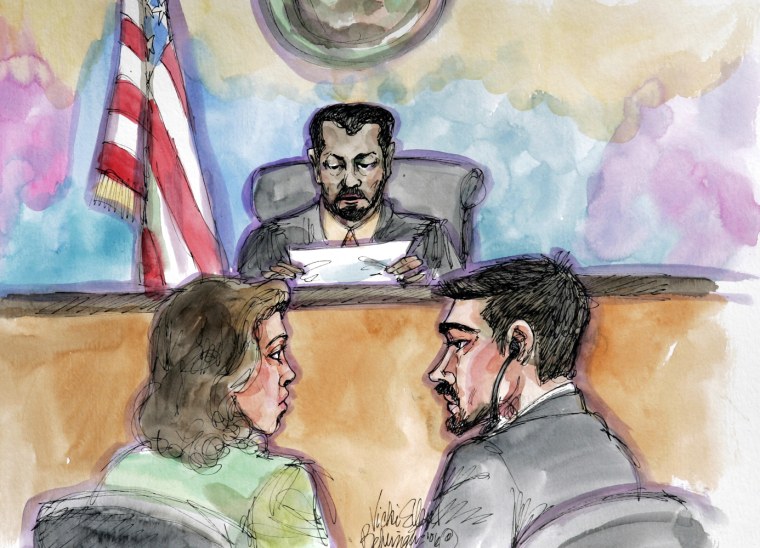 Instead, the case centered on videotaped confessions the men gave to FBI agents and a government informant who secretly recorded hundreds of hours of conversations but whose credibility was challenged by the defense.
Prosecutors described Hamid Hayat as having "a jihadi heart and a jihadi mind" and returning from a two-year visit to Pakistan intent on carrying out attacks. Possible targets included hospitals, banks and grocery stores.
They presented no evidence to show that such attacks were imminent or even planned. But in closing arguments, a prosecutors said the case was intended to prevent terrorist attacks "long before anybody is hurt."
Defense lawyers for both men argued that the government didn't have a case against their clients because it had produced no evidence that the son ever attended a terrorist training camp.
Taped confessions central to the case
Their biggest hurdle was trying to persuade jurors to discount the men's videotaped confessions. The statements were given separately last June during lengthy interrogations by the FBI in Sacramento.
Defense lawyers said the confessions were made under duress, after the men had been questioned for hours in the middle of the night.
The father and son eventually told the agents merely what they thought they wanted to hear, without realizing the legal consequences, their lawyers argued.
The trial is the result of what the government initially thought might be a much larger case. Its investigation into Lodi's 2,500-member Pakistani community began after agents received a tip in 2001 that Lodi-area businesses were sending money to terrorist groups abroad.
That investigation ultimately fizzled, but it did lead agents to Naseem Khan. The 32-year-old former Lodi resident was working a variety of fast-food and convenience store jobs in rural Oregon when agents approached him in October 2001, just a month after the 9/11 terrorist attacks.
Informant aids prosecution case
Khan, a Pakistani native who moved to the U.S. as a teenager, was recruited to infiltrate Lodi's Pakistani community.
He initially investigated the money-laundering allegations and then targeted a pair of local imams before finally befriending Hamid Hayat. The Hayats grew to eventually consider Khan almost a member of the family.
After Hamid Hayat left for Pakistan in spring 2003, Khan kept in touch and recorded their telephone calls — some of which show Khan urging Hayat to attend a jihadi camp.
In one conversation, Khan exhorted Hayat to "be a man — do something!"
Hamid Hayat's lawyers seized on such conversations to show that the FBI informant pushed Hayat to attend a training camp but ultimately produced no evidence that he had.
They also questioned the informant's credibility, in part because of his own testimony. Khan said that just before he was recruited, he told FBI agents he had seen Osama bin Laden's physician and two other international terrorists living in Lodi during the late 1990s. At the time, they were wanted for attacks in the Middle East and Africa.
Defense attorneys and terrorism experts said it was highly unlikely they would have been in the U.S. at that time, a point prosecutors conceded later.