/ Source: The Associated Press
Sales of new homes soared in March by the largest amount in 13 years, reflecting a rebound from bad weather in February. But the median price of the homes sold last month actually declined, providing evidence that the nation's five-year housing boom is slowing.
The Commerce Department reported that sales of new single-family homes rose 13.8 percent last month to a seasonally adjusted annual sales rate of 1.213 million units. The increase represented a recovery from a 10.9 percent plunge in sales in February.
But the median price of homes sold in March dropped to $224,200, down 2.2 percent from what homes were selling for in March 2005. It marked the first time home prices dropped over a 12-month period since December 2003.
The median price, the point where half the homes sold for more and half for less, also showed a decline in March when compared to February, falling by 6.5 percent.
Home prices last year were soaring as anxious buyers bid more to get into a sizzling home market. However, analysts believe that sales, which set records for five straight years, will decline in 2006 as the housing boom cools under the impact of rising mortgage rates.
Home sales were up in all areas of the country led by a 35.7 percent surge in the West. Sales rose 10.9 percent in the Midwest, 6.9 percent in the South and 4.7 percent in the Northeast.
In other economic news, the government reported that orders to U.S. factories for big-ticket manufactured goods soared by 6.1 percent in March, the largest amount in 10 months, as heavy demand for new jetliners by foreign countries helped boost the manufacturing sector.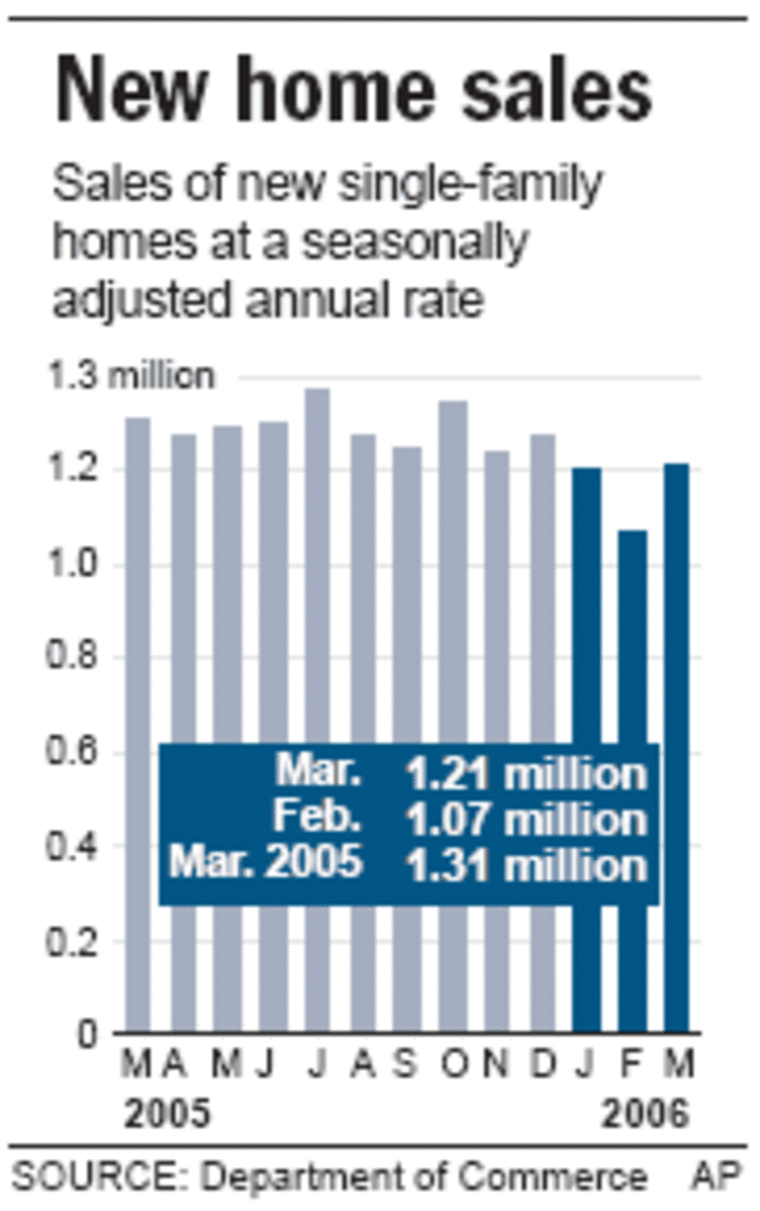 The 6.1 percent increase in orders for durable goods followed a 2.7 percent rise in March and was the biggest advance since a 7.3 percent increase in May 2005. It was more than three times the 1.8 percent increase that Wall Street had been expecting. Two-thirds of the gain reflected a 71.1 percent jump in demand for commercial aircraft.
The manufacturing sector has been powering ahead in recent months, helped by efforts to restock lean inventories and a desire on the part of many companies to purchase new equipment to expand and modernize.
In contrast to the big surge in new home sales in March, sales of previously owned homes edged up a much smaller 0.3 percent, according to a report Tuesday from the National Association of Realtors. The number of existing homes remaining for sale at the end of March hit an all-time high, which analysts believe will be a factor further depressing prices in coming months.
The number of new homes remaining on the market in March also hit a new high, climbing to 555,000, up 2.8 percent from February. That represents 5.5 months' supply at the March sales pace.
The 6.1 percent rise in durable goods orders reflected an increase of $13.3 billion, which pushed total new orders to $230.6 billion last month. Excluding the volatile transportation sector, orders would have risen by 2.8 percent.
Economists believe that the overall economy rebounded strongly in the first three months of this year after a lull in the final three months of 2005 with part of the momentum being supplied by the manufacturing sector.
Many economists believe the economy grew at an annual rate approaching 5 percent in the January-March quarter, up from a modest 1.7 percent growth rate in the October-December period. The government will release its first look at first quarter growth on Friday.
Demand for all transportation items rose by 14 percent, an increase that was powered by the 71.1 percent jump in orders for civilian aircraft. Boeing Co. reported that it had booked orders for 112 new planes during the month.
Orders for motor vehicles and parts rose by 2.8 percent while orders for military aircraft fell by 0.7 percent.