/ Source: The Associated Press
A Japanese researcher has demonstrated a pair of robotic legs that can negotiate stairs and could eventually find use as a wheelchair substitute.
"Elderly people using wheelchairs cannot get up and down stairs," said Atsuo Takanishi, an engineering professor at Tokyo's Waseda University. "We wanted to create a robot that could do that and walk around rough surfaces."
Takanishi has been working on the machine since 2003 in conjunction with robot manufacturer tmsuk Co. Their goal has been to create a two-legged robot that can fully operate in a human environment — specifically, one with features such as stairs that they can climb as Homo sapiens do.
The latest version of the robot, the WL-16RIII, can manage the mechanically difficult feat. During Wednesday's demonstration in Tokyo, one of Takanishi's students rode the robot — which bears some resemblance to the mechanical "Wrong Trousers" of Wallace and Gromit fame — up and down a staircase and along a pebbly path outdoors.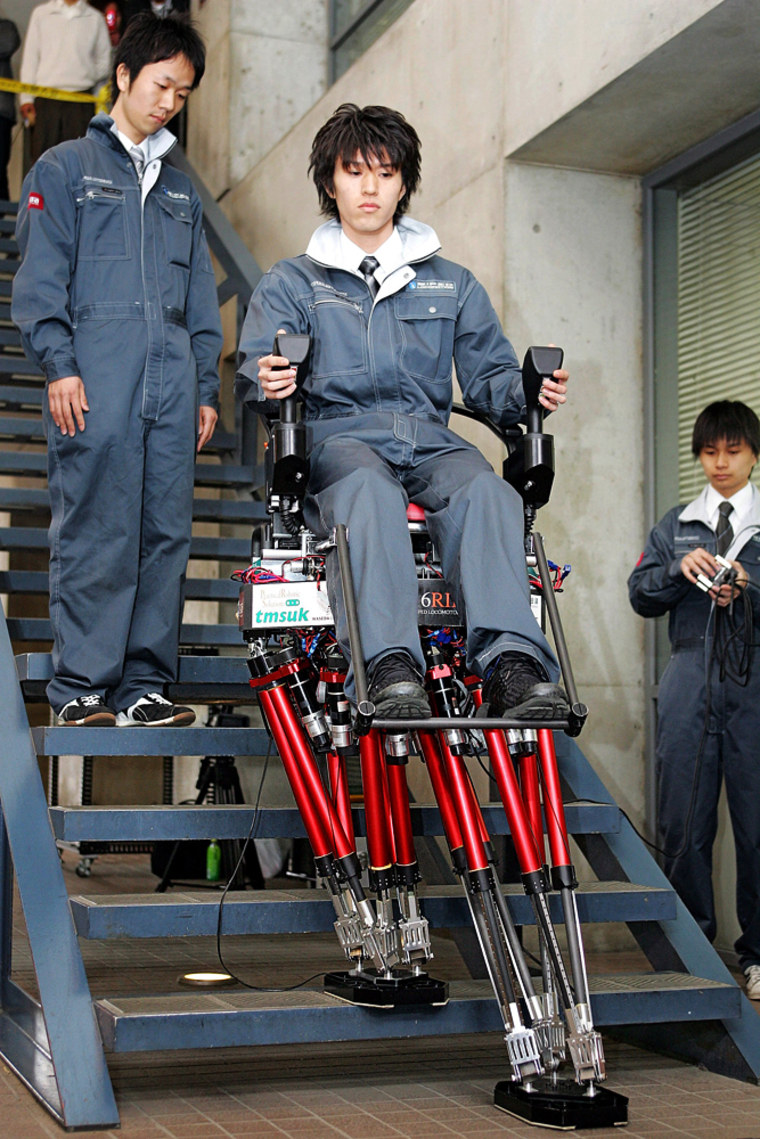 The WL-16RIII is operated using a pair of joysticks. However, Takanishi also hopes to develop a model that could function more freely without such input. In that scenarion, the device could serve as a wheelchair replacement, allowing elderly or disabled individuals who may not be able to easily move their hands or arms to still use the robot.
Takanishi and tmsuk hope to have a model ready in the next year or two that enthusiasts could use to play sports, like a robot version of polo, said tmsuk spokeswoman Rie Sudo. They hope to have the more autonomous, wheelchair replacement version ready in five years, Sudo said.
Tmsuk Co. is based in Kitakyushu, about 527 miles (848 kilometers) southwest of Tokyo.