/ Source: Sherman's Travel
Book by: ASAP
Travel by: Various through August 2006
The Deal
Earth Day may have come and gone but you can travel green any time of the year. From Alaska and the Amazon to Costa Rica and Australia, we've scoured the globe to find top-rated eco-lodges where unique wilderness stays can be had at sustainable prices. Rates start at $125/night at a well-reviewed rainforest lodge in Costa Rica and go up to $370/night for a deluxe lodge in the Alaskan wilderness. Of course, you can't put a price on a clean conscience -- and that's just one perk you'll enjoy at our environmentally friendly picks.
Alaskan wilderness at deluxe lodge for $370/night
For a premier look at Alaska's epic grandeur, book a night at the remote Tutka Bay Wilderness Lodge, along the Kenai Coast on the south shore of Kachemak Bay. This cluster of rustic buildings gets top marks for combining deluxe lodging with nature activities galore while not losing regard for its pristine environment.
Frommer's describes it as "an upscale hotel in the wilderness, with cabins connected by long boardwalks ... and a kitchen capable of producing gourmet meals. There plenty to do: guided tide-pool and forest walks, bird-watching, hiking, berry picking, rowing, fishing from the dock."
Two-night packages start at $740 per person, with three meals per day, plus complimentary wine and beer with dinner. If you have the time, we highly recommend a three-night sojourn, priced at $1,110 per person. Note that a $70 fee applies for water-taxi round-trip transfer to the lodge.
Check out the Amazon's biodiversity in Brazil for $280/night
To experience untouched wilderness, there's no place more incredible than the Amazon rainforest. The 1.2-billion-acre region of virgin jungle hides countless plant and animal species, which you can check it out while staying at Brazil's Ariau Amazon Towers Hotel.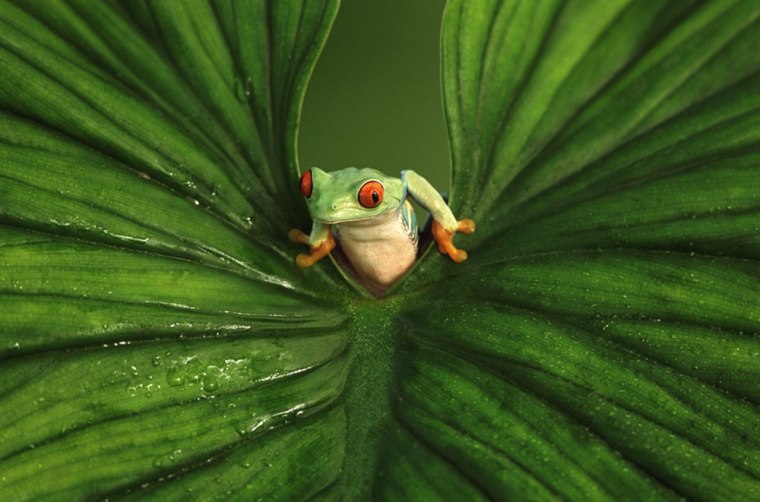 "Conde Nast Traveler" writes: "Imagine a hotel built among Amazon treetops: catwalks 70 feet up leading from a great circular dining room of polished tropical woods, a bar like an eagle nest, a honeymoon suite built 110 feet up a mahogany tree, and friendly monkeys, macaws, sloths, and parrots scampering, fluttering, and dangling all over the place."
$280 per person gets you a two-day package, which includes round-trip boat transfer to the lodge; a canoe excursion to a native village; two lunches and one breakfast; a jungle trek; and a sunrise tour.
Explore Costa Rica's natural riches at rainforest lodge for $125/night
Costa Rica beckons with its status of a premier green destination. Having been in the ecotourist spotlight for several years now, the Switzerland of Central America safely guards its natural riches. The perfect example is the delightful Luna Lodge, perched over the virgin Osa Peninsula rainforest. This lush retreat is set amid waterfalls, hundreds of bird species, fragrant fruit trees, and offers Pacific vistas in the distance.
"Travel + Leisure" writes, "Prepare to share a trail with sloths, tapirs, kinkajous, anteaters, spider monkeys, and the occasional jaguar. Not natural enough? The eight stylish bungalows all have private tropical gardens."
At this verdant paradise, you won't even need an alarm clock. Instead, wake up to howler monkeys' morning call, and pay just $125/night per person for this wild experience, with three meals per day plus a waterfalls tour.
Book a two-night cliff-top stay in Australia's Blue Mountains for $312 (for two nights)
For an eco-friendly hideaway in the heart of Australia's Blue Mountains, you can't beat a stay at Kanimbla View -- The Clifftop Retreat. As environmentally friendly as they get, the retreat's two stunning cottages come with solar power; furniture made from trees felled on the neighboring land; sash windows salvaged from a demolition in Sydney; walls and floors painted with natural paints in ochres and reds; and hemp sheets.
Surrounding the cottages are head-spinning mountain views and pristine Australian bush, which can be explored on a guided tour offered by the enthusiastic owner. The cost of staying in this slice of paradise is incredibly affordable, too. A two-night minimum stay starts at only $312 for two people for midweek stays; it goes up to $558 on weekends.
The Dollars
See details above.
Pack your sense of adventure for this intimate encounter with Earth Mother!
is a guide to top travel deals and destinations. which features the best editor-screened deals from hundreds of travel providers and is delivered to over 2.5 million subscribers, free, each week. ShermansTravel also publishes to inspire, guide, and go.