/ Source: The Associated Press
Thousands of people joined celebrities and lawmakers at a rally Sunday urging the Bush administration and Congress to help end genocide in Sudan's Darfur region.
"Not on our watch!" the crowd chanted as a parade of speakers lined up for their turn on a stage on the National Mall, the Capitol serving as a backdrop.
"The personal motivation for a lot of us is the Holocaust," said Boston-based Rabbi Or Rose of Jewish Seminarians for Justice. "Given our history and experience, we feel an obligation to stand up and speak out."
In an interview, refugee Hassan Cober said he was forced to leave his family and flee Sudan four years ago after many were killed and raped. He urged the United States and the United Nations to act quickly, saying he had no idea where his family was or if they were OK.
"We need deeds, not words," said Cober, now of Portland, Maine. "They need to come to Darfur today, not tomorrow, because what is going on is a disaster."
The organizers' permit anticipated 10,000 to 15,000 people would rally, one of several in U.S. cities this weekend against what the United Nations calls the world's worst humanitarian disaster.
"It is the socially responsible, good conscience thing to do," said Ron Fisher, who took a pre-dawn bus from Cleveland with his 15-year-old daughter Jordyn. "It's an opportunity to show my daughter what people do when they care about something."
The U.S. Park Police, which does not issue crowd estimates, reported no arrests.
High-profile commentary
The event attracted high-profile speakers such as actor George Clooney, just back from Africa; Sen. Barack Obama, D-Ill.; House Democratic leader Nancy Pelosi of California; Nobel Peace Prize winner Elie Wiesel; Olympic speedskating champion Joey Cheek, who gave his bonus money to the cause; and Roman Catholic Cardinal Theodore McCarrick, archbishop of Washington.
"If we care, the world will care," Obama told the crowd. "If we act, then the world will follow." Pelosi said Democrats for once agree with Bush: "This genocide must stop."
Clooney and his father, Nick, a former television anchorman, interviewed families in Sudanese refugee camps. The elder Clooney described their role as reporters. "It's our job to tell you what we saw," he said. "Thousands of people hanging on by the most gossamer of threads."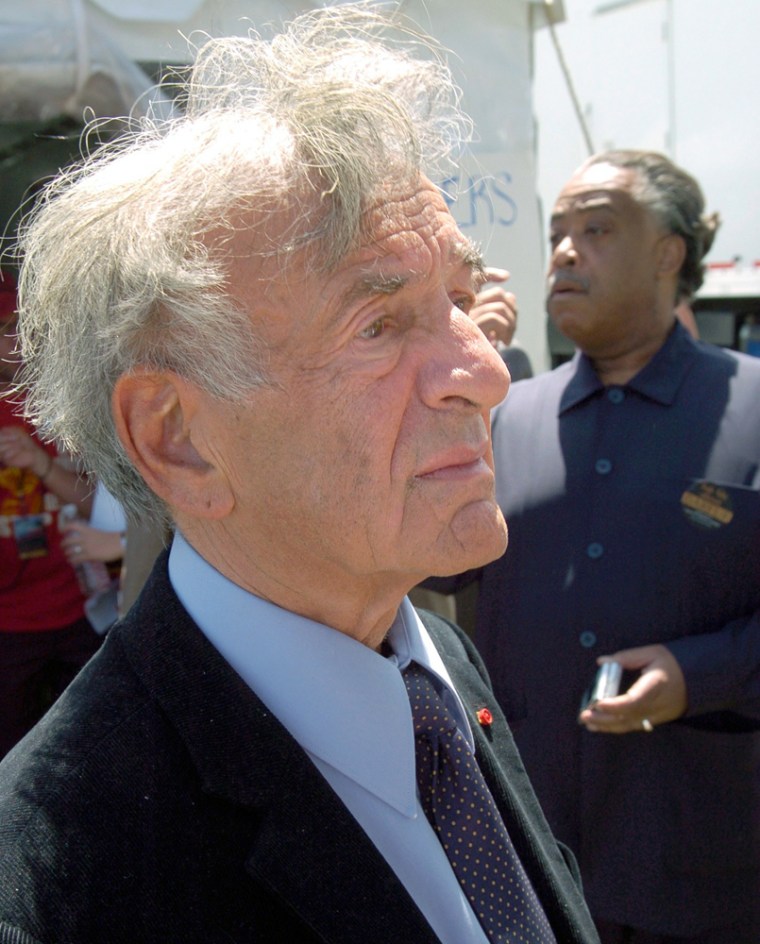 His son, clad in a black T-shirt and khaki cargo pants, was the event's big draw. He said the United States' and United Nations' policies are failing — and citizens must demand change.
"This is in fact the first genocide of the 21st century, but there is hope: all of you," the actor said. "Every one of you speaking with one voice, every one of you."
Jendayi Frazer, who leads the State Department's Africa bureau, said Bush hasn't shied from calling it genocide. He's working to prevent more deaths, she said, while the United States provides $1.3 billion in humanitarian assistance. "The strategy is working but you must continue to push for faster international action," she said.
Others on the speakers' list were Roman Catholic Cardinal Theodore McCarrick of Washington; Paul Rusesabagina, the hotelier whose shelter of hundreds of people from the 1994 Rwandan genocide was the subject of the movie "Hotel Rwanda"; and hip-hop mogul Russell Simmons.
Campaign of murder, rape
About 180,000 people have been killed and 3 million driven from their homes by fighting in the western Sudanese region since February 2003, when rebels from black farming villages took up arms against what they consider discrimination and oppression by the Arab-dominated government.
Sudanese government leaders allegedly encouraged militiamen from nomadic Arab tribes to wage a campaign of murder, rape and arson against civilians in the villages.
The international community poured in help in 2005 while pressuring both sides to settle the conflict.
Obama plans a visit to Africa in August and, in a pre-rally interview, said he hopes by then "we'll be making some progress on some of these diplomatic fronts."
"The situation there is very delicate," Obama said in the interview. "You've already got people who are displaced. ... Things could get much worse."
President Bush met with Darfur advocates at the White House on Friday and lent his support to the weekend rallies. "For those of you who are going out to march for justice, you represent the best of our country," Bush said.