/ Source: The Associated Press
U.S. Judge Leonie Brinkema sent Zacarias Moussaoui to prison for life Thursday, to "die with a whimper," for his role in the Sept. 11, 2001, terrorist attacks. The convicted terrorist declared: "God save Osama bin Laden — you will never get him."
Brinkema and the unrepentant Moussaoui capped the two-month trial with an intense exchange that will mark the defendant's last public words before his incarceration in a maximum security prison in Colorado.
A day earlier, a jury rejected the government's case to have Moussaoui executed, deciding instead to sent him to prison for life without a chance of parole. Not all jurors were convinced that Moussaoui, who was in jail on immigration charges Sept. 11, had a significant part in the attacks, despite his boastful claims that he did.
Brinkema firmly refused to be interrupted by the 37-year-old defendant as she disputed his claim that his life sentence meant America had lost and he had won.
"Mr. Moussaoui, when this proceeding is over, everyone else in this room will leave to see the sun ... hear the birds ... and they can associate with whomever they want," she said.
'Absolutely clear who won'
She went on: "You will spend the rest of your life in a supermax prison. It's absolutely clear who won."
And she said it was proper he will be kept away from outsiders, unable to speak publicly again.
"Mr. Moussaoui, you came here to be a martyr in a great big bang of glory," she said, "but to paraphrase the poet T.S. Eliot, instead you will die with a whimper."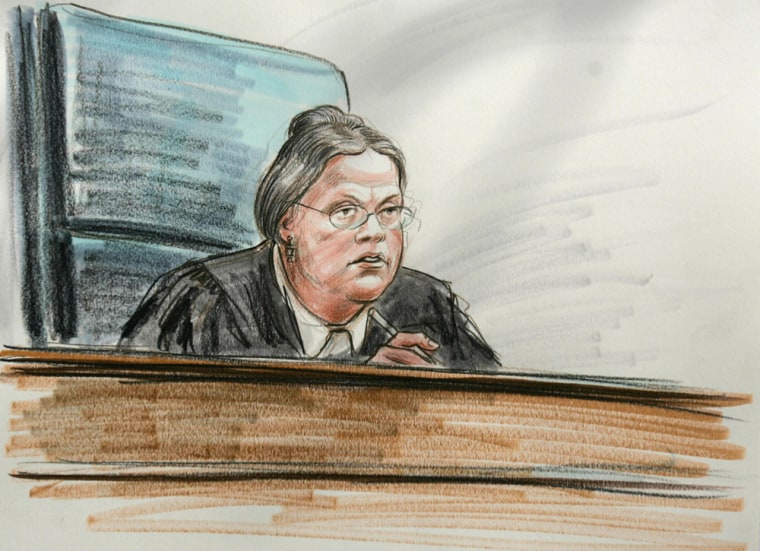 At that point, Moussaoui tried again to interrupt her, but she raised her voice and spoke over him.
"You will never get a chance to speak again and that's an appropriate ending."
Brinkema sentenced Moussaoui to six life terms without the chance of parole.
She informed him of his right to appeal the sentence and said she would ask his court-appointed lawyers to file the required notice as a precaution before relieving them from the case. "I believe it would be an act of futility," she said of an appeal, "but you do have a right."

Families react
Lisa Dolan, who lost her husband Bob in the attack on the Pentagon, was one of three family members of victims allowed to speak at the brief sentencing hearing.
She turned to Moussaoui said, "There is still one final judgment day."
Moussaoui sat in his chair staring at Dolan and the other family witnesses, Rosemary Dillard and Abraham Scott, betraying no emotion as they spoke.
Moussaoui walked into the courtroom flashing a victory sign. "God save Osama bin Laden — you will never get him," he said.
"You have branded me as a terrorist or a criminal or whatever," he said. "Look at yourselves. I fight for my belief." He spoke for less than five minutes; the judge told him he could not use his sentencing to make a political speech.
French authorities said Thursday they may eventually press the United States to have Moussaoui serve his life sentence in France under two conventions on the transfer of convicts. They were waiting to hear the conditions of his sentencing.
Moussaoui's mother Aicha El Wafi, pressed for her country to intervene. "Now he is going to die in little doses," she said. "He is going to live like a rat in a hole. What for? They are so cruel."
Reaction to verdict
After seven days of deliberation, the nine men and three women rebuffed the government's appeal for death for the only person charged in this country in the suicide hijackings of four commercial jetliners that killed nearly 3,000 people on Sept. 11, 2001.
From the White House, President Bush said Wednesday the verdict "represents the end of this case but not an end to the fight against terror." He said Moussaoui got a fair trial and the jury spared his life, "which is something that he evidently wasn't willing to do for innocent American citizens."
Attorney General Alberto Gonzales, attending a European Union security conference in Vienna, told reporters Thursday: "There are challenges that exist with respect to prosecuting terrorist cases in our system. I think justice was served in this case."
No details if jury split
It is not known how many jurors wanted Moussaoui sentenced to life and how many wanted a death sentence. Under federal law, a defendant automatically receives life in prison when a jury is split. The 42-page verdict form gives no indication on how, or if, the jury split.
The jury rejected two key defense arguments — that Moussaoui suffers a mental illness and that executing him would make him a martyr. No jurors indicated on the verdict form that they gave any weight to those arguments.
Nine jurors found that Moussaoui suffered a difficult childhood in a dysfunctional family where he spent many of his early years in and out of orphanages. Three found that Moussaoui only played a minor role in the attacks.
In their successful defense of Moussaoui, defense lawyers overcame the impact of two dramatic appearances by Moussaoui himself — first to renounce his four years of denying any involvement in the attacks and then to gloat over the pain of those who lost loved ones.
He was still belittling that pain Thursday. Referring to Dillard, who lost her husband Eddie in the Pentagon attack, he said: "I destroyed a life and she lost a husband. Maybe one day she can think about how many people the CIA has destroyed."
"You have a hypocrisy beyond belief," he said. "Your humanity is a selective humanity."
Using evidence gathered in the largest investigation in U.S. history, prosecutors achieved a preliminary victory last month when the jury ruled Moussaoui's lies to federal agents a month before the attacks made him eligible for the death penalty because they kept agents from discovering some of the hijackers.
But even with heart-rending testimony from nearly four dozen victims and their relatives — testimony that forced some jurors to wipe tears from their eyes — the jury was not convinced that Moussaoui deserved to die.