/ Source: NBC News and news services
President Bush said Monday night he will send as many as 6,000 National Guard troops to the U.S. border with Mexico to help stop the flood of illegal immigrants, part of an administration drive to win conservative support in Congress for an election-year overhaul of the nation's tattered immigration laws.
"We do not yet have full control of the border and I am determined to change that," the president said in pressing for his $1.9 billion plan in a 17-minute prime-time address from the Oval Office.
Bush gave strong support to a plan that would give many of the 12 million illegal immigrants in the United States an eventual chance of citizenship — a move derided by some conservatives as amnesty. He rejected that term.
"It is neither wise nor realistic to round up millions of people, many with deep roots in the United States and send them across the border," he said. "There is a rational middle ground between granting an automatic path to citizenship for every illegal immigrant and a program of mass deportation."
The Guard troops would mostly serve two-week stints before rotating out of the assignment, so keeping the force level at 6,000 over the course of a year could require up to 156,000 troops.
Still, Bush insisted, "The United States is not going to militarize the southern border."
Border Patrol expansion envisioned
Bush said the National Guard troops would fill in temporarily while the nation's Border Patrol force is expanded. He asked Congress to add 6,000 more Border Patrol agents by the end of his presidency and to add 6,700 more beds to detain illegal immigrants while they are waiting for hearings to determine that they can be sent home.
The Border Patrol would still be responsible for catching and detaining illegal immigrants, with National Guard troops providing intelligence-gathering, surveillance and other support.
Yet the National Guard troops would still be armed and authorized to use force to protect themselves, said Bush homeland security adviser Fran Townsend.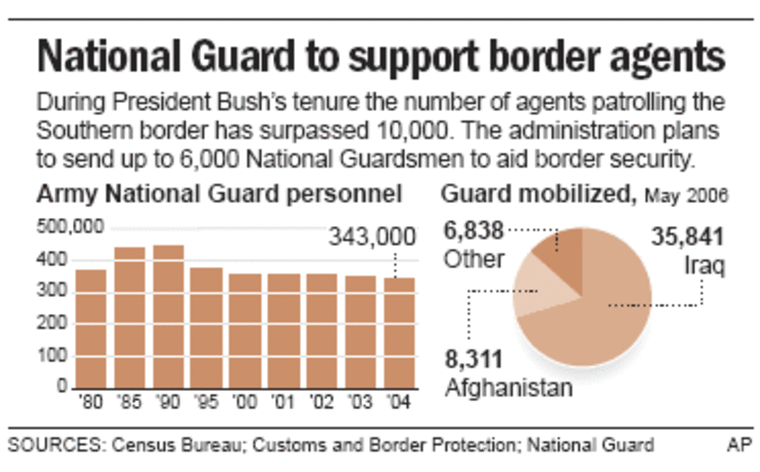 They are to come from the four border states — California, Arizona, New Mexico and Texas — but those states' governors may also seek Guard troops from other states.
Governors react, pro and con
Reaction was mixed among the nation's governors. Arizona Gov. Janet Napolitano believes the Guard can help free up federal authorities to focus on border security, but she wants more immigration agents at the border and believes the Guard should not conduct patrols.
The governor "doesn't favor militarization of the border," Napolitano spokeswoman Jeanine L'Ecuyer said Monday.
California Gov. Arnold Schwarzenegger said troops might provide short-term relief, but he does not believe border protection is an appropriate role for the National Guard.
California has thousands of Guard troops in Iraq and might need them in case of earthquakes, floods or other emergencies, Schwarzenegger said.
"So if you have 6,000 in Iraq and send another 6,000 to the border, what do we have left?" Schwarzenegger said Monday.
New Mexico Gov. Bill Richardson does not favor a long-term military presence at the border and said the president will have to move quickly to replace troops with immigration agents.
"While the immediate deployment of troops may create a short-term fix, it creates further problems and concerns" for Guard troops who may be needed for natural disasters, Richardson said in a statement released Friday.
Guard needed elsewhere
Democrat Ted Kulongoski of Oregon said Guard soldiers signed up to fight the war on terrorism, not to "go and sit on the border of Mexico." And with fire season approaching, he said, "I need our remaining National Guard soldiers to stay in Oregon to protect our forests."
But Alabama Gov. Bob Riley, a Republican, strongly supported the plan. He said, "If we'd done this years ago, we'd have put a stop to illegal immigration."
Governors would have the option of refusing to send troops, but White House officials said they did not expect that would be a major issue since the federal government would be paying the costs. Border state governors would have control over all National Guard troops working in their states.
$1.9 billion budget
The White House wouldn't say how much the deployments would cost, but said the troops would be paid for as part of $1.9 billion being requested from Congress to supplement border enforcement this year.
The White House hopes deployments to the border will begin in early June.
Many congressional Republicans said they support Bush's plan to use National Guard troops at the border. But he ran into criticism from Democrats and some other Republicans.
"The National Guard already is stretched to the limit by repeated tours in Iraq and Afghanistan, as well as from providing disaster assistance in their own states," said Sen. Edward M. Kennedy, D-Mass., though he commended Bush for "courage and leadership" in weighing in on the immigration debate.
House Majority Whip Roy Blunt, R-Mo., indicated Bush may have some trouble getting some conservatives on board with his overall plan.
"While I appreciate the president's willingness to tackle big problems, I have real concerns about moving forward with a guest worker program or a plan to address those currently in the United States illegally until we have adequately addressed our serious border security problems," Blunt said.
Senate begins debate
Bush acted as the Senate began debate on sweeping immigration legislation. Democratic leader Harry Reid sought to pre-empt the Oval Office address with pointed questions for the president, as well as a demand.
"He must publicly denounce" a House-passed bill that makes all illegal immigrants subject to prosecution as felons and calls for construction of a 700-mile fence along the Mexican border, Reid said on the Senate floor.
White House spokesman Tony Snow said Bush had decided to propose the use of thousands of troops to support the Border Patrol while it builds up its resources to more effectively secure the 2,000-mile line between the U.S. and Mexico.
Snow said the effort would use "a very small percentage of the Guard," which numbers about 400,000 members around the country.
About 300 National Guard troops are already on the border to assist with counter-drug operations, heavy equipment support and other functions.
About 17,000 Guard soldiers also are deployed in Iraq.
High stakes
Bush's prime-time speech came weeks after millions of immigrants and their supporters rallied across the United States in support of the Senate legislation and its provision giving illegal immigrants a chance to earn legal status.
Timed to coincide with the resumption of that Senate debate, the speech also comes as Bush's job approval ratings continue to slide to around 30 percent in some recent polls.
With the immigration debate high-stakes politics for Bush and his party, the president's top political adviser, Karl Rove, insisted that reform must be comprehensive.
"This is a problem of security," Rove said, "It is a problem of our economy. It is a problem of compassion."
In a further signal of the high stakes on the issue, Bush planned to follow up his address with a visit Thursday to the border, in Yuma, Ariz., to further press his case.
Reid and Senate Majority Leader Bill Frist both said they expected the Senate to pass comprehensive immigration legislation by Memorial Day. The measure before the Senate calls for greater border security, new guest worker programs and an eventual chance at citizenship for most of the estimated 11 million to 12 million illegal immigrants in the country.
Bush has signaled overall approval of the measure several times, but has yet to endorse the bill, which has drawn fierce criticism from House Republicans whose support will be needed eventually to pass a compromise measure.
Democrats, Republicans challenge Bush
"Democrats are willing to support any reasonable plan that will secure our borders, including deploying National Guard troops," said Sen. Dick Durbin, D-Ill. "But Americans don't want a plan that's been cobbled together to win political favor. This cannot turn into another long-term military deployment with no clear plan."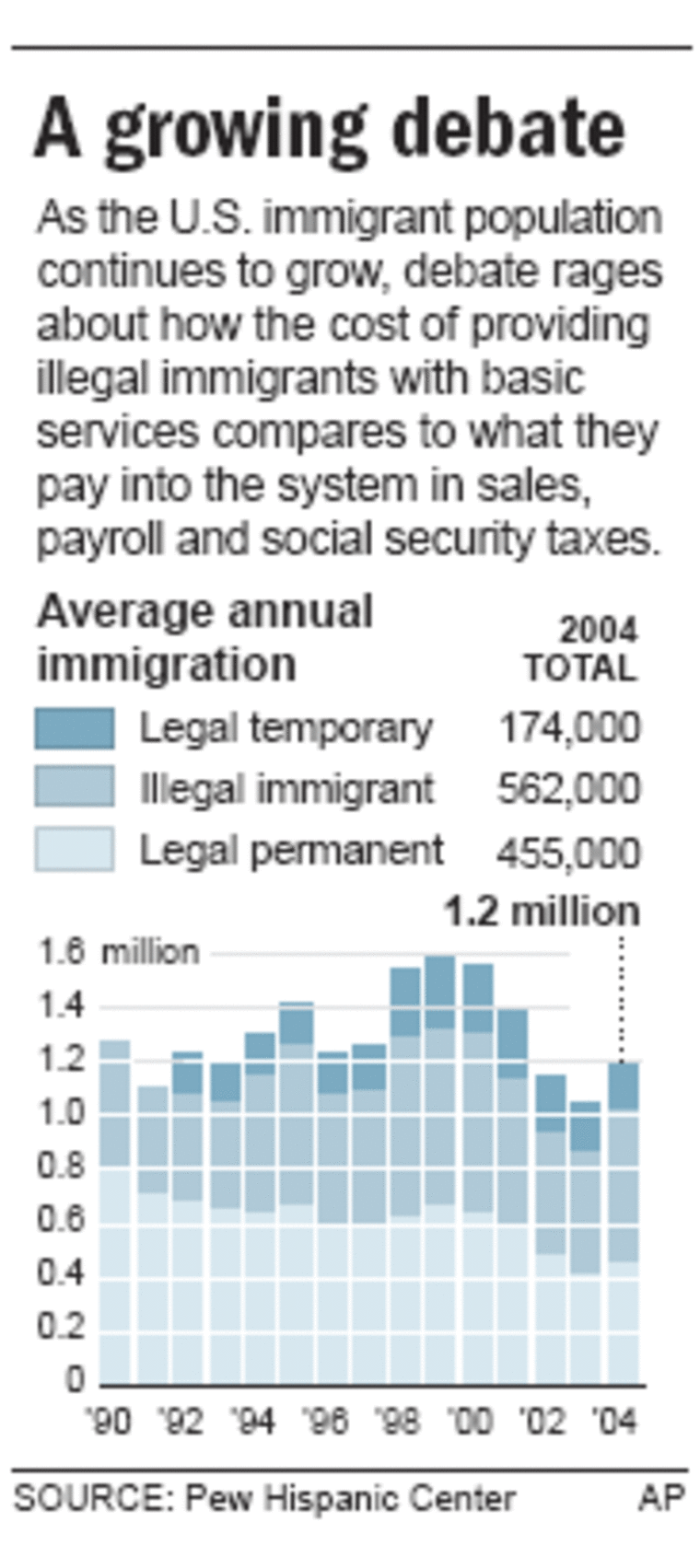 Reid said Bush "got off to a good start tonight, but now he must stand up to right-wing members of his own party who are working to block Senate action." He called on Bush to "denounce the misguided approach of House Republicans" who won passage of a a tough immigration bill that would erect fences along the Mexican border and treat people who sneak across as felons to be deported.
Conservative Republican Sen. Jeff Sessions of Alabama warned Bush about doing too little. "It can't be a token effort by the president," he said. "I think there are a lot of members of Congress that will not support legislation that they think is ineffective in enforcement at the border."