Imagine a home with so much pressure to cook, clean and take care of younger siblings that you don't have enough time to do homework. Imagine your parents forbidding you from going out to socialize with friends from school. Imagine running away from home at 17.
This was Leyla's life. Born in Turkey near the Syrian border, Leyla* came to Germany at the age of six with her mother and siblings to join her father, one of the many so-called "guest workers" invited by the German government during the 1960s and 1970s. (*The women interviewed for this story spoke on condition of anonymity for reasons of safety.)
Leyla excelled in German schools, but life at home was overshadowed by her parents' loveless marriage, verbal abuse from her father and few demonstrations of affection. It got worse when her older sister was married off and left home, and Leyla was suddenly thrust into the role of housekeeper and babysitter.
Then, after years of cleaning floors, cooking dinners and finding just enough time to finish a bit of homework, Leyla had enough of feeling like a slave and went to live in a shared house set up specifically for Turkish girls with troubled family lives.
Life away from her family was better, but it turned out her nightmare was only beginning. Leyla would shortly become one of hundreds of immigrant women in Germany — many from Muslim backgrounds — subjected to abuse, forced marriages and other violent family situations against their will.
Virginity check
After months of living on her own — and a chance to concentrate on school work and even have a social life — Leyla's parents asked her to join them on a trip back to Turkey. "Your grandparents are sick," they told her. "Come to see them one last time."
Against the advice of friends and her social workers, Leyla acceded and joined her parents on the long drive to Turkey.
"As soon as we left my mother took away my passport," said Leyla, recounting her story at a café in one of Berlin's Turkish neighborhoods. "They told me Germany was now dead to me."
But the most frightening part of the drive was when her parents said she would be going to a gynecologist to find out if she was still a virgin.
"I just wanted five minutes alone with the doctor, to give him a little money and get him to lie for me," said Leyla, who at that time had slept with a boyfriend in Germany. But her plan didn't work and the doctor confirmed her parents' worst nightmare. Her mother went into hysterics, wailing in the doctor's office, while her father stood there, unable to speak.
"It wasn't until then that I realized what a shame I had brought on them," she said.
Quickly, they arranged a marriage with a cousin, explaining to the family that she wouldn't bleed on her wedding night as a result of a sports injury.
"He wanted to marry me. It was a good deal for him, he wanted to come to Germany," she said of her cousin, whom she met just once.
Her distress at the whole situation was magnified when during the meeting he attempted to kiss and touch her.
It turned out to be a blessing in disguise. Hoping to avoid a marriage like her parents', she told her father of the cousin's unwelcome advances and he agreed to call off the match.
Eventually, with the help of her social worker in Berlin, Leyla managed to get back to Germany, and her place in what was the first shelter established for immigrant girls, enabled to her get a degree in early education and become a caregiver/counselor in a women's shelter for immigrant girls stuck in family situations similar to her own. Now 42, she has managed to build a new life and is married to a German man.
Religion, culture, tradition
While Leyla managed to avoid a fate preordained by her family, it is impossible to know how many others are left in violent situations with few means of escape. An editor for the Turkish newspaper Hurriyet has estimated that 50 percent of Muslim women in Germany have been victims of domestic violence. In addition, forced marriages often turn into violent homes.
At the heart of the matter is a complicated dance between Germany's inability to fully embrace immigrants, many of whom were invited from Turkey to fill labor shortages, and the immigrants' unwillingness to let go of behaviors and traditions that appear brutal to mainstream Western Europeans.
Critics of Germany's record with guest workers say the country has been standoffish with the new residents, leaving them clinging to their homeland's culture for a sense of familiarity and belonging, a phenomenon particularly true among Muslim immigrants. Many Germans, meanwhile, blame the immigrants for holding on to their old ways and say the responsibility for their poor situation lies mostly with the guest workers for not making more efforts to adapt to German norms and customs.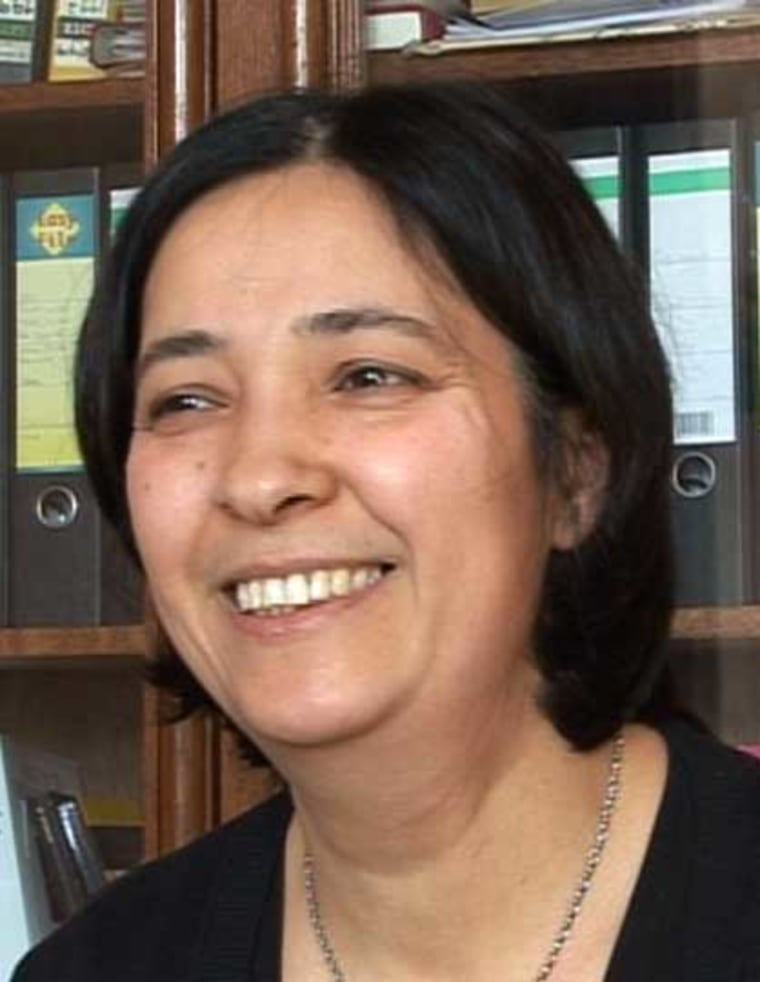 "You can't say [these attitudes against women are] because of one specific thing," said Seyran Ates, a Berlin lawyer of Turkish descent who focuses on women's rights. "Many families, who marry their children off early, want to prevent sex outside of marriage. Some are worried that here in Germany their kids will take a German partner or a partner of another nationality so they marry their kids very quickly with another immigrant or a person here they know."
"It is an absolute mix of religion, culture and tradition," said Ates, who was born into a Muslim family.
In part because of several highly publicized murders of Muslim women by family members for "dishonorable" behavior — along with the murder of the controversial Dutch filmmaker Theodore Van Gogh, who often spoke out about the abuse of women — there is a new willingness to discuss forced marriage and spousal violence against women taking place in Turkish and other immigrant communities.
There are about a dozen shelters around Germany that cater specifically to immigrant women, and several organizations that provide support and advice for those seeking to get out of abusive relationships. The majority of these organizations receive government support or funds in one form or another.
Two-year nightmare
At one of these shelters, the Interkulturelles Frauenhaus (Intercultural Women's House) in Berlin, an Iranian woman, Shabnam, is still trying to recover from a two-year nightmare marriage.
The well-dressed 24-year-old originally came to Germany after marrying a former neighbor who lured her with promises of a better life than the one she could have in Iran.
He had a good job and a nice apartment in Hanover, he told her at the meeting their parents arranged in Turkey. With strong pressure from her parents to accept his proposal, and her own desire to have a husband, Shabnam found herself married at the end of his visit.
Only after her arrival in Germany did she find out her new spouse's promises were all lies. He had no job and few plans to find one. Eventually he started drinking. And then the beatings started. If she asked why he didn't look for work, he hit her.
Ambitious and wanting to learn German so she could get a job, she instead was trapped at home, cooking Persian food for his friends and taking care of the house.
"I couldn't talk to him," Shabnam said. "I was unhappy, I slept a lot, I had a lot of problems, I couldn't think."
After a breakdown caused by her husband's revelation that he was moving to the United States, Shabnam landed in the hospital for a month. A friend then encouraged her to seek help through the Interkulturelles Frauenhaus. Shabnam is now learning German, and hopes to soon begin a degree course in computer science.
Early intervention
In some ways, Shabnam is a success story. She got the help she needed. And so have the nearly 200 other women and children the Interkulturelles Frauenhaus has assisted this year.
Advocates and caregivers agree that the best way to end these problems is to start educating children early that these attitudes are wrong.
"We needto work with all people and not just with the victims when it's too late and they're getting divorced," Ates said. "We must start much earlier, in kindergarten." But to make this possible, "we need more government support and institutionalized support. Help costs money."
Although there are still hundreds of women across Germany seeking help from shelters, and countless more who suffer in silence, advocates are hopeful that the recent public focus on women's issues is helping more women find help and even avoid forced and abusive relationships.
"I have a feeling that it is getting better, now there is more openness," said Leyla. "Parents are more willing to listen to their children. Not for everyone, but slowly..."