/ Source: msnbc.com news services
The trial lasted nearly four months. The jury deliberated six days. And after being convicted Thursday of fraud and conspiracy in one of the biggest corporate scandals in U.S. history, former Enron executives Kenneth Lay and Jeffrey Skilling face the possibility of spending the rest of their lives in prison.
"The jury sent an unmistakable message: You can't lie to shareholders. No matter how rich and powerful, you must play by the rules," prosecutor Sean Berkowitz said.
As the verdicts were read, Lay slumped, sighed heavily and shook his head, his sobbing wife Linda tightly clutching his arm. Skilling looked shaken and left the courtroom quickly after U.S. District Judge Sim Lake set sentencing for Sept. 11.
Afterward, still in the courtroom, Lay and his weeping family members gathered in a circle, clasped hands and prayed.
"God's got another plan right now," Lay, the son of a preacher, said without tears. "We'll all come through this stronger and more reliant on God."
Outside the courthouse, he said the verdict had "shocked" him.
"Certainly this is not the outcome we expected," Lay said.  "I firmly believe I am innocent of the charges against me, as I have said from Day One."
"If I were a CEO today, I would say it sends a very dangerous message. (It) basically makes an innocent act criminal," he said.
In a devastating verdict, Lay and Skilling were convicted of a total of 29 criminal counts, including a conspiracy to hide the failing health of the company by selling a boosterish optimism to Wall Street and the public.
Lay was convicted on all six counts of conspiracy, securities and wire fraud against him in the corporate trial and all four in the separate personal banking trial. Former chief executive Skilling was convicted on 19 of 28 counts, including one count of insider trading, and acquitted on the remaining nine.
'I wanted very, very badly to believe'
Jurors found that the once-wealthy and powerful corporate chiefs repeatedly lied to cover up accounting tricks and business failures that led to its 2001 demise. The collapse wiped out more than $60 billion in market value, almost $2.1 billion in retirement savings and 5,600 jobs.
"I wanted very, very badly to believe what they were saying, very much so," juror Wendy Vaughan told reporters after the verdict.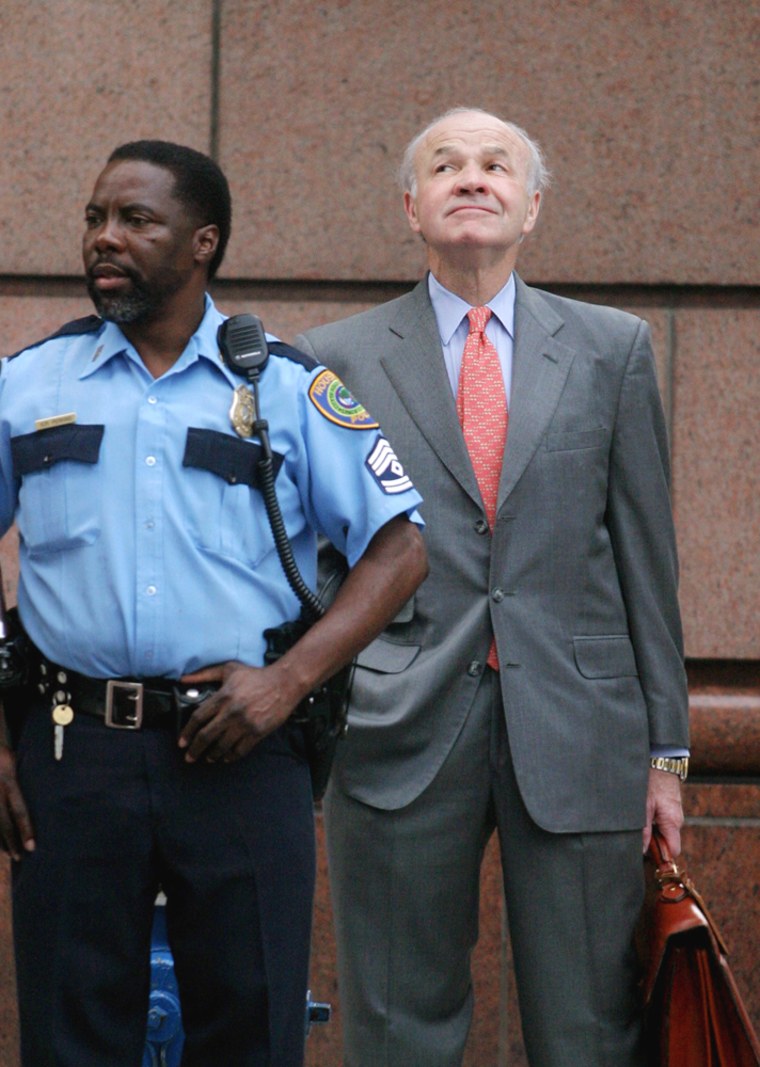 The conspiracy conviction was a major win for the government, capping an era that has seen prosecutors win convictions against executives from WorldCom Inc. to Adelphia Communications Corp. and homemaking maven Martha Stewart. The public outrage over the string of corporate scandals led Congress to pass the Sarbanes-Oxley Act, designed to make company executives more accountable.
"The jury's verdicts help to close a notorious chapter in the history of America's publicly traded companies" said Rep. Michael Oxley, R-Ohio, co-author of the legislation. "Appeals aside, the end of the trial will mark the end of a dark era."
The charges against Lay, 64, carry a maximum penalty of 45 years in prison for the corporate trial and 120 years in the personal trial. The charges against Skilling, 52, carry a maximum 185 years.
After the judge left the courtroom, Lay's family and some friends gathered around him as the ex-chairman, red-faced and fighting back tears, hugged them and thanked them for their support.
Skilling, sitting with his brother, Mark, showed no emotion when the verdict was read.
The sentencing will come five years almost to the day after Skilling sold 500,000 shares of Enron stock for $15.5 million, for which he was convicted of insider trading.
"Obviously, I'm disappointed," Skilling told reporters outside the courthouse. "But that's the way the system works."
"We're going to stand behind him," his lawyer, Daniel Petrocelli, said. "As I told him, we've just begun to fight."
Lay attorney Mike Ramsey also promised an appeal and said, "The biggest issue is the venue issue," meaning the trial should not have been held in Houston, where Enron was based.
Skilling's $5 million bond, which restricts him to the continental United States, remains in effect. Lay surrendered his passport and posted a $5 million bond secured with family-owned properties at a hearing following the verdict.
The Enron founder was also ordered to stay in the Southern District of Texas or Colorado, avoid contact with any victim of the fraud and report regularly to court authorities. He also cannot own a gun or use alcohol excessively or drugs.
A 'tremendous win'
In Washington, Deputy U.S. Attorney General Paul McNulty hailed the convictions as a "tremendous win."
"Lay, Skilling and their numerous co-conspirators perpetrated an elaborate scheme to mislead analysts and investors about Enron's true financial picture," he said. "The message of today's verdict is simple: Our criminal laws will be enforced just as vigorously against corporate executives as ... with street criminals."
White House spokesman Tony Snow concurred, saying, "The administration has been pretty clear there's no tolerance for corporate corruption. ... The Justice Department has been going aggressively after those who are involved."
One former Enron employee, Chris Jones, 35, stood outside the courthouse as his former bosses left the building. The guilty verdicts, he said, were some consolation.
"If it (the guilty verdict) hadn't happened it would have been an open wound," he said. "This brings closure for some people."
Enron investor Don Chandler, who lost $11,000 on the stock, said, "Three cheers for the jury. It's a good day for justice."
"The ones that lost their security or their retirement — nothing that happened today is going to bring that back for them," prosecutor Berkowitz said. "They're not going to get their retirement money or their security back.
"What we do hope is that today's verdict lets them know that the government will not let corporate leaders violate their trust and get away with it."
Asked what was next, the prosecutor said, "We're probably going to step aside and go get a well-deserved drink and an afternoon off."
For Lay, the verdict appeared to mark the polar opposite of the man he once was: the founder and CEO of the seventh-largest company in America, nothing less than a titan in Houston, known for his millions in philanthropy and a leading political patron of President Bush who once had the former Texas governor's ear.
In an act that seemed humiliating, each of his children was required to step forward in an afternoon court hearing and sign a paper using their own houses to guarantee the terms of Lay's release until sentencing.
Then Lay walked outside the federal courthouse and declared himself blessed because "we believe that God in fact is in control, and indeed he does work all things for good for those who love the lord."
"I firmly believe I'm innocent of the charges against me," Lay said. "I believe that to this day."
Most important testimony
Jurors said some of the most important testimony came from former Enron treasurer Ben Glisan, who was already serving a five-year prison sentence after pleading guilty to a charge of conspiracy.
Glisan testified Skilling and Lay knew Enron was in deep financial trouble and tried to hide it.
The jury believed him, not his former bosses, said juror Freddy Delgado.
"To say that you didn't know what was going on in your own company is not the right thing," he told reporters.
Fastow tearfully told the jury of his misdeeds and said Skilling and Lay were deeply involved in what he described as a massive cover-up of Enron's troubled finances.
He has pleaded guilty to conspiracy in exchange for a 10-year jail sentence which he likely will begin serving soon.
Prosecutors said Lay and Skilling milked Enron for hundreds of million of dollars and lived lives of luxury while driving the company into bankruptcy.
Lay took home $220 million in compensation from the sale of Enron shares from 1999 through 2001, while Skilling got $150 million, Assistant U.S. Attorney John Hueston said in opening arguments.
Lay used his and the company's money to gain political power by donating heavily to candidates, particularly Republicans and especially the Bush family.
He was the biggest donor to President Bush, who before the Enron scandal referred to him warmly as "Kenny Boy."