/ Source: The Associated Press
Just how much time former Enron Corp. chiefs Kenneth Lay and Jeffrey Skilling spend in prison could hinge on how much of the more than $60 billion lost in the company's crash is deemed their responsibility.
Under federal sentencing guidelines, the newly convicted felons easily face more than 20 years in prison if investor loss tied to their actions exceeds $80 million or more. And the judge who will sentence the disgraced corporate chieftains has made clear he will rely on those guidelines even though they are advisory.
"The amount of loss drives the sentence under the guidelines," U.S. District Judge Sim Lake told Lay, Skilling and their legal teams Thursday within minutes of announcing that a jury had found Lay guilty of all and Skilling guilty of most of the counts in the premier case to emerge from the government's sprawling Enron investigation.
The judge said he expected both sides to consult experts regarding how much investor loss could be tied to the two men's crimes, and left plenty of time for such studies to be conducted before sentencing on Sept. 11.
Jacob Frenkel, a former federal prosecutor, said the sentences could range from less than a decade to more than 30 years.
"The biggest area for latitude for the judge in sentencing, if he wants to offer some level of leniency in what is otherwise going to be a stiff sentence anyway in the guidelines, is to lower the loss calculation," Frenkel said.
And while the guidelines are advisory, "few judges if any are prepared to cast aside the guidelines for fear of a reversal," he said.
Enron plummeted into bankruptcy proceedings in December 2001 amid revelations of hidden debt, inflated profits and accounting tricks. Jurors determined after a 16-week trial that both Lay and Skilling repeatedly lied to investors and employees about the company's health when they knew their optimism masked fraud.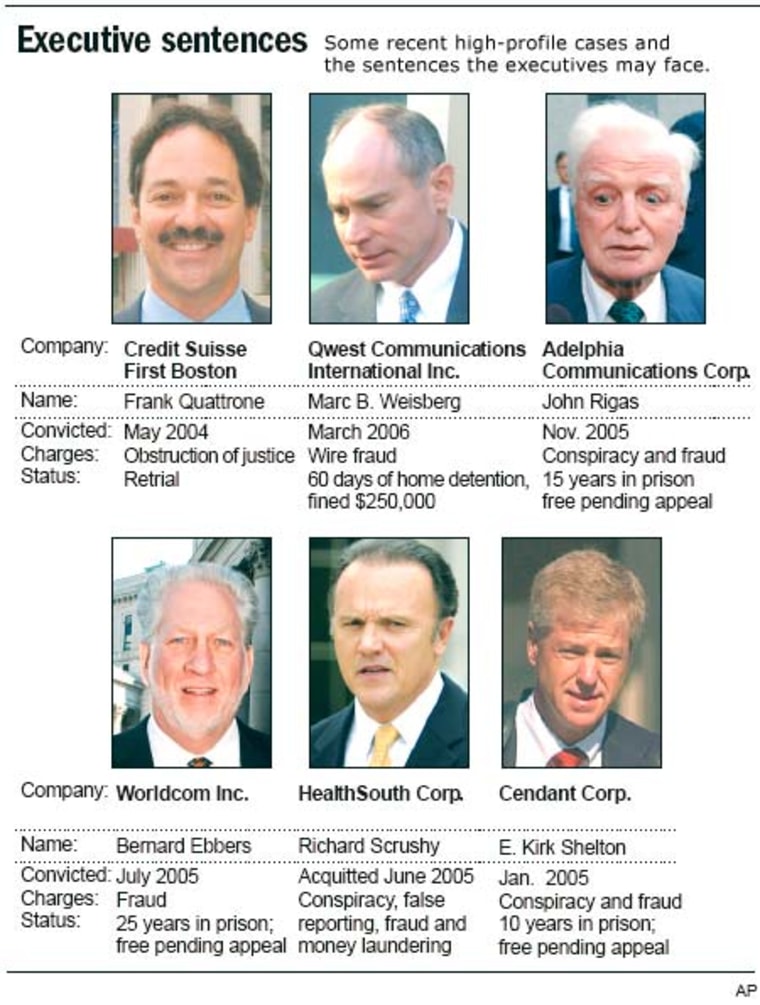 The collapse obliterated more than $60 billion in market value, almost $2.1 billion in pension plans and, initially, 5,600 jobs.
"Because they were at the top of the pecking order at Enron, they are going to get the heavier end of the scale," said Nancy Rapoport, outgoing dean of the University of Houston Law Center.
"And (Lake) is such a no-nonsense judge, that I think he's going to take their personalities out of it at this point and really look at the ramifications of what that company ended up doing to so many people," she said.
Skilling was convicted of 19 counts of conspiracy, securities fraud, lying to auditors and insider trading. Jurors acquitted him of nine counts of insider trading regarding a series of Enron stock trades in 2000.
Lay was convicted of six counts of conspiracy, securities fraud and wire fraud. In a separate case tried before Lake without a jury, the judge convicted him of one count of bank fraud and three counts of making false statements to banks.
Lake gained attention from white collar crime attorneys across the country more than two years ago when he sentenced former Dynegy Inc. finance executive Jamie Olis to 24 years in prison for his role in pushing through a 2001 scheme to disguise debt as cash flow.
At the time, Lake was bound by mandatory sentencing guidelines that required harsh sentences for defendants held responsible for $100 million or more of investor losses tied to the crime.
In early 2005, the U.S. Supreme Court ruled that the guidelines were strictly advisory, and later an appeals panel deemed the loss amount in the Olis case unreasonable and ordered that he be resentenced.
Lake had intended to resentence Olis before the Lay-Skilling trial began Jan. 30. But the judge decided to hold off until experts hash out how long Olis remains behind bars based on the loss amount.
Lake indicated he won't side with Olis' contention that no specific amount can be attributed to his crime.
But even without guidelines, Lake has imposed harsh white-collar sentences.
In October 1999 he sentenced former day trader Alton Dane Hudnall to 25 years in prison for conspiring with five others to defraud 500 European investors of $53 million in a money laundering scheme. Hudnall was convicted of 26 counts of money laundering, 17 counts of wire fraud and one count of conspiracy.
And in June 1995 Lake sentenced former Houston socialite Teresa Rodriguez to nearly 22 years in prison on 36 counts of wire fraud, mail fraud and money laundering for bilking 375 investors of $69 million.
Woes facing the 64-year-old Lay and the 52-year-old Skilling stretch beyond the spectre of a prison term that would amount to a life sentence for both.
Skilling faces more than $18 million in fines, while Lay faces nearly $8 million for their crimes.
Skilling set aside $23 million for his defense when he was indicted in February 2004, but testified that his legal costs exceeded that amount and he owes his lawyers. His lead lawyer, Daniel Petrocelli, declined to specify how much Skilling has spent or his financial status.
Lay testified that his net worth, once $400 million during Enron's halcyon days, has fallen to a negative $250,000 with his legal costs.
Lake showed no sympathy when he increased Lay's $500,000 bond to $5 million upon the ex-chairman's conviction. Lay's daughter and stepchildren put up their property to secure the bond.
Skilling put up $5 million in cash for his bond when he first appeared in court more than two years ago.
The government intends to seize about $57 million in Skilling's assets that have been frozen since he was indicted in February 2004, including his $5.1 million Mediterranian-style mansion in Houston.
Also marked for seizure is Lay's $5 million condominium in one of Houston's most exclusive high-rises, which has been frozen since his indictment was handed up in July 2004.
The potential fines Lake could impose are tied to the crimes of which both men were convicted. The potential asset seizures involve a separate proceeding intended to make Lay and Skilling forfeit what they gained while running what was, in the jury's eyes, a massive fraud, Frenkel said.
In addition, both remain named as defendants in shareholder litigation in Houston. But William Lerach, who represents the University of California, the lead plaintiff in the litigation, said he doesn't expect to see any cash from them.
"Because of these convictions the government will, no doubt seize all or virtually all of Lay's and Skilling's assets, leaving nothing for the actual victims of the crimes," Lerach said.
But the litigation so far has nabbed $7.3 billion from banks and brokerages to settle claims that they helped Enron manipulate earnings — including JPMorgan Chase & Co. and Citigroup Inc. — and may gain more if other institutions follow suit before that October trial.
"Fortunately, this group is in a position to pay to the victims of their wrongdoing," Lerach said.