When summer comes, there are golfers who simply look forward to hitting the links once a week or so. Then there are golfers who begin a dedicated regimen that revolves around the game. These people are students of golf, and they live, eat, drink and breathe the game from the day the frost melts out of the greens to that first sorrowful snowfall.
But even these dedicated souls can't spend every minute on the links. They're constrained by pesky family vacations, vexing afternoon meetings and the daily irritation that is sundown. These are the folks who curse a day at the beach because their spouse wouldn't let them bring a sand wedge along.
For these dedicated souls, we've amassed a summer reading list. Because even if you can't be on the course, you can at least immerse your mind in all things golf. And with golf books this good, you might not even mind the occasional rainy day.
Men on the Bag by Ward Clayton
Arguably the most hallowed greens in America are those at Augusta National. And the average Joe has a better shot at winning the lottery than ever playing them. But if you want to learn about the place from the inside, this book ($13, Sports Media Group, www.greatgolfbooks.com) offers an unparalleled compilation of memories, anecdotes and insights from the caddies who've looped for Masters champions and presidents alike.
Pebble Beach: Golf and the Forgotten Men by Jerry Stewart
If your tastes run more toward public courses, there's no doubt that the gold standard is Pebble Beach. Stewart's volume about the caddies at Pebble ($25, Sports Media Group) does for the California course what Clayton does for Augusta National. After reading this comprehensive book, you'll know more about Pebble Beach than most of the folks in the surrounding multi-million dollar mansions do.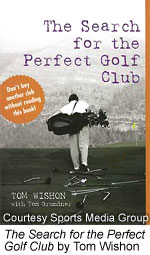 The Search for the Perfect Golf Club by Tom Wishon
We try to avoid instructional books during the season, but it's always a good time to learn more about your clubs. Tom Wishon has been designing golf clubs for more than 30 years, and he shares vast stores of that knowledge with the reader. From head shape to lie to loft to shafts to swing weights to grips to ladies' clubs - you name it, Wishon covers it. His book ($25, Sports Media Group) is a must-read for anyone looking to buy new clubs, especially if you're going to be custom-fitted - if you don't want to be ripped off or led astray, that is.
Lines of Charm edited by Geoff Shackelford
If you want to learn more about golf-course design, this delightful collection of quotes from the game's so-called "Golden Age" architects is a great place to begin ($20, Sports Media Group). There's more than one golfer who would agree with C.B. MacDonald's sentiment, "Long grass entails too much searching for balls." And how many of today's designers have forgotten A.W. Tillinghast's sage advice: "It is the feel of the shots rather than the measure of the tape that is the greatest asset to the builder of courses."
Fairways of Life by Matthew E. Adams
Perhaps no other sport draws so many comparisons to life itself as golf. Perhaps the metaphor is hackneyed, but can any golfer deny the obvious parallels? This rich volume ($25, Sports Media Group), with a forward by Arnold Palmer, weaves quotes from and stories about the game's most famous personalities to show even the cliché-weary that lessons learned on the course can be applied to life off it.
The Old Man and the Tee by Turk Pipkin
Pipkin devoted 12 months of his life to taking 10 strokes off his handicap. In the process he learned how to love the game again. Envious as you might be - who wouldn't want to take a full year to just play? - this golfing memoir ($25, St. Martin's Press, www.stmartins.com) will do more than make you mutter "lucky bugger" over and over again. It'll make you laugh out loud.
The Old Man and His Game by
Golf fiction comes in two general flavors: mainly about golf and mainly about life (there's that metaphor again). This inspirational tale (available directly at www.hoganbook.com) is of the latter variety. It tells the tale of a friendship that grows between a neglected boy and an old man as they traverse the local fairways together.
Why Bobby Jones Quit by Bob Thomas
Bobby Jones, the only man to ever hold the U.S. and British open and amateur titles simultaneously, was perhaps the greatest golfer to ever play. He was certainly the greatest amateur. And he never turned pro. A number of questions remain about Jones and his life, not least of which is why he gave up the game when he was just 28 and at the peak of his talent. In this literary portrait (www.hoganbook.com), Thomas provides plausible answers to all of these mysteries for the first time.
Final Fore by Roberta Isleib
This is the fifth mystery in the Cassie Burdette series ($7, Berkeley Prime Crime, robertaisleib.com). Burdette is an LPGA tour regular who spends as much time playing reluctant detective as she does playing golf. In this thriller, murder stalks the 2004 U.S. Women's Open. This mystery is a personal favorite not only because it's a gripping page-turner written by a clinical psychologist who knows her psychopaths, but also because I make a cameo appearance on page 168 (like I say, she knows her psychopaths).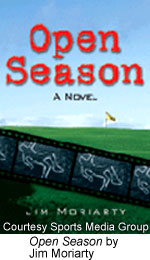 Open Season by Jim Moriarty
Another murder mystery, this time set on the PGA Tour ($23, Sports Media Group). The story is driven less by the string of sometimes gruesome murders than by the personal dramas of photographer Nick Oliver, his Tour-press-officer ex-wife Julie and associated PGA types. Sometimes you might forget there's a vicious serial killer lurking, but the realistic insights into the backstage machinations of the Tour are enough to keep any serious golf fan turning the pages.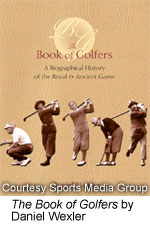 The Book of Golfers by Daniel Wexler
If you're constantly squirreling away golf facts and trivia for use in the occasional bar bet or rain-delay bull session, this is the book for you. This coffee-table volume ($35, Sports Media Group) lists in alphabetical order nearly 1,000 golfers, course architects and writers (somehow I got left out of this one) from 33 countries. I was hooked from page one, where I learned that Margaret Abbott was the first American woman to an Olympic gold medal and the only woman to ever win one in golf, at the 1900 Paris games. To find out what her winning nine-hole score was, you'll have to buy the book.
Our golf bloggers spend a great deal of time traveling from course to course (what a life!). Here's a selection of their top tips for travelers - where to stay, great restaurants, over-rated destinations, and more!
Any opinions expressed above are those of the writer and do not necessarily represent the views of the management. The information in this story was accurate at the time of publication. All contact information, directions and prices should be confirmed directly with the golf course or resort before making reservations and/or travel plans.