/ Source: The Associated Press
A neighborhood mourned the deaths of seven family members Sunday, somewhat comforted by news that police believed they had arrested everyone responsible for the city's worst mass murder in at least 25 years.
Relatives, neighbors, friends and authorities gathered for a memorial service in front of the home where Emma Valdez, 46, and Alberto Covarrubias, 56, were gunned down during a robbery three days earlier along with two adult children, two young children and a grandchild.
The sidewalk in front of the home in a working-class neighborhood had become a shrine to the family with an angel statue, candles, flowers, ribbons and stuffed animals left in tribute to them.
A manhunt for the main suspect had gripped the city for two days before ending Saturday night, when 28-year-old prison parolee Desmond Turner surrendered to officers at a fast-food restaurant while accompanied by relatives.
Turner, who finished serving a 3½-year prison term on drug and weapons charges last fall, was being held without bond Sunday on seven charges of murder and one charge of robbery, jail records indicated. He could face the death penalty. Formal charges likely would be filed Tuesday, prosecutor Carl Brizzi said.
Brizzi also said he would seek the death penalty against Turner. "It deserves the strongest sanction possible," he said.
More than 100 city, state and federal officers had combed the city's east side searching for Turner, serving at least six search warrants.
'I just hope God forgives'
Valdez's sister Maria Flores said the arrest was a relief. "I forgive him for what he did," Flores said. "I just feel sorry for him because he made a wrong decision. I just hope God forgives him for what he did."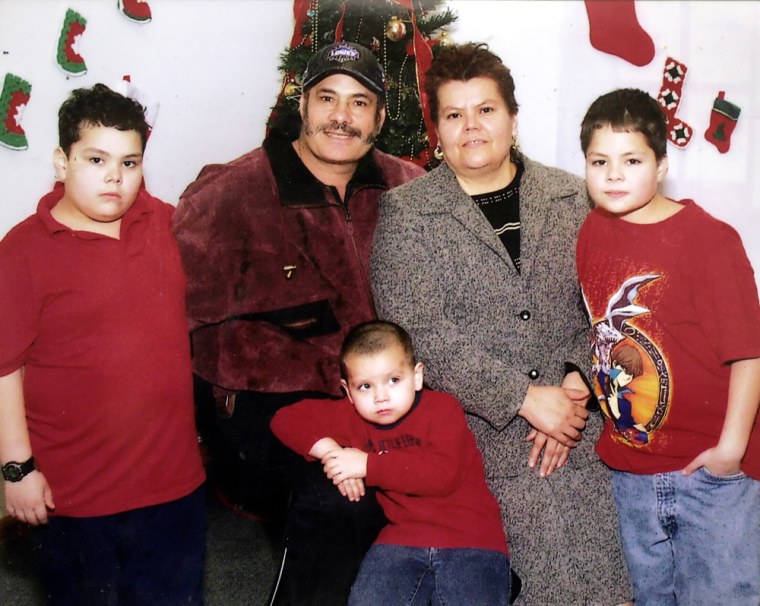 Another suspect, 30-year-old James Stewart, was arrested Friday after a traffic stop. He was being held on a preliminary charge of murder, police said. Prosecutors had not decided whether to seek the death penalty against him.
"We don't have any information to support any other suspects," Maj. Lloyd Crowe, a police spokesman, said Sunday.
Brizzi said Turner and Stewart mistakenly believed there were significant amounts of cash in the home. But there was no evidence that the household was anything other than a hardworking family, he said.
A funeral for all the victims except Covarrubias was scheduled for Wednesday at the city's Roman Catholic cathedral. Covarrubias' funeral was expected to be held Tuesday at St. Mary's Roman Catholic Church downtown.
The other victims were identified as the couple's sons, Alberto Covarrubias, 11, and David Covarrubias, 8 or 9; Valdez's children, Flora Albarran, 22, and Magno Albarran, 29; and Flora Albarran's son, Luis, 5.