/ Source: The Associated Press
Most people buy stock hoping the price goes up, but hedge fund manager David Rocker was "shorting" shares of Utah-based Internet retailer Overstock.com Inc., betting the share price would decline.
Rocker's fund was making a legal bet that Overstock shares in 2004 were overvalued and due for a correction. Overstock.com CEO Patrick Byrne, however, sued, accusing New York-based Rocker Partners of collaborating on disparaging reports with the stock-research firm Gradient Analytics of Scottsdale, Ariz., while Rocker was shorting the shares.
Byrne, a former boxer-in-training who holds a black belt in karate, is fighting mad at unnamed "Sith lords" he says are out to ruin America's small companies. Not only is he suing, he enlisted Utah's governor and legislators to crack down on short selling, and federal regulators are investigating his complaints.
Hedge-fund managers and other institutions defend short selling as legitimate way to trade on a company's perceived shortcomings and say Overstock.com became a target only because of its poor performance.
Short sellers borrow stock hoping the share price declines so they can return it to brokers and pocket the difference. Byrne complains Overstock has been a target of persistent naked short selling, where brokers send IOUs through a stock clearinghouse when they run out of shares to lend for short selling. The practice tends to lower a company's share price by artificially creating more sellers than buyers.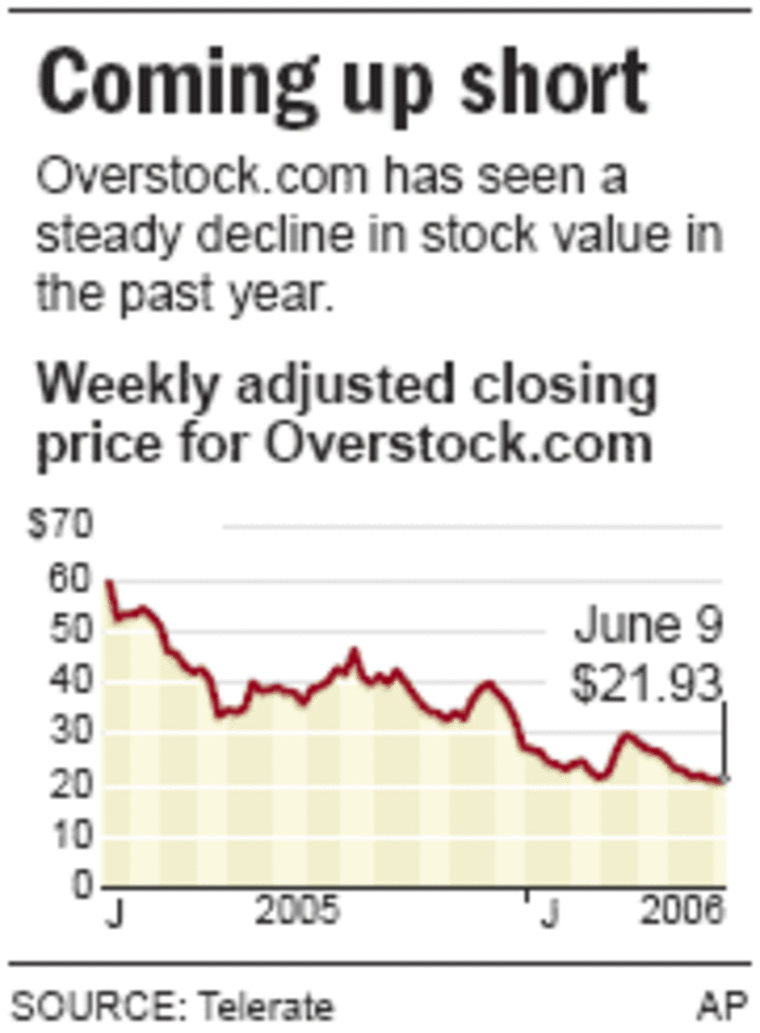 Byrne's allegations have prompted an investigation by the U.S. Securities and Exchange Commission, which also is looking to tighten rules on IOUs that Byrne says let short sellers grab profits without having to assume risks.
Unwilling to wait for action at the SEC — where "the wheels grind slowly," said Overstock counsel Jonathan E. Johnson III — the company took its case for relief to Utah Gov. Jon Huntsman.
On May 26, Huntsman signed a bill passed days earlier by the Legislature that threatens Utah brokers with fines starting at $10,000 a day for accumulating too many unsettled trades in a company — a sign of a large volume of naked short selling.
Byrne, who is Utah's No. 1 political donor — he gave $75,000 to Huntsman's successful campaign for governor in 2004 — got Huntsman to add the bill to a special one-day session of the Legislature.
Byrne "gives much more to charity," said Overstock.com spokesman Scott Blevins, who argued the bill "went through the normal legislative process" earlier in the year, when it languished for lack of action.
Blevins said there was "no credible link" between Huntsman's signing of the bill and the donations he received from Byrne, who made them "long before" he recognized that short sellers were targeting his company. The spokesman said Byrne's contributions were "piddly" compared to donations by securities firms to state and federal candidates.
Wall Street firms with Utah operations are looking at suing to block Utah's law from taking effect July 1.
The clearinghouse managed by the industry-owned Depository Trust and Clearing Corp. acknowledges that naked shorting exists but that the problem isn't widespread, as measured by trades that fail to settle. Those accumulate to no more than 1.5 percent of the dollar volume of all trades — about 24,000 transactions daily.
"If you're in that 1.5 percent, it will effectively destroy your company," Byrne countered on a tour of his Salt Lake City warehouse for state and federal officials.
Market analysts who follow Overstock say Byrne's complaints are probably overstated and want him to focus on shoring up his company, which has yet to post an annual profit.
"Patrick spends a lot more time focusing on (short selling) than we do," said Derek Brown, an analyst for Pacific Growth Equity.
"I'm not one to believe that shorting can destroy a company," said Aaron Kessler, an Internet analyst for Piper Jaffray & Co. who covers Overstock. "I'd rather have management focus on the operation of a business."
Byrne conceded his crusade against short sellers is a distraction. He turned over day-to-day operations to Jason Lindsey, who returned to Overstock this year as president and chief operating officer after helping Byrne start the company.
In an interview at his company's headquarters, Byrne, Overstock's 43-year-old chairman and chief executive, said the he is going to "crawl into the broker-dealer system on Wall Street" because the market is at risk of collapse.
"People say, 'Well, this guy is just mad because his stock went down $10.' It's silly. That's not what I'm doing," he said.
Overstock shares were trading at $77 in 2004 and were in the low $20s as of June 2.
Defenders say legal short selling performs a service by alerting others to corporate disasters in the making.
"There's nothing like financial performance to scare away a short seller," said Jon Ferrell, manager of the Top Flight Long-Short Fund, a Utah-based mutual fund that shorts some stocks but hasn't targeted Overstock.
Yet the SEC has taken an interest in Overstock's complaint that it has been a target of persistent trading abuse. SEC investigators issued — then withdrew — subpoenas to a few financial journalists, looking for their contacts with Rocker Partners and Gradient Analytics.
Byrne said the SEC instead issued subpoenas to Rocker and Gradient that he says could produce the same information.
The SEC won't confirm or deny it has opened an investigation.
Overstock's lawsuit contends Rocker Partners dictated negative reports produced by Gradient Analytics. It asserts that Gradient timed the reports' release to a select group of large investors and journalists to allow Rocker Partners to maximize profits from an expected drop in Overstock's share price.
Overstock's witnesses are three former Gradient employees who offered affidavits. Gradient says the three, all salesmen or customer service representatives who had nothing to do with the firm's market research, were fired or let go for poor performance.
Overstock's allegations of libel and unfair business practices are frivolous, say Rocker Partners and Gradient Analytics. They stand by their criticism of the lagging performance of Overstock, which has lost $105 million since its launch in 1999.
Rocker referred The Associated Press to a 20-page affidavit he filed in California Superior Court of Marin County, which says Overstock's share price continued to soar despite the critical reports. It states Rocker's belief that Byrne's leadership is weak, his business strategies flawed and that Overstock shares climbed too high and needed a correction.
In April, Overstock's lawsuit was put on hold as Gradient appeals a trial court's refusal to dismiss the case outright. That could take a year. Gradient is arguing the lawsuit violates its right of free speech to criticize a publicly traded company.
In a statement, Gradient declined to comment "in view of ongoing litigation." But, the statement continued: "As we have since 2003, Gradient will, as appropriate, update clients of its opinion on Overstock's quality of earnings."