/ Source: The Associated Press
After a massive manhunt that shut down the Virginia Tech campus on the first day of classes, police Monday captured a fugitive suspected in the slayings of a hospital guard and a sheriff's deputy.
Police Lt. Joe Davis could not provide additional details on William Morva's arrest.
Morva, 24, had escaped from a hospital where he had been taken for treatment of a sprained wrist and ankle early Sunday.
Morva, who had been jailed awaiting trial on charges of attempting to rob a store last year, apparently shed his orange prison jumpsuit after escaping.
Virginia Tech had shut down its campus Monday and ordered everyone to remain inside as authorities searched for Morva, who had been seen near the campus.
No other details about the end of the manhunt were immediately available.
Montgomery County Sheriff's Cpl. Eric E. Sutphin was closing in on the fugitive Monday morning near the Huckleberry Trail, off the university campus, when he was fatally shot, the sheriff's department said.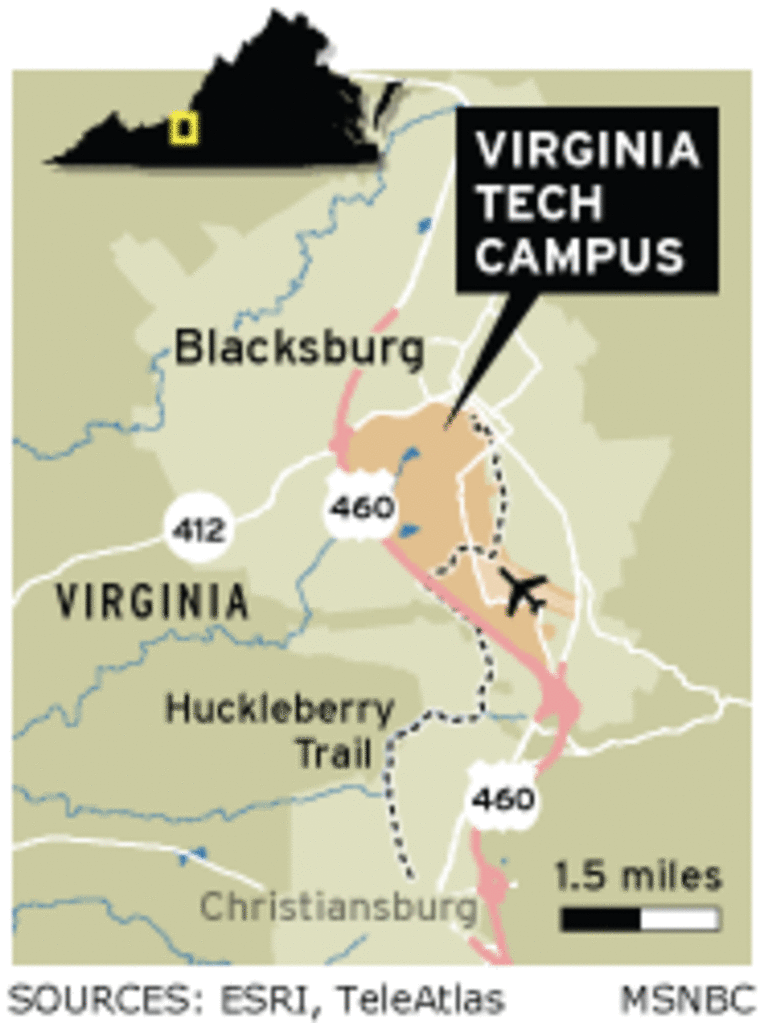 Officials canceled Monday's first day of classes for the more than 25,000 students at Virginia Tech as a precaution.
"The suspect is armed, he has no problems with shooting. ... We don't need innocent people being around the area," said Kurt Krause, a Virginia Tech vice president.
Morva was described as wearing a tie-dyed T-shirt and khaki shorts.
"The fact that the guy can blend in so well with campus students is kind of scary," said Josh Burnheimer, 20, a Virginia Tech junior from Ashburn, Va. "Everywhere you look there are police snipers on the roof."
Out of jail for hospital treatment
Morva, an inmate at Montgomery County Jail, had been taken from the jail to Montgomery Regional Hospital for treatment of a sprained leg and wrist.
He escaped early Sunday after overpowering a sheriff's deputy, taking the deputy's gun and then shooting the unarmed hospital security guard, authorities said. The hospital guard was identified as Derrick McFarland, 26. The deputy was in stable condition with injuries he suffered in the attack.
Morva had been jailed awaiting trial on charges of attempting to rob a store last year.
Authorities used helicopters and dogs to sweep an area that included the university campus, about one block from the Blacksburg Police Station.