It's been a decade since Chris Murphy last faced off with Rep. Nancy Johnson, R-Conn., and he's spoiling for a rematch.
The boyish state senator bounced from topic to topic at a house party recently in Lakeville, Conn., chastising his opponent for her role in the Medicare Prescription Drug Bill and her call for greater investment in alternative energy sources while touting his work in juvenile justice.
"You're not pro-choice if you vote with Tom DeLay and Dennis Hastert," Murphy said of Johnson. "You're not a moderate Republican if you vote with Tom DeLay 79 percent of the time."  The crowd bobbed their heads in agreement, pulling out their checkbooks when Murphy reminded them that his Republican opponent does her fundraising in Washington instead of Connecticut's 5th congressional district. 
In what could be a watershed year for Democrats nationally, local politicians like Murphy are launching David versus Goliath challenges to long-term Republican representatives.
Murphy, a second-term state senator, is a political upstart next to Johnson and her more than two-decade tenure in the House. But at a time when President Bush's popularity hovers at a historic low in Connecticut -- a May 2006 Quinnipiac University poll gave Bush a 25 percent approval rating -- Democrats are betting that even a political newcomer might be able to topple a popular incumbent. 
Counting on discontent
Local residents like Arlene Dubia and Dan Dwyer bubble with enthusiasm when discussing Murphy's chances. A 35-year resident of Lakeville, Dubia says the tiny township experienced a Democratic sweep in local elections last November. "Since 1740 we've been more independent than anyone, and now we're voting Democrat. I've never seen it before."
Dwyer, who hosted the house party for Murphy, claims the demographics of the district are trending Democratic.  
Considering that many of the district's towns went for Bush-Cheney in 2004 and that unaffiliated voters far surpass registered voters in either party, do the hopes of supporters like Dwyer and Dubia mirror sanguine Democratic dreams for a political windfall in November, or does Murphy actually have a shot?
Lessons from a campaign almost lost
Despite a national mood that has placed numerous incumbents on precarious political footing, including a few in Connecticut, Murphy's bid to unseat Johnson could still be seen as improbable if this year's race didn't bare a striking resemblance to one fought ten years ago.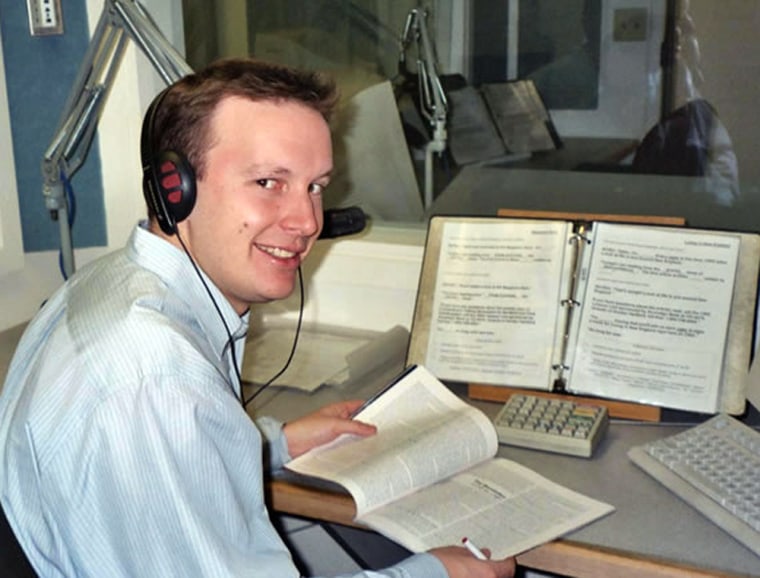 In 1996, Chris Murphy, a fresh graduate from Williams College, ran dark horse candidate Charlotte Koskoff's campaign.  Koskoff, a university professor with little funding and no backing from her own party, came within a hairsbreadth of beating Johnson.  Though she was outspent two to one and didn't run a single television ad, Koskoff lost by only 1,587 votes. 
Koskoff nearly succeeded in unseating Johnson by turning her into a political piñata for Connecticut voters disillusioned with then-Speaker of the House Newt Gingrich and his Contract with America. At the time, Gingrich was being scrutinized for ethics violations and Johnson was head of the House Ethics committee leading the investigation.
Howard Reiter, Professor of Political Science at the University of Connecticut, says Koskoff's attacks hit a nerve with fifth district voters. "Nancy was too enthusiastic about Gingrich in a year when the government was shut down and Clinton was being re-elected," he says."She became part of the backlash against Republicans in blue states."

Ahhhh hindsight
Since that close call in 1996, Johnson hasn't let her guard down or her image as an independent, albeit Republican, congresswoman slip. She has focused on reconnecting with her district and reclaiming the mantle of a moderate Republican. In 1998, the Sierra Club in Connecticut endorsed Johnson for re-election, calling her "one of the most pro-environment members of Congress." that year she easily defeated at second challenge from Koskoff.
Dave Boomer, Johnson's campaign manager, says that Koskoff caught Johnson unaware the first time around. "Now she knows to never let a negative attack go unanswered."
Still, Johnson faced a tough 2002 race, battling Democratic incumbent Jim Maloney after redistricting collapsed the 5th and 6th districts into a sprawling mass of affluent suburbs and small municipalities. She beat Maloney by 11 points, even though registered Democrats outnumbered Republicans by about 13,000 in the new district. She also showed her fundraising prowess, raising and spending more than $3 million on her campaign.
Johnson has coasted into office ever since, winning over 60 percent of the vote in 2004 though her district supported Democratic presidential candidate, John Kerry. 
But Johnson doesn't leaving anything to chance. Amy Walter of the Cook Political Report says, "Nancy has kept her political machine in place even when she isn't facing a competitive candidate. She's been squirreling away money for the past few years in case she faces a tough fight again." 
As of the first quarter's filing date, Johnson's war chest exceeded $2 million.
Pass the red paint please
November's election is Murphy's fight more than Johnson's.
Hoping to galvanize the anti-Washington mood among the district's many independent voters, he has adopted the Koskoff strategy of painting Johnson as a dyed in the wool Republican.  And Johnson's position as head of the House Ways and Means Subcommittee on Health has provided ammo.  Johnson has voted with the Republican leadership more than 70 percent of the time. 
The pressure she faces to vote with the leadership was best seen in February, when Johnson was among the last two Republican holdouts to vote "yes" for the budget savings bill that cut entitlement programs, such as Medicare, Medicaid and student loans, for the first time in nine years. The bill passed 216 to 214 in the House.
It's a vote that Murphy doesn't plan on letting Johnson forget. "It just took one more 'no' vote to save those programs, and she couldn't provide it. Does seniority and leadership mean you vote lockstep against your constituents?"
Murphy also seeks to paint Johnson with the same brush of corruption and Washington influence peddling that Democrats are using against Republicans nationwide, focusing on one of Johnson's most significant legislative accomplishments -- authorship of the Medicare Prescription Drug Benefit. 
Johnson spent two years writing the Medicare Part D bill. During that time, she was one of many members of Congress who received the largesse of the healthcare industry, which doled out more than $27 million during the 2002 election cycle. 
In both 2002 and 2004, Johnson received over $800,000 in donations from health-related industries, and has received over $3 million from the health industry in her two decades in the house, the third highest recipient of money after George W. Bush and John Kerry.
Outside groups enter the fray
According to Reiter, the UConn political science professor, making the connections between Johnson and the culture of corruption accusation against the national Republican Party is essential for Murphy to win the election. And he's getting some help.  
Peggy Kiely a registered Democrat from New Fairfield, who has supported Johnson in the past, first heard of Johnson's connections to drug companies in a robocall left on her answering machine. Since then she's received several calls, some automated, some from individuals, always unidentified, highlighting Johnson's links to business, her environmental voting record, and most concerning to voters like Kiely, Johnson's vote to cut entitlement programs.
"I like Nancy Johnson, but I wasn't happy to hear that she voted in the ways she did,"  said Kiely, a teacher, who values social programs. "I won't be voting for Nancy."
Voters like Kiely are why MoveOn.org executive director, Eli Pariser, says Johnson's district is ripe for the picking. MoveOn has launched a series of ads against Johnson called "Caught Red-Handed," which claim Johnson's votes on the energy bill and prescription drugs put her in the same boat as Dick Cheney, Tom DeLay and Jack Abramoff.
Media watchdog groups like FactCheck.org have criticized the ads. And Johnson fired back with ads claiming that Murphy is connected to groups like MoveOn that compared America's leaders to Nazis. 
Pariser remains unperturbed.  Polling by Greenberg, Quinlan & Rosen has shown that Johnson's support in the district dropped nine points among likely voters who saw the MoveOn ads. 
But the ads have hurt Murphy who has distanced himself, saying many voters attributed MoveOn's attacks on Johnson to him. 
Medicare, a surprising ace in the hole
The backlash Murphy faced prove that focusing on Johnson's record could be a double-edged sword.
According to Walter, Johnson's  "biggest problem is if there's an anti-incumbent, anti-status quo mood in the fall. If Johnson can keep it local, she'll win. She has a great track record in that district."
Murphy campaigns on two tacks. The first emphasizes that winning the district is critical if Democrats are to take back the House. The second attacks Johnson on what she delivers for Connecticut.  He highlights her environmental rating from the league of Conservation voters, 50 percent, and her votes with the Republican leadership on energy and the budget. And he spends a lot of time on Medicare.
But so does Nancy Johnson.
Johnson touts her role in the Medicare bill, and the onus is on Murphy to prove it's not working for Connecticut residents.  If the Senior Sunshine Center in New Fairfield is any illustration that may be a difficult case to make.
"Nothing generates more of a buzz with this group than Medicare," said Cindy White, the town's social services director.
The topic causes an eruption of opinionated chatter with the center's women's book group. Confusing and frustrating are the adjectives of choice. And while no one seems to quite get how it works; the consensus is that the plan has worked for seniors who've enrolled.
Eleanor Freund said she was shocked when her pharmacy actually accepted her new drug card, saving her nearly $200 on blood pressure medication. 
Freund's friend, Katherine DeBellis, pipes in that she too was worried, but "I used the card, and I saved $50. That's not bad, right?" 
When Elizabeth Ricci was signing her husband up for a new plan, she called Johnson's constituent office for help, and got a call back within a day.
Similar success stories come from senior centers in neighboring towns. And Johnson has earned extra kudos in her district by opposing the administration's insistence on penalizing seniors who missed the sign up deadline. 
Most of the seniors interviewed weren't familiar with Johnson's connection to drug companies, and many felt that attacks against Johnson were unfair. "I don't like them treating Nancy this way," said Freund.
Even though New Fairfield has only been in Johnson's district since 2002, she has made numerous visits to the town's senior center.

Voting on Washington
When Chris Murphy first ran for office he faced a 14 year Republican incumbent for a seat in the Connecticut House. Murphy says he won with shoe leather politics.
"I made a commitment to knock on every door."  Murphy says he plans on winning in November with a grassroots army and the knowledge of what it takes to run against Johnson from the Koskoff contest in 1996.
While persistence helps, he's also raised enough money to become part of the Democratic National Committee's Red to Blue program, which provides candidates with exposure to donors nationally. Murphy reported $785,739 in contributions at the end of the first quarter, but it's dwarfed by Johnson's nearly $2 million.
It's those kinds of figures that have the experts putting their money on Johnson.
But if 5th District voters like Lenny Walsh are any indication, there's still room for an upset. Walsh describes himself as a Rockefeller Republican who has long been a fan of Connecticut Republicans like Johnson and Chris Shays. This year, Walsh has given money to Murphy, Ned Lamont and Diane Farrell, but he says his vote is still up for grabs.
"Nancy Johnson is no Tom DeLay," he says, "But I'd vote differently, if I think there's a reasonable chance to get rid of those guys."