/ Source: The Associated Press
Mexico's leftist presidential candidate said Thursday that he would never recognize the results of the election he said he lost by fraud, and Catholic bishops called for a week of prayer to heal the divisions widened by the bitter dispute.
Andres Manuel Lopez Obrador implied that the country could plunge into instability if courts don't order a vote-by-vote recount. His supporters demonstrated outside an airline in the latest in a series of blockades and protests.
Lopez Obrador lost the July 2 election to conservative ruling-party candidate Felipe Calderon by less than 0.6 percent, according to official vote tallies. He has called for a manual recount of all ballots and a campaign of civil disobedience.
"The election for me is illegitimate," Lopez Obrador said in a radio interview. "I am not going to recognize the results of a fraudulent election."
"The recount can be done in six days, in order to have six years or more of economic, political and financial stability, and if not there will be a lot of dissatisfaction," the former Mexico City mayor said. Presidential terms in Mexico last six years.
Courts set to hear appeals
Mexican courts are weighing Lopez Obrador's appeals, and will declare a president-elect before Sept. 6.
Calderon issued a call "for all of us to do our part for peace, starting with avoiding provocations and violence." To counter Lopez Obrador's protests, Calderon has launched a campaign called "Paint Mexico White," the color he says represents peace and respect.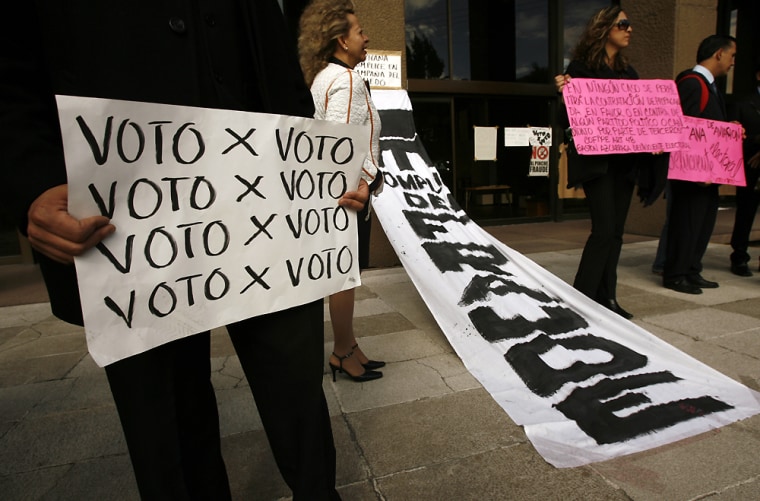 Calderon is urging supporters to wear white ribbons, bandannas, clothing or wristbands. In a speech Thursday, he promised "the biggest investment in infrastructure in the history of the country," saying "infrastructure reduces poverty."
Roman Catholic Bishops called on Mexicans to pray for the healing of political rifts opened by the election.
"There is room for differences and divergent opinions in a family. It is inconceivable that there be hatred and much less violence," the Mexican Council of Bishops said in a full-page ad published Thursday in El Universal newspaper.
Threats of violence
With no sign of a final ruling from Mexico's electoral court before September, what has so far been a war of words is threatening to escalate into violence.
Vandals this week ripped up a poster exhibition along Mexico's main avenue by leftist artists charging vote fraud and supporters of Lopez Obrador pounded on Calderon's car as he was leaving a meeting, swearing and screaming abuse at him.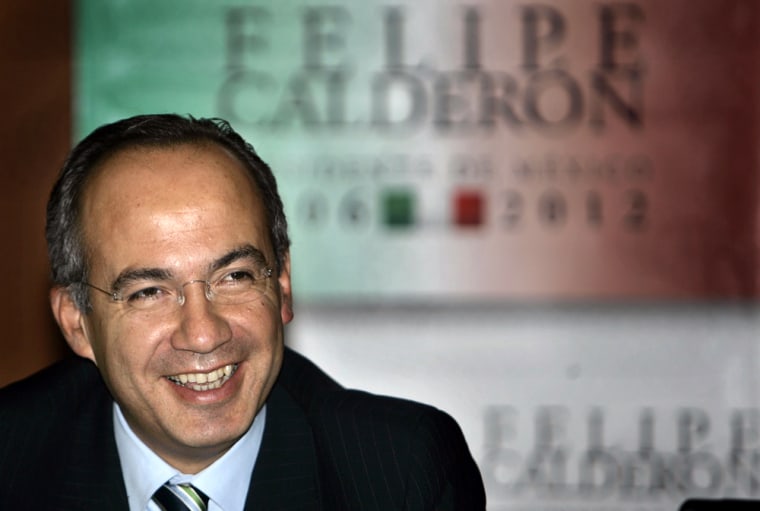 "We need to strengthen the climate of peace in our country, because when this is destroyed it causes enormous suffering to everyone," four of the predominantly Catholic country's top bishops said in full-page insert placed in newspapers.
The council called for a week of prayer "for reconciliation, peace and harmony," from July 31 to Aug. 6.
Officials announced Wednesday that a partial recount of ballots from the most questionable polling places did little to alter vote results.
The ballots from 2,873 polling places — 2.2 percent of the total — were recounted by hand in a routine process three days after the election, but the findings had not been made public.
They showed that all candidates got votes they did not deserve because some election workers put vote totals in the wrong box.
Lopez Obrador had claimed such errors benefited Calderon, but the conservative actually got fewer erroneous votes than the other main candidates, officials said.
Lopez Obrador's campaign team said the counting errors discovered justified their demand for a total recount.