VAN HORN, Texas - Amazon.com founder Jeff Bezos' plans to build a multimillion-dollar suborbital spaceport on his West Texas ranch are due for a rare public airing on Tuesday in the closest town, 20 miles (32 kilometers) away.
The environmental impact hearing, to be conducted by the Federal Aviation Administration in Van Horn (pop. 2,435), could provide an indication of how quickly Bezos' Blue Origin operation might proceed to vehicle testing. In a draft environmental assessment that provided the most detailed look yet at the secretive venture, Blue Origin said it planned to begin flight tests by the end of the year — leading to commercial spaceflights in 2010.
FAA officials will not make any decisions at Tuesday's hearing, said George Nield, the agency's deputy associate administrator for commercial space transportation. Rather, the meeting is aimed at getting public feedback to the 229-page draft report (PDF file) released last month, he told MSNBC.com over the weekend.
Once the FAA judges Blue Origin's licensing application to be substantially complete, the agency has 120 days to issue or deny experimental permits. Nield declined to say how far along Blue Origin's application has gotten — and Blue Origin has declined to comment on its plans, other than to point to the public record.
Private land, private funds
Blue Origin's plans are notable because they call for building a launch facility, astronaut training center and all the infrastructure that comes with those structures on private land, with private money. The nation's other spaceports are managed by public entities — and that also goes for would-be spaceports such as New Mexico's launch facility on the other side of El Paso, and the proposed Gulf Coast Regional Spaceport on the other side of Texas.
Bezos sees that as a plus for his purposes. "Blue Origin determined that launching from a remote, privately owned launch site would offer significant cost, schedule and operational benefits for its proposed activities," the draft environmental assessment says.
The 18,600-acre launch site, to be set aside within Bezos' 165,000-acre West Texas property, known as the Corn Ranch, is certainly remote. The assessment says the most visually striking human-made feature is Highway 54, a two-lane blacktop that runs through the area. "His nearest neighbor is over 10 miles away," said Larry Simpson, editor of the Van Horn Advocate as well as chairman of the town's economic development corporation.
Environmental concerns
Nevertheless, there are environmental issues to be considered: For example, Bezos' property contains several historic sites — including Victorio Canyon, the site of one of the last great Indian battles in Texas. The draft report says the construction phase of the project, which is already well under way, could have an impact on local wildlife.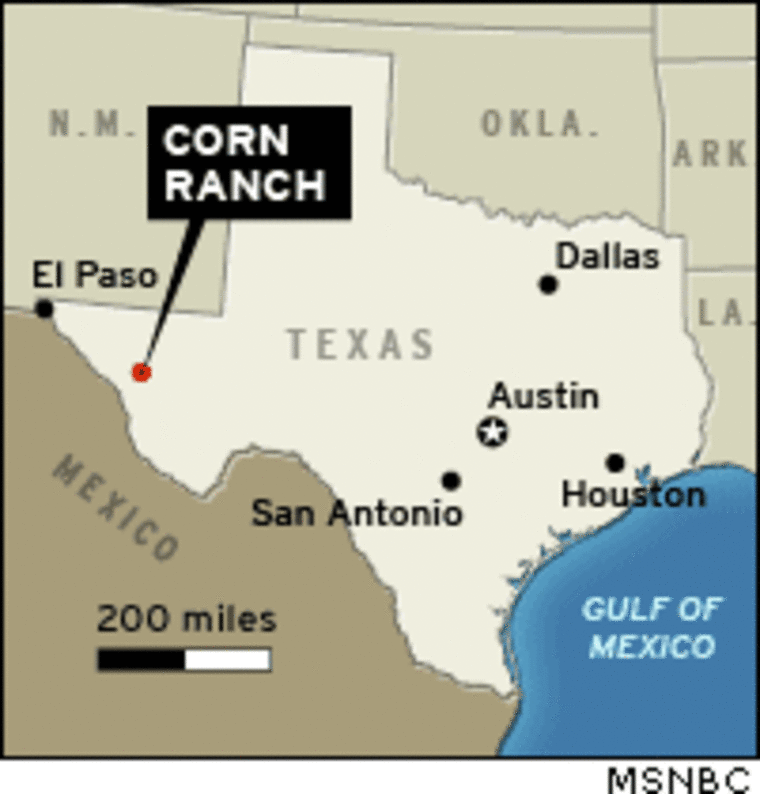 "Small numbers of less-mobile, burrow-dwelling animals (e.g., pocket gophers, chipmunks) inhabiting the construction area could be displaced by construction activity or killed if burrows are filled, crushed or paved," the draft report says.  "More mobile animals such as birds and larger mammal species (e.g., rabbits, pronghorn) would be expected to disperse to less-disturbed areas of the proposed launch site or off site."
Guadalupe Mountains National Park is about 22 miles (35 kilometers) to the north, and during an initial round of hearings last summer, geologist Gorden Bell Jr. expressed concern about Blue Origin's potential impact on the park's surroundings. On Tuesday, however, Bell said the environmental assessment didn't raise any red flags for him.
"I don't see anything terribly detracting," he told MSNBC.com.
Simpson said he didn't expect any significant objections to be raised by local residents Tuesday evening. In fact, the locals could conceivably be outnumbered by the out-of-towners — including Blue Origin representatives, FAA officials and journalists.
That's not always the case when it comes to spaceports: Earlier this month, hundreds of residents attended a similar hearing on the Gulf Coast Regional Spaceport in Texas' Brazoria County, near Houston. Many voiced opposition because of the proposed spaceport's proximity to the Brazoria National Wildlife Refuge.
In contrast, Simpson said Bezos' operation is generally seen as a plus rather than a minus. During last year's initial hearings on the Blue Origin plan in Van Horn and Dell City, most of the 89 attendees asked about socioeconomic effects such as population influx, traffic, taxes and jobs. The draft assessment said there would be minimal impact, with perhaps 20 to 35 full-time employees regularly working in the area once construction is finished.
"It is good for the economy, what he's doing," Simpson said. The construction already has provided a welcome boost, he said, and even 30 full-time jobs will make a big difference in the small community. Still more jobs would be created if Blue Origin brings in space tourists. Local residents are even hoping Bezos will add a viewing center to his building plans.
"We're the last frontier of Texas, and we want to call this the frontier of space," Simpson said.
Low-key operation with high aspirations
Blue Origin's low-key progress belies Bezos' high ambitions to become one of the pioneers of personal spaceflight. The Amazon.com founder, whose net worth is estimated at $4.8 billion by Forbes magazine, has said that he is following through on a childhood dream of going into outer space.
Bezos started up the Blue Origin project in 2000, and recently moved the venture's base of operations from a Seattle warehouse to an office/production complex south of Seattle, which was purchased and refurbished at an estimated cost of $21 million.
His team is designing a computer-controlled, cone-shaped, reusable craft that would take off and land vertically, powered by a kerosene-fueled rocket engine. Three or more paying passengers would take a quick up-and-down jaunt to altitudes beyond 62 miles (100 kilometers), feeling a few minutes of weightlessness and seeing the black sky above a curving Earth.
Such a flight profile has long been sought by rocketeers — from the golden age of the 1950s to the Delta Clipper and the Rotary Rocket in the 1990s.  The technology has not yet been perfected, but Texas-based Armadillo Aerospace and Oklahoma-based TGV Rockets are known to be working on suborbital spaceships that sound similar to Blue Origin's proposed New Shepard craft.
If something were to go wrong with Blue Origin's spaceship, the crew capsule could break away from the rocket propulsion module and parachute down to the launch area.
Blue Origin says its own personnel would be the first to ride the rocket, after a series of progressively more ambitious unmanned tests. This year's initial tests are expected to go no higher than 2,000 feet (600 meters).
There's not yet been any word on how much such rides would cost — but the going rate for Blue Origin's competitors, such as Virgin Galactic and Rocketplane Kistler, is roughly $200,000 a seat. Those two companies say they plan to be flying customers well in advance of Blue Origin's 2010 timetable for commercial operations.