VAN HORN, Texas - Amazon.com founder Jeff Bezos' plans to build a suborbital spaceport on his West Texas ranch appear to be on the fast track, after receiving a positive reception Tuesday at a hearing held in the closest town.
About 40 people attended the Federal Aviation Administration's hearing on the environmental assessment for Bezos' venture, known as Blue Origin, and nary a discouraging word was heard. Based on the FAA's timetable, Blue Origin could receive the necessary licenses for flight tests by this fall.
FAA approval would mark a significant step in Blue Origin's plan to put passengers on suborbital spaceflights starting in 2010. The 18,600-acre proposed launch site — set within a 165,000-acre ranch that lies 20 miles (32 kilometers) north of Van Horn — would be the first spaceport built on private land with private money.
FAA environmental specialist Douglas Graham said the agency was aiming to finish up its environmental assessment of Bezos' plans in August. Unless the final version is radically different from a draft released last month, the agency appears likely to report that Blue Origin's operations would have no significant environmental impact.
Graham told MSNBC.com that the FAA determined that Blue Origin's application for the permits required for experimental launches was substantially complete in March. That determination set off a 120-day timetable for approval or denial of the application. "We're going to exceed that in this case," Graham said, because the environmental assessment still had to be finished.
Graham cautioned that approval wasn't a sure thing, even if Bezos' project was cleared on environmental grounds. But at this point it would be surprising if Blue Origin was turned down — particularly in light of the glowing comments made Tuesday.
'Great opportunity'
During the hearing, rancher Ron Helm said Bezos' ranch would be well-suited for a spaceport.
"As far as we can tell, this is a great opportunity for that particular country to be on the cutting edge of high technology, and something good for Van Horn and Culbertson County," he said.
Retiree Pete Torres said the venture would further the economic development of Van Horn, a historically low-income town with roughly 3,000 residents. "Anything that will help this community to grow and help the economy, I am very much for," he said.
I was the only other person to offer oral comments — in the form of questions about Blue Origin's updated testing schedule, its plans for shipping components from its Seattle-area production facility, potential economic impact and the status of construction. (Further written comments may be e-mailed to FAABlueOriginEA@icfi.com until Thursday.)
Roughly half of the 40 people attending Tuesday's hearing were out-of-towners — including the event's organizers, representatives of Blue Origin and journalists.
Van Horn city administrator Becky Brewster, who listened in from the front row of seats, said she wasn't surprised that so few people spoke out at the hearing. "Things are always quick when there's no opposition," she told MSNBC.com.
Afterwards, Graham told MSNBC.com that the hearing was "very successful" and that the process for considering Blue Origin's launch application was "on track."
Rapid movement ahead
There were hints of rapid movement ahead on other fronts as well.
Scores of construction workers have been active at the proposed launch site, 20 miles (32 kilometers) north of Van Horn. The site itself is off-limits to outsiders, but from a vantage point on Highway 54, which passes by Bezos' ranch, Earth-moving equipment, trucks and even a bus could be seen stirring up dust on Tuesday.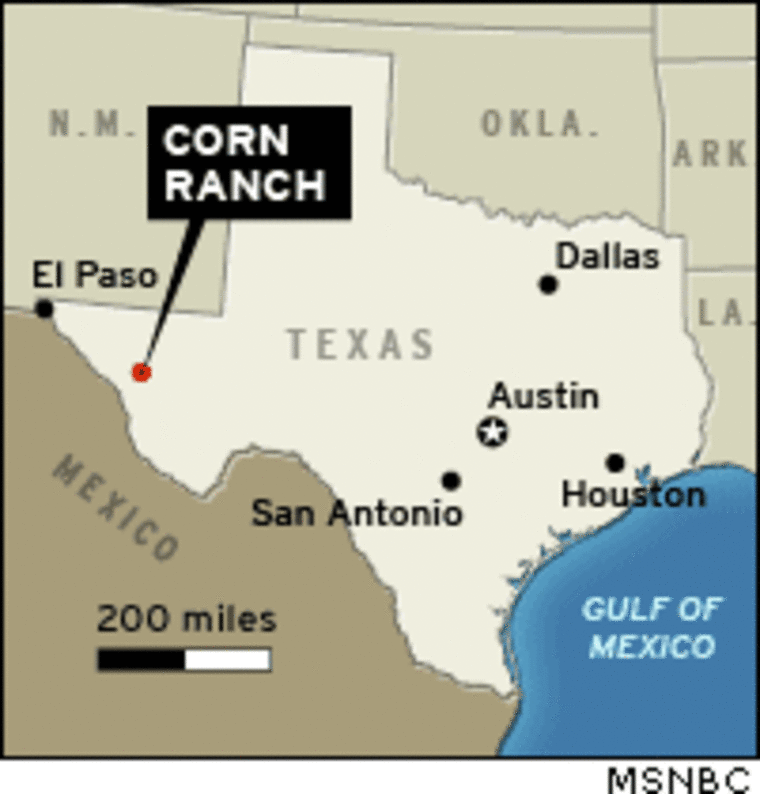 To date, Blue Origin has been relatively secretive about its plans, but spokeswoman Gwen Griffin said that situation may change in the coming months.
The 42-year-old founder of Amazon.com, whose net worth has been estimated at $4.8 billion, has said he is following through on a childhood dream of going into outer space.
Bezos started up the Blue Origin project in 2000, and recently moved the venture's base of operations from a Seattle warehouse to an office/production complex south of Seattle. The Seattle-area complex was purchased and refurbished at an estimated cost of $21 million, and the Texas launch site is certain to cost millions more by the time it's completed.
Some Van Horn residents wondered out loud why Bezos would pick their remote area of West Texas for a spaceport, but last month's draft environmental assessment indicated that the area's very remoteness was a huge plus for Bezos' purposes.
"Blue Origin determined that launching from a remote, privately owned launch site would offer significant cost, schedule and operational benefits for its proposed activities," the report said.
Flight plan
Assuming that the FAA gives its approval, the report said unmanned flight testing could start later this year, with the initial tests going no higher than 2,000 feet (600 meters). Progressively more ambitious launches would lead to manned test flights, then the first commercial flights in 2010, according to the draft report. Eventually, the flight rate could rise to an average of one launch a week.
As described in the draft report, the suborbital vehicle would be a cone-shaped, reusable rocket ship that would blast off vertically, with peroxide and kerosene as the propellants. It would stand about 50 feet (15 meters high), with a 22-foot-wide (7-meter-wide) base. There would be no pilot aboard the flight; instead, onboard computers would be in control, although ground controllers could intervene in an emergency.
Three or more paying passengers would take a quick jaunt to altitudes beyond 62 miles (100 kilometers), feeling a few minutes of weightlessness and seeing the black sky above a curving Earth. At the end of the ride, the rocket would either make a vertical landing intact, or push off the crew capsule for a separate parachute landing.
This type of up-and-down flight profile has long been sought by rocketeers — from the golden age of the 1950s to the Delta Clipper and the Rotary Rocket in the 1990s.  The technology has not yet been perfected, but Texas-based Armadillo Aerospace and Oklahoma-based TGV Rockets are known to be working on suborbital spaceships that sound similar to Blue Origin's proposed New Shepard craft.
There's not yet been any word on how much Blue Origin's rides would cost — but the going rate for Blue Origin's competitors, such as Virgin Galactic and Rocketplane Kistler, is roughly $200,000 a seat. Those two companies say they plan to be flying customers well in advance of Blue Origin's 2010 timetable for commercial operations.