Every work day in America, millions of employees spend many of their waking hours with all kinds of bosses. But how many can say they work for a guy like who runs around the office in his underwear? For a CEO who let videotape of himself doing just that go up on the company Web site?
Dov Charney, American Ampparel CEO (on deposition video): There is no evidence to say that you can't walk around in your underwear all day anywhere in the United States of America.
Meet Dov Charney, the 37-year-old founder and CEO of American Apparel, the ultra-hip chain that sells clothing, and yes, underwear.
He's giving a deposition, on tape and under oath, in a sexual harassment lawsuit.
Charney (in deposition tape): I frequently drop my pants to show people my new productKeith Fink, attorney for Mary Nelson: Do you know Mary Nelson?Charney: Yes.
Mary Nelson is one of three women who filed sexual harassment lawsuits against Charney last year. Keith Fink is often on the other side of this debate, hired by companies trying to ward off harassment litigation.
Josh Mankiewicz, Dateline correspondent: You do workshops for employers telling them how to avoid sexual harassment cases.Keith Fink, attorney for Mary Nelson: Quite often.  I'm a pretty entertaining guy.Mankiewicz: And you give out a bunch of guidelines for people to sort of live by if they wanna stay out of a courtroom.Fink: Absolutely.Mankiewicz:  How many of those guidelines were broken at American Apparel? Fink: Every single one of them.
First, you need to understand what a striking success the company has been. Since Dov Charney opened American Apparel's first retail store in 2003, revenue has quadrupled to $250 million annually.
Dov Charney: This is basically the pitch: It's T-shirts that look good, T-shirts that feel good, and T-shirts that are made in a non-exploitative setting.
The clothes are made not in overseas sweatshops, but in an air-conditioned factory in Los Angeles, where employees earn well above minimum wage and receive full health benefits.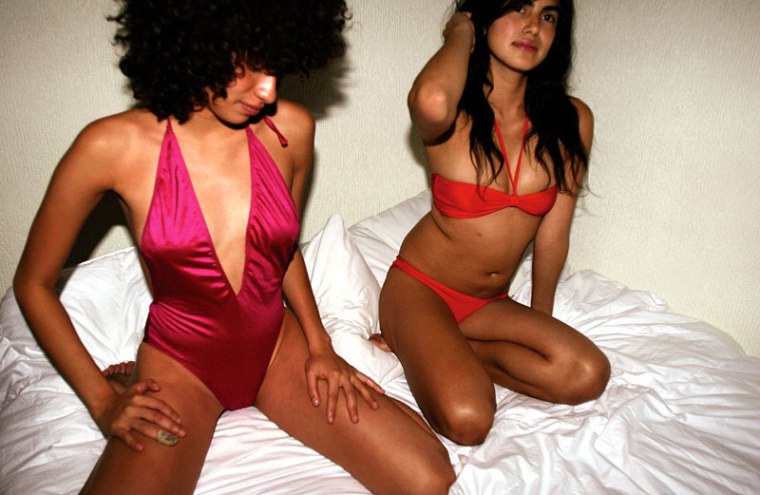 Charney is proud to use a healthy dose of sexuality to market his company's products. This is an example of one of the images posted in Charney's stores and on the company's hugely popular Website. But some former employees say at American Apparel, sex is more than just a marketing tool.
Mankiewciz: Mr. Charny's been pretty open about the fact that he's been involved personally with a number of his employees.Fink: Open.  Brazen. Yes.
Charney has talked to reporters from the New York Times, Business Week and Jane magazine about his intimate relationships with women who work for him. "I'm not saying I want to screw all the girls at work," he was quoted as saying in Jane, "But if I fall in love at work it's going to be beautiful and sexual."
By all accounts, the women who have sued Dov Charney for sexual harassment—including Fink's client Mary Nelson—were not intimately involved with him. But Nelson and the two others claimed the boss shocked and disgusted them with dirty talk and gestures, creating what some lawyers call a phrase you've heard before, "a hostile work environment."
Mary Nelson started working as a wholesale salesperson at American Apparel in 2003 when she was 31. Over the next year and a half, she claims in her complaint, her boss made her work life miserable with unwelcome sexual comments and suggestive signals. And she says she was dismissed after she complained.
In the videotaped deposition, over several days, her lawyer grilled Charney about all of it.
Fink (deposition): Did you ever, at work, refer to women as "sluts"?Charney: In private conversations, where such language was generally welcome.Fink: Do you view "slut" to be a derogatory term?
Charney: You know, there are some of us that love sluts. You know, it's not necessarily—it could be also be an endearing term.Fink: An endearing term. Is that something you call your mother?Charney:  No. But it's maybe something that you call your lover.Fink (Dateline interview):  I'm very difficult to floor me.  That floored me when I heard his explanation that "slut" is an endearing term.
Charney freely admits using a number of explicit terms for female body parts—including the "C" word.
Charney: During the period when she worked, did I use the word c***?Fink: In the workplace?Charney: Absolutely, as she did.Fink: I didn't ask you if she did.Charney: I'm telling you a little more. I'm volunteering a little more ha ha [sticks out tongue].
The company argues in the freewheeling creative environment of American Apparel, it's not inappropriate to use foul language.
And in fact, a recent court decision might back that up: this spring the California Supreme Court ruled that an assistant scriptwriter on the NBC sitcom "Friends" could not proceed with a sexual harassment lawsuit. The court ruled that lewd language was permissible in a creative workplace generating scripts with sexual themes. 
Charney hangs explicit vintage magazines on the walls of his retail stores. He even posed for one ad himself in the magazine "Sweet Action." To Charney, it's all part of an unconventional vibe he says is the very essence of his hip young company.
Charney: I believe that we work hard to create an environment of freedom.
And in the world of Dov Charney, freedom can sometimes mean dressing down at the office.
Fink: At the workplace in the years 2003 and 2004 how often in the work week would you be in your underwear?Charney: There were months I was in my underwear all the time. It became very common.
Dov Charney argues sometimes taking off his pants at the workplace is perfectly appropriate. He is, after all, in the business of selling underwear. He serves as a fit model for the company so he says he has to try it on at work. And he says he wants to build enthusiasm for the product.
Charney: There was a time in fact we put it on the Internet that I was running around in my underwear.Fink: Why did you do that?Charney: To be humorous.Fink: And did all the employees tell you that they thought it was funny seeing the CEO walk up and down the workplace in his underpants?Charney: We had people cheering.
The video of a pant-less Charney on the job has been removed from the company's Website. But it turns out someone saved a copy.
In the video, the workers on the floor don't seem alarmed by their boss's behavior. So what's it really like to work for Dov Charney? 
American Apparel CEO Dov Charney doesn't try to hide the fact that his company has different rules about workplace relationships than a lot of other American businesses.
Keith Fink, lawyer: Now, as you understood this American Apparel policy or spirit of having freedom in the workplace, does that encompass American apparel employees having sex at the workplace?Dov Charney, American Apparel CEO: Provided they're in a private setting and no one else is aware of it and they're on their break.Fink: How about if they take their 10-minute break which the law allows them and they go into a supply closet and no one can see them and they actually have intercourse?Charney: Well if it's if no one could see them and or there is a reasonable expectation of privacy, I'm not going to run rush in like some Nazi and tell them to stop having consensual activities.
In his videotaped deposition, Charney declined to answer whether he had ever had sex in the workplace, or to discuss which women in the company he's been involved with. But one  former American Apparel employee claims Dov Charney was eager to pursue a number of his subordinates.
Employee: It was understood that Dov was looking for sex almost constantly.Josh Mankiewicz, Dateline correspondent: And that he was looking for it from his employees? Employee:   Yes.  He was looking for sex from his employees.
The former employee is a young man was a mid-level employee at American Apparel until last year. On Dateline, he asked us to conceal his face and voice saying he thinks publicly criticizing a former boss could hurt his career. He acknowledges he was fired by Dov Charney. His account of Charney's behavior was backed up by six other former employees Dateline spoke to from American Apparel locations in three different cities.
Some say they left voluntarily, others acknowledge they were fired. All say they were distressed by a boss they describe as obsessed with sex.
Employee:  His language was constantly inappropriate talking about sex, talking about—his own genitalia, talking about—other people's. Mankiewicz: He would say, "Hey, I'm all about sex and freedom of expression and everybody should say what's on their mind, and that's what was on my mind." Employee: I agree with freedom of expression. However, when you combine that with the job setting, when you're using it as power over other people, that's inappropriate.
Charney declined to talk to us, but a company spokesman said our sources are "disgruntled ex-employees" asserting "blatant falsehoods under a cloak of anonymity."
He also said: "The truth is that American Apparel, which employs more than 4,500 people, faces a single baseless workplace lawsuit."
It's true there is only one lawsuit now because the other two plaintiffs, who sued Charney jointly, have reached a confidential settlement with the company out of court, in which American Apparel did not admit any wrongdoing.
And the company introduced us to a group of high level employees, all women, who say working for Dov Charney is a pleasure.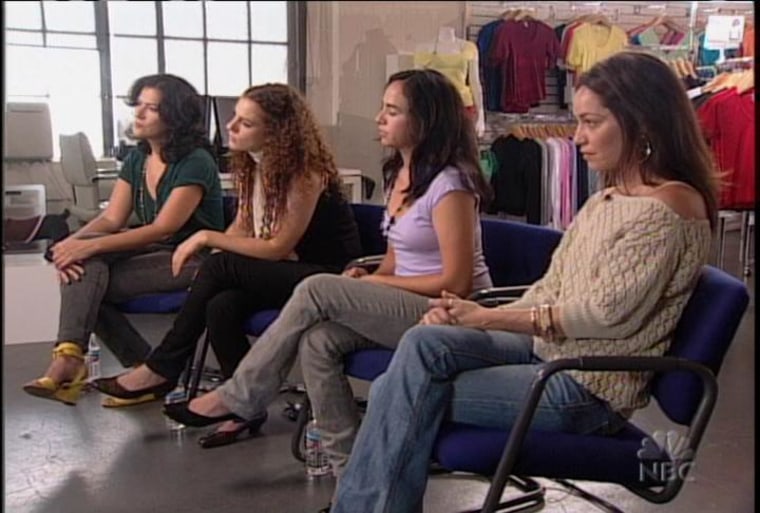 Alex, employee: Dov's a really exciting person to work with.  I mean, he's definitely eccentric, we all know that, but he's also really inspiring.Carolina, employee: I think Dov's a brilliant man, he's very loyal, I enjoy working for him.
These women say any bad publicity American Apparel has gotten stems from a misunderstanding of the company's unconventional style.
Mankiewicz: How important is sex to the American Apparel image?
Alex:  Very. Sex definitely comes into play.  Every ad we do, "Is this sexy?  Does the garment look sexy, does the model look sexy, is it the right kind of sexy?"  You know.Cara, employee: It hasn't always been just about, you know, sexiness.  I mean, we have an adorable older couple taking about this new jacket and how cute is.
But when Dov Charney talks at work about what's sexy, they say, it's always in a professional context.
Mankiewicz: Ever hear him talk about women's bodies at work?Alex: Sure, I mean, again, with the photos, with the models—Mankiewicz: Ever hear him talk about sex?Alex: Yeah, in a way, we do talk about sex, as I mentioned.Mankiewicz: I don't mean just sex, as in sex he might have had, as a—Alex: As in, "I had sex last night"? No. No.  We don't talk about that.
These employees do acknowledge the company's Web site isn't the only place where the boss has made appearances in his underwear.
All the women, nodding: Yes, we've seen him in his underwear.Cara: American Apparel underwear. Not randomly in underwear.Marsha, employee: I mean, we sell underwear, it's not uncommon to see someone in their underwear here.
They know Charney has dated some of their colleagues, but say they don't care.
Carolina: Yeah, it's his personal life. I'm more concerned about getting artwork out to the source, meeting my deadlines, than worrying about who's dating Dov.
And the women reminded us that American Apparel has no rules against dating in the office. The company says Charney's relationships with his employees have been consensual, that he's never demanded sex nor let sex be the basis for hiring, firing or promoting any employee. And this group says they've never seen Dov Charney behave inappropriately.
Mankiewicz: There are women in this country, in the work force, plenty of them, who feel as if they have the right to come to work and not have any discussion about sex with their boss, regardless of  what kind of work they do.Alex:    Well, it's actually in our employee handbook. We do talk about how, you know, especially in a creative department, you can expect a certain type of dialogue happening, and if you don't feel comfortable with that, than maybe this isn't the place for you to work.
That language in the handbook states that employees working in creative areas of the company "will come into contact with sexually charged language and visual images. This is part of the job...and is not deemed to be harassment by American Apparel."
Cara:  You can't go work for Hustler Magazine and then, all of a sudden, say, "I'm offended by women's breasts."  Marsha: You could just go onto our Web site, wear our clothing, go into one of our stores, and you'll see that sex is a big part of how we build our brand.Employees: If that makes anyone uncomfortable—Mankiewicz: Go work at Sears?Female employees: Yeah.
The employees didn't want to talk about the lawsuits filed against dov Charney, beyond this:
Alex: I think it's a money-grab, that's what I think, frankly.
The lawyer for plaintiff Mary Nelson disputes that, of course. He says his client has a long list of valid complaints against her former boss.
Fink: I view this as the emperor has no clothes.  But Mr. Charney thinks he's the emperor and he can do whatever he wants at the workplace including walking around with no clothes. This is a garment company that's got pornographic magazines on its walls.  You have pictures on the server of women spread eagle. I mean, you want me to go on with the litany of problems there?Mankiewicz: Yes.
And there's more: like the one meeting that makes the underpants sessions look tame.
In his videotaped deposition, American Apparel CEO Dov Charney was asked about some striking claims from Mary Nelson, a former sales representative who has sued him for sexual harassment.
Keith Fink, attorney for Mary Nelson (deposition video): Did you ever ask Ms. Nelson if she would masturbate in front of you?Dov Charney, American Apparel CEO: No.Fink: Did you ever say to Ms. Nelson you had so much faith in her that she could come over to your house, watch TV, have a drink, even masturbate and leave, and you would still have faith in her?Charney:   I don't recall making that statement.Fink:  Is the "don't recall" a categorical "No," you didn't, or you just don't remember?Charney's lawyer: Objection; argumentative.
Here American Apparel makes two arguments: First they don't agree Charney said that. Secondly they say even as described, it's an offhand remark not an actual invitation. Mary Nelson, who declined to talk to Dateline, claims Charney did make the comment—while they were discussing whether she would get a raise.
Josh Mankiewicz, Dateline correspondent:  Why was that not her last day at the company?  'Cause it would be mine. Keith Fink, attorney for Mary Nelson:  That might've been for you or for me, the final straw that breaks the camel's back.  But, remember, everybody knew even before this.  But then again, this is just one of the things that Mr. Charney does.Mankiewicz: Okay.  And so, she's kinda gritting her teeth and thinking about getting through this?  What?  Tomorrow'll be a better day and he'll be a different guy? Fink:   Try to interact with him as little as possible.
If you think it's outlandish that a boss would make that comment, even in jest, consider this: when Claudine Ko, a reporter for Jane magazine  was spending time with Charney in 2004 to research a profile, she says the CEO pleasured himself in front of her.
Claudine Ko, reporter for Jane magazine: On one hand, I was shocked.  But, on the other hand—no, I—I was shocked.
Ko says it happened several times, always at Charney's apartment after a few drinks. She makes no apologies for her decision not to excuse herself when her interview subject pulled down his pants. She says she was just trying to show readers the real Dov Charney, and she says she was a willing observer.
Ko: I did not feel sexually harassed.  You know I knew—I felt comfortable knowing that if I asked 'em to stop it, he would.
And that's not the only thing she reported seeing Charney do outside the office.
Fink: Do you remember [bleep] giving you oral sex in front of the reporter?Charney's lawyer: Objection; privacy. Direct the witness not to answer.Ko: He and his—one of his assistants engaged in sexual relations. You know, at no point did I ever think I'm gonna walk out of this room or I am uncomfortable.  I just thought, "This is gonna be a fantastic story." 
American Apparel describes what happened between the reporter and Charney as "consensual sexual exchanges" and says that Charney and his assistant with whom he was involved at the time thought their activities would be kept private. The company calls it "a social situation which...unfortunately was exploited in order to sell magazines."
The reporter says that's wrong, saying Charney was well aware the whole thing could end up in print.
Ko: You can do what you want but just remember, I'm a reporter and I'm going to be writing a story at the end of all of this.
In her story, Ko reported that the sexual encounter she witnessed between Charney and his assistant appeared to be entirely consensual. She also says she interviewed many American Apparel employees, who all seemed happy with their jobs and didn't consider their boss a pervert.
Ko: If you go to the headquarters, it's not like you go and you see people having sex on the production floors. It's not just, like, you know, all out debauchery.
But of all the strange things that may or may not have happened between Dov Charney and his subordinates, perhaps the strangest involves what he wore for part of a business meeting at his L.A. home which plaintiff Mary Nelson says she attended.
Fink: He recalled you wearing a sock on your penis while Ms. Nelson was in your home is that correct? Charney: Tthe product is called a [bleep] sock.
For the record, Charney says he doesn't recall whether Mary Nelson was present at the infamous sock meeting, but he says there wouldn't be anything wrong with wearing the item in front of her. He says he was simply modeling a potential new product.
Fink: Does it cover the entire buttocks?Charney: No. But neither does a thong.
Nelson's lawyer says she was horrified seeing her boss wearing the sock. But Charney argues that's unlikely. He says Mary Nelson, a former dancer and actress in movies like "Malibu's Most Wanted," used foul language at work, which Nelson doesn't deny. And Charney says Nelson didn't mind talking about sex, especially around her young female assistant.
Charney: Mary said that she liked her tits and, also, that Mary had hit her ass once or twice.
The company says another one of her assistants, a man, even quit because Nelson used lewd language and touched him inappropriately.
Nelson denies she behaved inappropriately toward her assistants. Charney says he let Mary go because of poor job performance.
Charney: Her inability to bring the business to American Apparel that she had promised.
Nelson says she did bring in business. For his part, Dov Charney denies he ever sexually harassed Mary Nelson or anyone else. To Charney, American Apparel is a new frontier of sexual openness in marketing where the old rules no longer apply.
Charney: I'm not a mechanic or a plumber, you know. I'm an artist, I'm a creative guy.Mankiewicz: Mr. Charney says he's created a different kind of company.Fink: He has indeed.  That's why you're interviewing me.Mankiewicz: What I mean is, what's wrong with the argument that "this is a different kind of company.  We are trying to sell things through sex appeal. And if you don't like the fact that we're much more frank about and open about sex, then go work somewhere else."Fink: The law is very clear in this country that you cannot have a work environment similar to American Apparel.
But is the law really so clear? Should a creative environment like American Apparel be held to the same standards as a buttoned-down law firm? This is a different time, where the line between offensive and free-thinking is growing narrower every day.
Of the three women who sued Dov Charney, two settled, and the third, Mary Nelson, is still pursuing her case. If she and American Apparel are unable to come to an agreement, the case may go to trial. No word yet when that might happen.