/ Source: The Associated Press
Supporters of Mexico's leftist presidential candidate brought rush-hour traffic to a crawl Monday, causing the stock market to drop and forcing office workers dressed in business suits and high heels to hike for miles to work.
The sprawling tent cities in the financial heart of the Mexican capital were another sign that Andres Manuel Lopez Obrador and his supporters won't accept anything less than victory from the top electoral court.
The tribunal is weighing allegations that fraud gave ruling party candidate Felipe Calderon a slight advantage in the July 2 election. It has until Sept. 6 to declare a president-elect or annul the elections.
Lopez Obrador is demanding a vote-for-vote recount, and has vowed to block the city center until the Federal Electoral Tribunal rules on his request.
Mexico's stock market opened lower Monday, a sign the protests were making investors nervous.
"We'll stay here for as long as it takes, but we're not going to let them impose a president on us," said farmer Anacleto Garcia Martinez, 53, as he warmed his coffee on a wood-burning brazier set up beneath a tarp strung from the wrought-iron gate leading to Chapultepec Park.
With his broad mustache and a blanket hung over his shoulders, he resembled his ancestors, farmers-turned-soldiers in Mexico's 1910 revolution.
"We've got revolutionary blood," said fellow farmer Angel Campirano, 49, of the city's rural Milpa Alta district. "Farmers are being forced to sell off their land, and we are defending the land."
Little patience for protest
But modern Mexico — which now depends more on commerce, services and manufacturing than on agriculture — has little patience with such sentiments.
Salesman Alejandro Lara, 33, walked two miles up Mexico City's swank Reforma Avenue, blocked by protesters, before he began yelling.
"I'm either going to have to get up at 5 a.m. every day, or ask for vacations," Lara said angrily. "It's too bad, because I supported Lopez Obrador. But now, after this, I wouldn't want to have him governing us. He scares me."
Marches and protest camps are common in this megalopolis of 20 million people, but Sunday's rally and resulting tent cities were on a scale that hasn't been seen in recent Mexican history.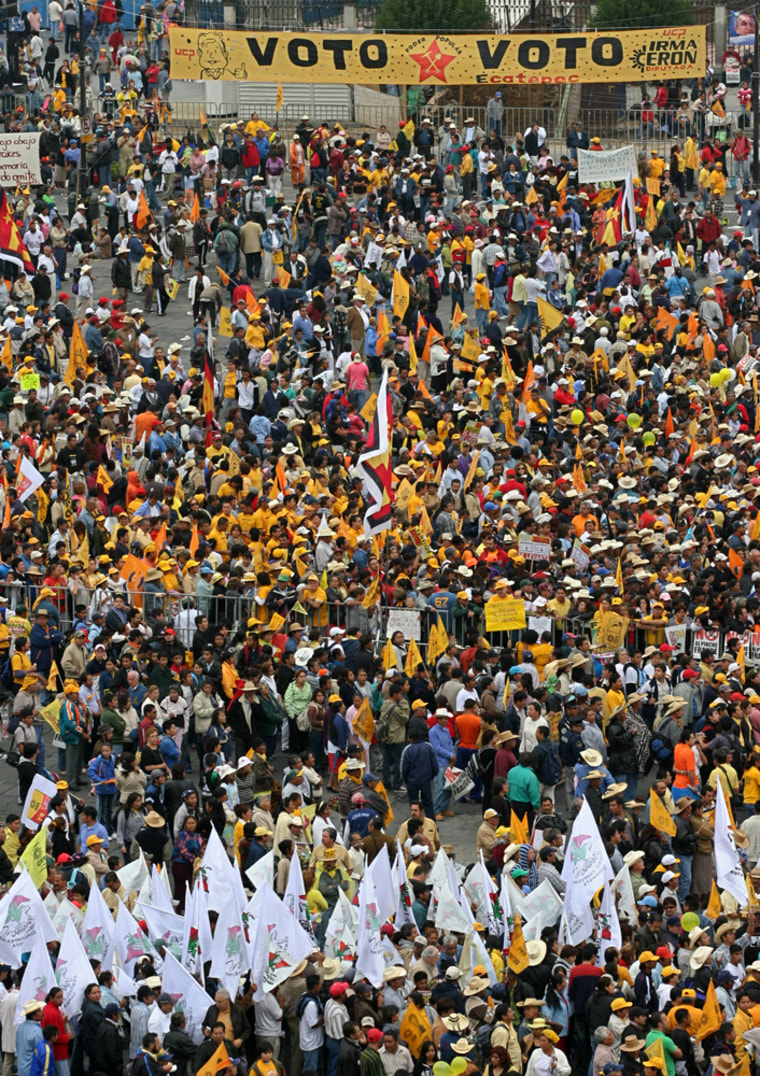 Democratic Revolution spokesman Gerardo Fernandez defended the protests, saying: "They are absolutely peaceful and absolutely legal. We are not violating anyone's rights."
Mexico City Mayor Alejandro Encinas, a member of Lopez Obrador's Democratic Revolution Party, said Monday his government wouldn't forcibly remove the protesters. President Vicente Fox's spokesman, Ruben Aguilar, said federal authorities also won't step in, unless the city requests their help.
"The organizers of these demonstrations and marches have said they will be peaceful and respect the rights of others," Aguilar said. "We hope they keep their word."
Lopez Obrador is known for his ability to mobilize millions. Last year, he led marches that successfully blocked an attempt to impeach him as Mexico City mayor, a move that would have kept him from running for president.
Apparent victor condemns protests
Calderon, who has an advantage of about 240,000 votes, or 0.6 percent of the official count, argues the election was fair and has condemned the street protests as "senseless."
"The question is whether we Mexicans are going to resolve our differences with pressure tactics and marches, or with reason and by law," Calderon said Sunday after testifying before the tribunal's seven judges.
Protesters included grandmothers, politicians, even housewives. Many were drawn by Lopez Obrador's promises to govern for the poor in a country where class divisions are ever prominent.
"A lot of us are not poor. A lot of us are doing this out of a desire for justice and equality," said Rebeca Garcia Guzman, a retired health care worker and middle-class mother.
Violence feared
While Lopez Obrador has called on demonstrators to remain calm, the protesters say things could turn violent.
"This is the start, and it is going to generate more, higher-impact protest actions," said Carlos Reyes Gamiz, a city councilman from Lopez Obrador's Democratic Revolution Party who spent the night in a tent. "Positions in this conflict are going to harden."
That already appeared to be happening. Maricarmen Montano, a secretary, stood outside a subway stop and tried to figure out how to get to work. She was already two hours late and desperate.
"What did we do to deserve this? This is shameful," Montano said.
Montano isn't wealthy. But like many Mexicans, she views herself as part of an emerging middle class and fears a return to the era of open confrontation between rich and poor.
"He comes from a low-class neighborhood, and it shows," Montano said of Lopez Obrador. "If he's upset, he should go to the courts. This kind of thing shouldn't be settled in the streets."