/ Source: The Associated Press
Israel renewed airstrikes against Hezbollah strongholds in the battered outskirts of the Lebanese capital in the early hours Thursday.
Witnesses said at least four explosions reverberated through Beirut as missiles hit Dahieh, a Shiite Muslim suburb that has been repeatedly shelled by Israel since fighting began three weeks ago.
Residents heard the impact of a large explosion about every five minutes starting at 2:30 a.m., as missiles apparently targeted areas close to Hezbollah's headquarters in Dahieh, a neighborhood to the south of the capital that has been partly flattened by air strikes in previous weeks.
It was the first air raid against the Lebanese capital's suburb in almost a week. The strikes came in the wake of Hezbollah's rocket attack on the Israeli town of Afulah, its deepest hit in Israel so far. Hezbollah fired a record number of 230 rockets into Israel on Wednesday, as fierce fighting raged on the border.
Hezbollah fired its biggest and deepest volley of rockets as Israel pursued the guerrillas with 8,000 soldiers on the ground and heavy bombing. With fighting in its fourth week and diplomatic efforts stalled, the region braced for a bitter and long war.
Heavy machinery carries off bodies
In eastern Lebanon, villagers wept as heavy machinery carried off the bodies of those killed in an overnight raid against a Hezbollah stronghold. Across northern Israel, forests and fields lay scorched from rocket fire that killed a Massachusetts native fleeing on his bicycle after a warning siren went off.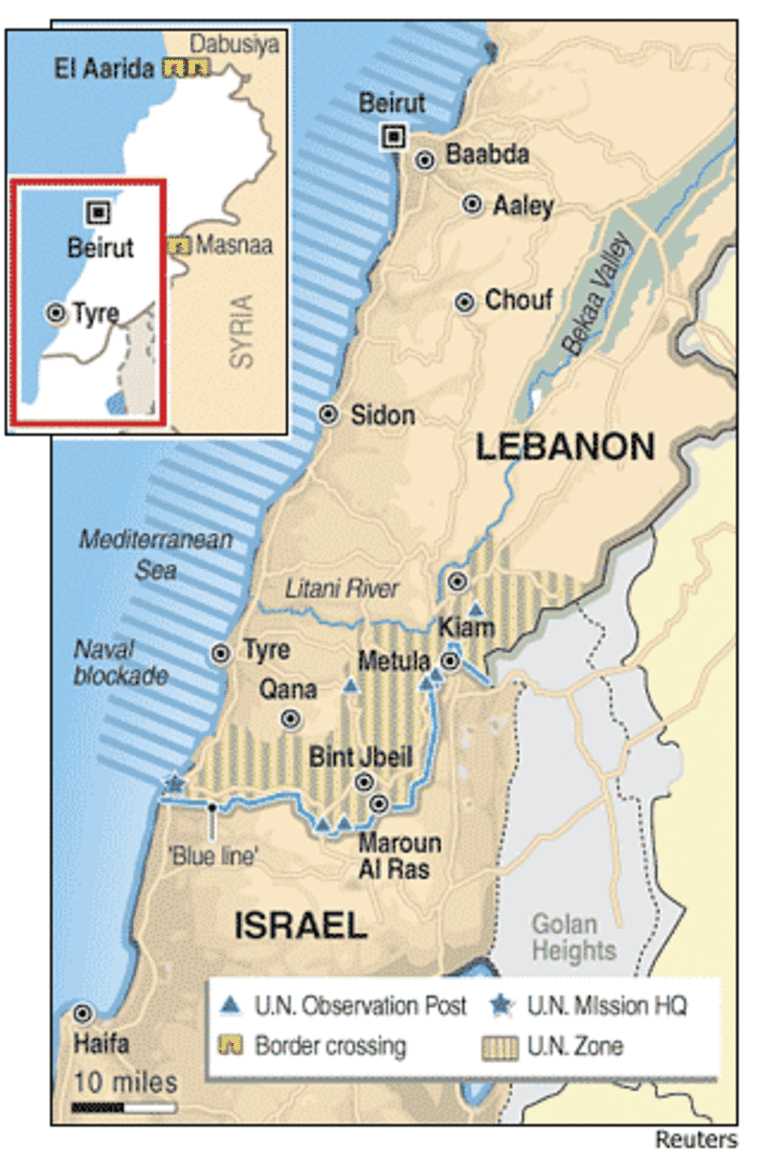 Hopes for a cease-fire dimmed despite a plea from Pope Benedict XVI for a quick solution. U.N. diplomats debated a draft resolution that would lay down the conditions for an international force to go in; they claimed they were making progress but acknowledged no immediate deal was in sight.
The prospect of a longer war has raised tensions across the Mideast, where anti-Israeli and anti-American hostility is now sharp. Arab leaders have warned repeatedly in recent days that the fighting has hampered, or killed outright, any hope for a long-term Israeli peace deal.
But Israeli Prime Minister Ehud Olmert said his country would stop its offensive only after a robust international peacekeeping force is in place in southern Lebanon — something likely to take weeks at minimum. He predicted the fighting would create "new momentum" for Israel's plan to separate from the Palestinians by pulling out of the West Bank.
Early Thursday, Israel renewed air strikes against Hezbollah strongholds in Beirut's outskirts. Witnesses said at least four explosions reverberated after missiles hit Dahieh, a Shiite Muslim suburb that has been repeatedly shelled by Israel.
On Wednesday, the first full day of its massive ground push, Israeli military officials said Hezbollah was putting up resistance as troops went from village to village in south Lebanon to clear them of guerrillas.
Objective: Four miles deep into Lebanon
But the officials, speaking on condition of anonymity because they were not authorized to talk to the media, said they were confident the resistance would not change their objective of reaching roughly four miles into Lebanon by Thursday. They said they could easily dash inland to the Litani River — their final objective about 18 miles from the border — but instead chose to move methodically so as not to leave pockets of resistance.
The Israeli forces were believed to be just two miles inside the Lebanese border in most spots.
The military said early Thursday that an Israeli soldier was killed and four others wounded in Ayt a-Shab, just across the border. Army Radio said the battle was still in progress early Thursday.
Hezbollah's retaliation was fierce — both on the ground and by air. It fired a record daily number of more than 230 rockets into Israel, pushing its three-week total over the 2,000 mark. The highest previous daily total was 166, on July 26.
One rocket on Wednesday hit near the town of Beit Shean, about 42 miles beyond the border, Hezbollah's deepest rocket strike into Israel so far. Another stray missile hit the West Bank for the first time.
David M. Lelchook, a 52-year-old Israeli-American, was killed as he fled for home by bicycle near a northern town, and 58 people were wounded elsewhere across Israel. Lelchook was originally from the Boston area and had been living in Israel for 20 years, said Yehuda Shavit, a local government official. He said the man's wife and two daughters had moved to southern Israel earlier in the fighting.
Another American immigrant was among three Israeli soldiers killed in fighting in Lebanon this week, the army said Wednesday. Michael Levin, 22, moved to Israel three years ago from Pennsylvania and enlisted in the paratroopers, Israeli media reported. Levin cut short a visit to his family four days ago and returned to his unit.
In Lebanon, the civilian death toll reached far higher: 16 killed overnight during an Israeli commando raid and accompanying airstrikes around the Hezbollah stronghold of Baalbek near the Syrian border.
Israel's deepest strike so far
The attack, the deepest strike north by Israel so far, was led by commandos who flew in by helicopter before dawn, capturing five Hezbollah guerrillas and killing at least 10, said Israel's army chief, Lt. Gen. Dan Halutz.
Witnesses said the Israeli forces partially destroyed the Dar al-Hikma hospital in Baalbek, which residents said is financed by an Iranian charity close to Hezbollah.
A Hezbollah official in Beirut said the hospital had been evacuated several days earlier as a precaution after Israeli forces attempted an earlier, similar operation. No such assault was previously reported.
The Israel air force deputy commander, Col. Yochanan Loker, described the site as "a Hezbollah headquarters located inside the hospital. ... Weapons were found within the hospital — in offices, in drawers."
'They are tasty fishes'
Israel has not released the identities of those captured. When asked by The Associated Press whether any were "big fish," Olmert said: "They are tasty fishes."
Another Hezbollah official, also speaking on condition of anonymity because he was not authorized to give official statements to the media, said Israeli troops captured "four or five" people, but not at the hospital, and denied they were Hezbollah fighters.
Commandos also took away computers, disks and documents for intelligence analysis, said army Col. Nitzan Alon, who led the Israeli ground forces on the mission. As they swept the building, they came under fire by anti-tank missiles from nearby buildings.
Israeli jets fired missiles at the surrounding guerrilla force as the fighting at the hospital raged, the military said.
One struck the nearby village of al-Jamaliyeh, hitting the house of the village's mayor, Hussein Jamaleddin, and killing his son, brother, and five other relatives.
Weeping as he walked in a funeral procession hours later, Jamaleddin pulled at the limbs of the dead, carried to a cemetery in the bucket of a yellow front-loader.
"This is the leg of my son. He was a sportsman, he did tae kwon do," Jamaleddin wailed.
At least 548 Lebanese have been killed since the fighting began three weeks ago, including 477 civilians and 25 Lebanese soldiers and at least 46 Hezbollah guerrillas. The health minister says the toll could be as high as 750, including those still buried in rubble or missing.
In all, 56 Israelis have died — 37 soldiers as well as 19 civilians killed in Hezbollah rocket attacks.
In other developments:
The U.N. announced it would again postpone a meeting of nations that could contribute troops to help stabilize south Lebanon, saying it was premature to talk about deploying peacekeepers before imposing a plan for peace between Israel and Hezbollah.
In Geneva, the U.N. World Food Program said Israel had agreed to permit two oil tankers to sail into Lebanon to ease a growing fuel crisis. Many gas stations have long lines or are shuttered, and aid officials fear fuel shortages could also hurt food production. Power and water outages also have become common, especially across the south.