/ Source: The Associated Press
Consumer spending was weak for a fourth straight month in June as rising gasoline prices left Americans with little to spend on other items. Construction activity posted a stronger-than-expected advance, though, as a record level of government spending helped offset weakness in housing.
The Commerce Department reported that consumer spending rose by 0.4 percent in June, down from a gain of 0.6 percent in May. After adjusting for inflation, the gain was an even weaker 0.2 percent, the fourth straight month of a spending increase of 0.2 percent or less.
Meanwhile, construction spending rose by 0.3 percent in June to a record $1.22 trillion at a seasonally adjusted annual rate. The strength came from big gains in government construction and commercial building activity. Housing construction fell for a third straight month.
In a third report, the Institute for Supply Management said that its closely watched gauge of manufacturing activity posted a reading of 54.7 in July. That was a better-than-expected showing and followed a reading of 53.8 in June.
In the spenidng report, income growth rose a solid 0.6 percent in June, following a 0.4 percent increase in May. A measure of inflation closely watched by the Federal Reserve rose by 0.2 percent in June and was up 2.4 percent over the past year, the biggest gain in 11 years.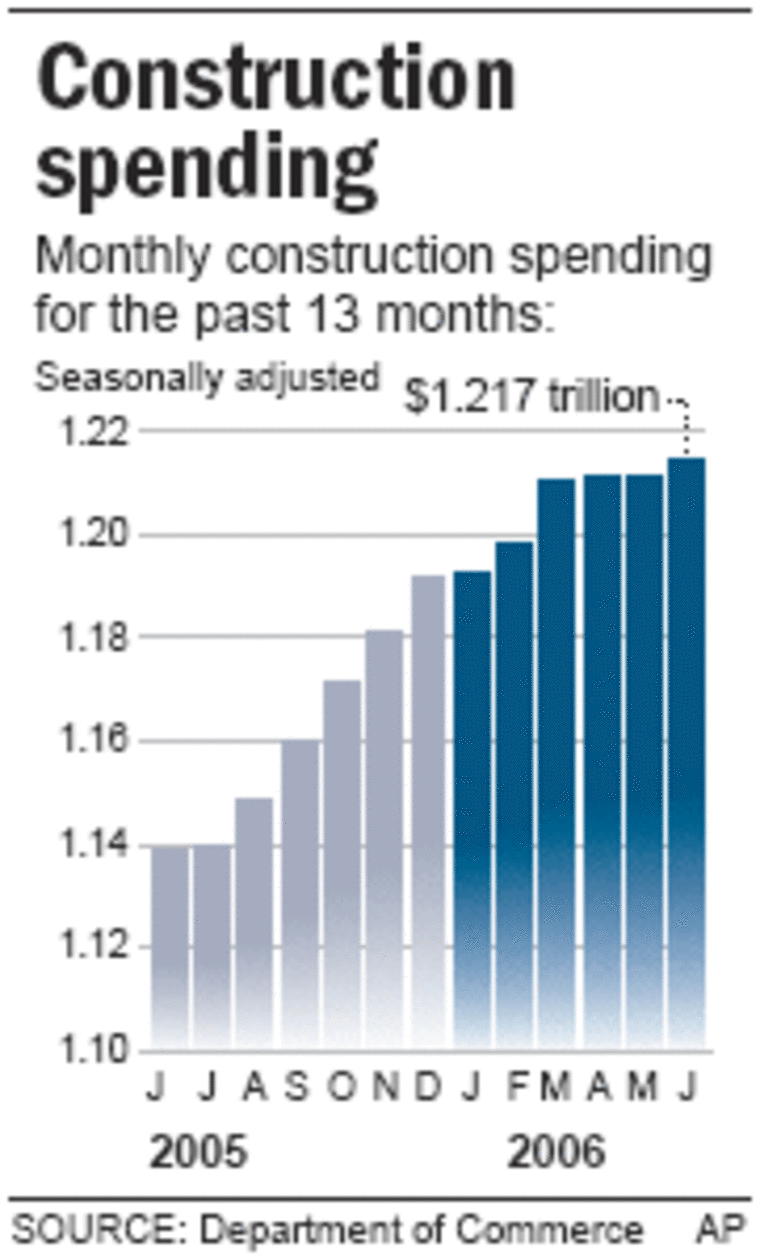 The 0.3 percent rise in construction spending was stronger than the 0.1 percent advance analysts had forecast. The strength came from a 0.8 percent rise in government construction activity, reflecting a 0.9 percent increase in state and local building projects which rose to a record $255.3 billion at an annual rate. That offset a 0.7 percent drop in federal construction spending which fell to a rate of $17.2 billion.
However, economists still expect construction activity to weaken in coming months, reflecting a slowdown in housing. For June, housing construction dropped by 1 percent as builders struggled to deal with a backlog of unsold homes, reflecting this year's jump in mortgage rates.
Consumer spending accounts for two-thirds of total economic growth and the slowdown in this area was a big factor in the slowing of the overall economy in the spring to a growth rate of just 2.5 percent, less than half the 5.6 percent pace of the first quarter.
The healthy jump in incomes and the sluggish rise in spending were both in line with Wall Street expectations.

Analysts said they expect rising interest rates, soaring energy prices and a cooling housing market to further depress consumer spending and overall economic growth in coming months.
"U.S. economic growth is slowing and this should apply a damper on inflation pressures, but not before measured inflation creeps up a bit further," said Michael Gregory, a senior economist at BMO Capital Markets.
The Federal Reserve is hoping to slow the economy enough to keep inflation under control. However, the new report showed the opposing forces facing the central bank. While consumer spending and the overall economy are slowing, inflation is getting worse.
An inflation gauge preferred by the Fed, which is tied to personal spending, showed an increase of 0.2 percent in June, excluding food and energy. Over the past year, that gauge is up by 2.4 percent, an increase matched by a similar rise for the 12 months ending in September 2002. That figure has not been exceeded since a 2.5 percent increase for the 12 months ending in April 1995.
The 2.4 percent rise is well above the Fed's comfort zone of 1 percent to 2 percent for core inflation, which excludes volatile energy and food.
Financial markets have rallied in recent weeks on a growing belief that the slowing economy will allow the central bank to call a halt in its two-year campaign to raise interest rates to keep inflation under control.
The Fed meets again next Tuesday, with economists split over whether policy-makers will boost rates for an 18th consecutive time or take a pause to assess how the previous rate increases are impacting the economy.   The latest report showed that Americans' after-tax incomes rose by 0.6 percent in June, or 0.4 percent once inflation is removed. The inflation-adjusted increase was an improvement from four months in which disposable income has been unchanged or posted tiny increases of 0.1 percent.
Even with the rise in incomes and slowing pace of spending, the savings rate remained in negative territory for the 15th straight month. It was a negative 1.5 percent in June, a slight improvement from a negative 1.6 percent in May.