Chris Crowder knew violence. The loud, brash man who advocated for black causes in the nation's capital was put in a wheelchair by a bullet.
The 1990 attack that paralyzed him below the waist was a case of mistaken identity, Crowder would say, a crime by street punks who mistook the Howard University law student for an undercover cop.
Unable to walk, and unwilling to remain silent, the stocky man with close-cropped hair became a full-time gadfly in Washington. He got into fiery debates at City Council meetings and called for slavery reparations. In recent months he sparred with Bill Cosby over challenges facing blacks and filed to run for mayor as a member of the Green Party.
Then Crowder, 44, became a statistic, another victim in what has been an especially bloody summer in Washington and many other cities across the country.
'A perfect storm'
Crowder's was one of more than a dozen murders in Washington in early July. Police blotters in Seattle, Indianapolis, Minneapolis and other cities paint similarly violent pictures: After a decade of decline, violent crime is on the rise across the United States. Assault rose 2 percent between 2004 and 2005, according to the FBI's latest report of national crime trends. Murder and robbery are up nearly 5 percent — the sharpest increase since 1991. Medium-sized cities of between 50,000 and 500,000 have been the bloodiest.
So many police chiefs have expressed concern that the Police Executive Research Forum, a Washington-based think tank, held a national crime summit on Aug. 30. Mayors and law enforcement officials from 45 cities — both those hit with a rise in violence and those, like Dallas and Chicago, that have so far escaped an increase — arrived seeking answers to a troubling riddle.
"We've been watching crime decrease or flatten out for the last 10 years," said Chuck Wexler, executive director of the forum. "But last year we started hearing from police chiefs (about increasing violence) ... enough of them, that we started to wonder, what's going on?"
It's no fluke, Wexler and other law enforcement experts say.
"There should be a real sense of concern," said Seattle police Chief Gil Kerlikowske, whose department is participating in the summit. "This is a wake-up call."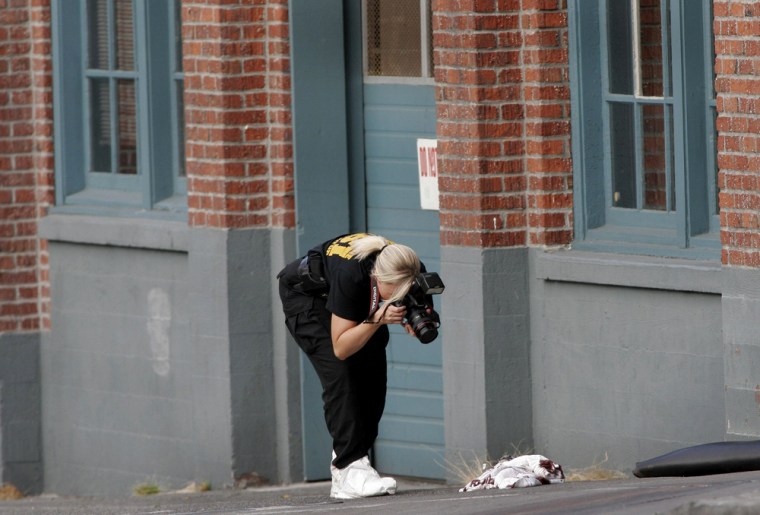 A string of recent murders in Seattle — including a deadly attack at a Jewish charity and a double homicide along a hiking trail — drew national headlines, but it's street crime that Kerlikowske is most concerned about. Gun-related crime rose 25 percent last year in Seattle, and it's up another 12 percent this year.
Kerlikowske said violent crime is up nationwide because of renewed gang rivalries, population growth, budget cuts, pressure on local cops to work homeland security — his force alone has assigned 19 officers to anti-terrorism work — and the cyclical nature of crime.
It's "a perfect storm," he said.
A 'crime emergency'
The storm is battering Washington, a city that gained a reputation as the nation's murder capital a decade ago. That was during the height of the crack epidemic, when predominately black neighborhoods like the one where Crowder lived became killing fields.
Things had begun to change in recent years. Neighborhoods banded together. Shaw once was a thriving community of Victorian rowhouses that produced Langston Hughes and Duke Ellington but fell into decay after the 1968 riots. Development and gentrification that began in the 1980s brought new tensions to Shaw, but up until this summer, crime had dropped.
Now Washington is cowering under a new wave of late-night robberies and carjackings blamed mostly on youths armed with knives and guns. Last month in upscale Georgetown, assailants attacked a British man who had been volunteering for former Virginia Gov. Mark Warner, slashing the man's throat and attempting to rape his female companion. Last week, a 17-year-old girl was gunned down in southeast Washington. In her dying moments, she managed to save her infant godson by sliding him under a parked car.
The attacks have incensed local officials, as well as those who have eulogized the dead.
"Who would kill a man in a wheelchair?" asks Dr. Melvin G. Brown, the pastor who led Crowder's funeral after he was killed July 8 near the apartment he shared with his mother in northwest Washington's Shaw neighborhood. Crowder was shot seven times, his body found on the ground beside his wheelchair. Another man was critically wounded. There have been no arrests in the case.
"(Crowder) was a community activist," Brown said. "Unlike many of these victims, he was actually involved" in trying to change things.
Outrage over the attacks prompted police Chief Charles Ramsey to sign an emergency order extending officers' shifts, putting 300 more police on patrol and placing dozens of surveillance cameras in D.C. neighborhoods. Mayor Anthony Williams bumped the city's youth curfew from midnight to 10 p.m. and extended it to every day of the week through September.
Since the emergency measures took effect six weeks ago, the city has reported a 29 percent increase in youth arrests over the same period last year and a 13 percent drop in violent crime.
Brown, who's led northwest Washington's Greater New Hope Baptist Church for the last 20 years, applauds the crackdown but thinks the city reacted only when violence crossed over into a prosperous area like Georgetown and claimed the life of a white man.
"All of a sudden they declared a crime emergency," he said. "A lot of African American people — members of the church and throughout the city — are concerned about 'zip code racism' and how (police) approach crime and violence."
Epidemic of apathy
Race intrudes into any discussion of this summer's crime wave. A recurrent theme is young black men killing other young black men.
"You look at the individuals that are dying, the individuals that are committing the crimes —there's a large percentage of them that are young black males, many of them without an education, who dropped out of school. A number of individuals out there without hope," said Indianapolis police Sgt. Matthew Mount.
Thirteen people were killed in Indianapolis in the first week of August — all but two of them black men. In June, seven family members, including four children, were shot in a home. The victims, all Hispanic, were killed "execution style," police said. It was the city's worst mass killing in 25 years. There have been nearly 100 murders in greater Indianapolis this year. Last year, that number wasn't reached until October.
"This is not normal for Indianapolis," Mount said. "It's something we're addressing through increased saturation patrols and being more aggressive in looking for guns and getting them off the street."
Indianapolis has pulled community service officers and bike cops off their normal beats. The city is spending an additional $54 million to extend officers' shifts. The most aggressive cops have been assigned to a special "street level enforcement detail," and others are posing as cabbies after a series of attacks outside nightclubs.
Despite an increase in arrests and new leads, Mount remains cautious.
"This is not something that the police (alone) can solve," he said. "It falls back on the community to get much more involved with these youths that apparently are without direction."
Searching for solutions
Communities may be getting the message. In recent weeks Indianapolis police have received more than 20 inquiries from neighborhoods wanting to start new block watch programs. In Seattle, more than 830 community groups participated in the National Night Out Against Crime on Aug. 1 — 100 more than last year, Kerlikowske said.
"People are more concerned about safety in their community than terror threats," the veteran lawman said. "With all the focus on homeland security, there isn't enough attention being paid to local law enforcement."
Kerlikowske, along with other police chiefs and law-enforcement organizations, have blasted recent cuts to programs that help pay for police officers, provide training and buy equipment. Last year, Congress cut a major community policing program by 21 percent, or $127.7 million, and a Justice Department grant program by 34 percent, $217.5 million. Funding for the programs has declined by more than $1.5 billion, nearly 65 percent, since 2002.
"It's understandable that with a war going on in Iraq and terrorism, that the country would put its resources around those issues," said Wexler. "But our thought is that things are changing and we've still got 15,000 people murdered in this country every year. That's pretty high for an industrialized country."
Revolving doors
But the problem goes beyond funding, he said.
When the country faced a rise in violence in the early 1990s, federal and local authorities responded with a crackdown that sent thousands to prison.
"Those folks have to come back out, and they don't have jobs," Wexler said. "You know what they're going to be doing."
Many cities face additional challenges. In Houston, Wexler points to the sudden influx of evacuees after Hurricane Katrina, some of whom arrived with gang loyalties and grudges. In Las Vegas, a growing methamphetamine problem has caused an increase in robberies, assaults and murder.
In Minneapolis, where Wexler works as a consultant, the police department has in recent years lost 25 percent of its patrol force due to local, state and federal funding cuts. To curb a rise in violent crime among juveniles, the city is looking to grass-roots solutions like keeping recreation centers open longer and starting the school day later to give kids less unsupervised time before parents arrive home.
"You have to look at this in a comprehensive, multifaceted way. It doesn't lend itself to one solution," Wexler said. "We're not seeing what we saw in the '90s. ... It's much more complicated now. But we also know what worked then, and we're in a better position to respond faster."
'Enough is enough'
And while acknowledging crime is on the rise in many communities, law enforcement experts also urge perspective.
"Crime — at least on a on a per-capita basis — is at some of the lowest rates since we've been keeping records, but it's still pretty high," said Jean O'Neil, research director at the National Crime Prevention Council.
"We still have 24 million victims of crime in this country, and I'd say that's about 23 million and change too much," she said.
Brown agrees. The preacher, who's seen violence claim the lives of too many, said he's disappointed that the sermons he delivered at Crowder's funeral and that of an 18-year-old boy murdered in June didn't make their way past church pews:
"Enough is enough. Stop the robbing, the assaults. Stop the battery, stop the killing, stop the violence, stop the hatred. It's time to stop," he said.