/ Source: The Associated Press
"You've got mail!" — and more money in your wallet.
Taking its most expansive efforts yet to deal with its long, steady decline in subscribers, AOL is giving away e-mail accounts along with software previously available only to customers who paid as much as $26 a month.
The strategy shift will likely accelerate the decline in AOL's core Internet access business, but the company figures it can make it up with online advertising dollars instead. The big question is whether AOL still has enough gravitas to make it work on a Web increasingly dominated by rivals Google Inc., Yahoo Inc. and Microsoft Corp.
John Goodman, 58, a longtime AOL user who works in public relations in Crestwood, N.Y., canceled his service with glee as the free offering took effect Wednesday.
"I stayed with it for years paying, knowing I was an idiot," he said. "I'm very pleased they are making this move."
Jonathan Miller, AOL's chairman and chief executive, told The Associated Press that it no longer made sense fighting an industry trend, acknowledging that AOL wasn't competitive with its "above-market rate" offering.
Customers "were leaving us over price," Miller said. "They weren't leaving us because they were unhappy."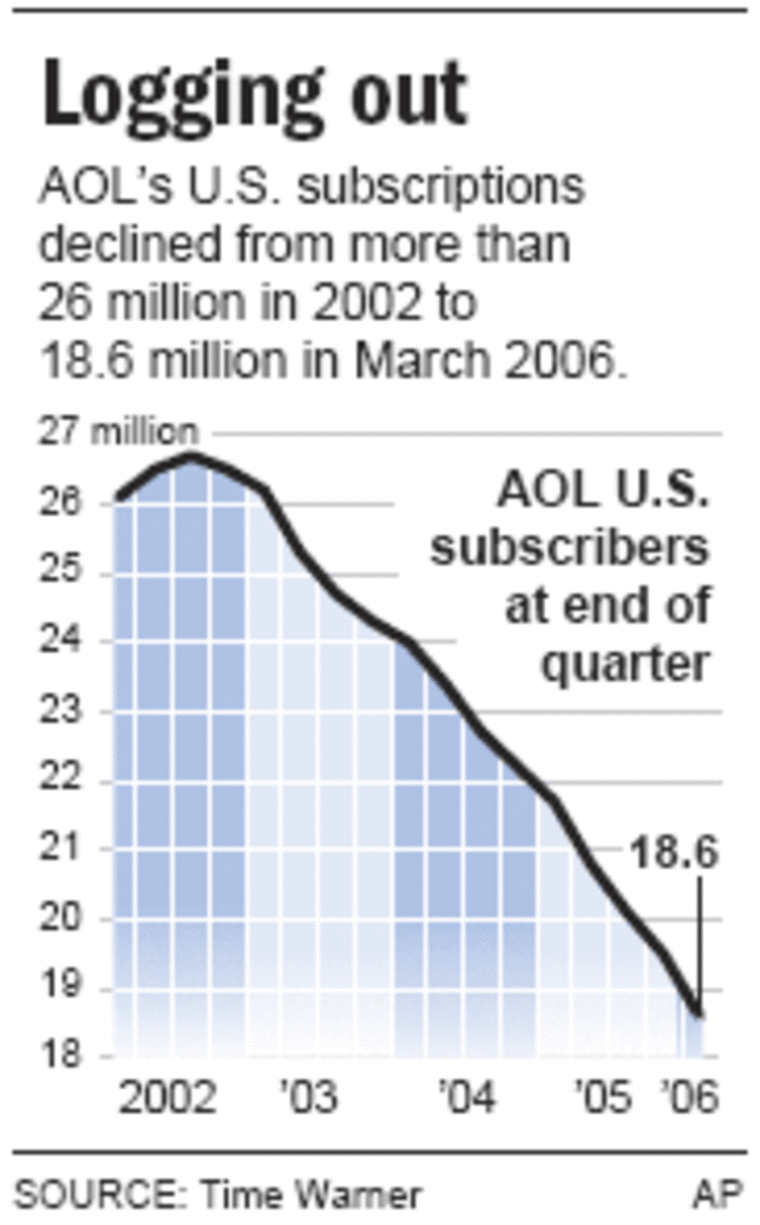 Encouraged by such trends as its 40 percent jump in ad revenue in the second quarter, AOL figures that by making services free, it can prevent users from defecting to Yahoo, Google, Microsoft and other providers that have offered free e-mail for years.
Rob Enderle, an analyst with the Enderle Group, said the restructuring brings Time Warner Inc.'s online unit in line with "this decade as opposed to the last decade" and lets the company "hold on to the customers they had left."
"Had they done nothing, by the end of the decade, they would have been gone," Enderle said.
The move marks the end of an era for a company that grew rapidly in the 1990s by making it easy to connect online, giving millions of Americans their first taste of e-mail, the Web and instant messaging through unsolicited discs stuffed in mailboxes and magazines.
America Online, as it was then known, became the undisputed leader of dial-up Internet access when many people still used that method to get online. The greeting users got when signing on — "You've got mail!" — became so ensconced in pop culture that it was the title of a movie. AOL's shares flew high enough in the Internet bubble for the company to buy Time Warner in 2000.
But many promises of synergy from that deal evaporated. The company's stock plunged, key AOL executives left under pressure and now Time Warner management is firmly in charge.
"This is the final goodbye to the days when AOL was the king of the Internet," said Jeff Lanctot, general manager of aQuantive Inc.'s Avenue A/Razorfish, an agency that places some ads on AOL sites. "They now know they are the underdog."
The company expects to save more than $1 billion by the end of 2007 by cutting marketing, network and overhead costs. That's also roughly the amount AOL could lose annually if all 6.2 million of its subscribers with broadband stop paying extra — generally $15 a month — for access to AOL's content.
AOL will continue losing dial-up subscribers, perhaps at a faster rate as the company scales back its notoriously aggressive retention efforts and no longer actively markets the service to obtain replacements.
"But we have to remember that we're changing the nature of this game," Miller said. "Before, when someone left us, that was not good for our company. They probably went to one of our competitors."
Now they can stay with AOL for free and view its ads.
Lanctot said AOL could pull off the strategy shift given its "tremendous potential" to tap video and other resources from other Time Warner units as well as a sizable subscriber base — which, while dwindling, still makes AOL the leading Internet access provider.
The strategy shift will mean layoffs in marketing and customer service, but AOL would not say how many. Implementing these changes is expected to cost $250 million to $350 million through 2007, about half for employee severance.
AOL first moved away from its roots as a "walled garden" emphasizing exclusive content in 2004, making most of its news, music videos and other features available for free on its ad-supported sites.
Although the company tried to keep some customers paying by giving free e-mail accounts only with less-desirable AIM.com addresses, many subscribers defected to free offerings elsewhere.
While customers with broadband no longer will have to pay AOL anything if they call the company to cancel, AOL will still offer dial-up accounts at $26 a month for unlimited use. To compete with cheaper dial-up services from companies like United Online Inc., AOL is creating a new $10 monthly plan with unlimited access but fewer features than the $26 plan.
Besides AOL.com e-mail, AOL is giving away its proprietary software for accessing the once-premium offerings, as well as safety and security features such as parental controls. Most features become free immediately, though parental controls and services targeted at kids and teens won't be free until early September.
Subscribers who dropped AOL within the past two years — about 6 million households, some with multiple e-mail addresses — will be able to reclaim their old AOL.com addresses simply by logging on with their old passwords.
The changes were announced Wednesday as Time Warner reported a $1 billion profit for the second quarter. AOL, which saw a 2 percent drop in revenue, accounts for one-fifth of Time Warner's revenue, and most of that contribution comes from subscription sales.
So the bet here is that rising advertising income and cost savings can be enough to replace the missing subscription revenue. AOL believes the trend was already in effect anyway: While its ad sales rose 40 percent in the second quarter, subscription revenue dropped 11 percent.
AOL considers its paying subscribers loyal, crediting them for 80 percent of the pages viewed — and ad dollars generated — even though they make up only 36 percent of the unique audience. But AOL would have risked losing them — and the ad opportunities they represent — by making them keep paying.
The company lost 976,000 U.S. subscribers in the past quarter alone. As of June 30, AOL had 17.7 million subscribers, a 34 percent drop from its peak in September 2002.
The number of unique U.S. visitors to AOL sites has remained steady, while its three chief rivals all saw gains in June, according to Nielsen/NetRatings. ComScore Media Metrix found that in June, pages viewed at the main AOL sites — by subscribers and free users — dropped 26 percent, while Yahoo increased 23 percent.
Nonetheless, AOL sees opportunities in emerging features like online video. On Friday, AOL is revamping its video portal to give visitors one-stop access to free and for-pay clips from around the Internet, including those at rival sites like YouTube. The company hopes that by creating a user-friendly experience, the market would grow for everyone, including AOL.