As a blistering heat wave continued to sear much of the U.S., utilities struggled to produce record amounts of power, natural gas prices soared, and farmers assessed damage to scorched crops. Though temperatures eased Wednesday in the western half of the country, the impact on consumers may be felt long after cooler breezes begin flowing again in the east.
Farmers were especially hard hit, which means lost crops could translate to higher prices of everything from walnuts to ethanol.
"This is a very, very strong drought situation," said Jim Bower, a commodities broker based in Lafayette, Ind. "In the western corn belt, the new ethanol plants will have to scramble much harder for feed stock than they thought just several weeks ago."
As a nearly two-week-long heat wave finally snapped in the west, farmers in California's Central Valley were assessing the damage. Hardest hit were growers of peaches, plums nectarines and walnuts, according to the California Farm Bureau.
Corn and soybean prices rose at the Chicago Board of Trade Wednesday on concerns that the heat wave would tighten supplies. Those higher prices could wind their way through the food chain, showing up on grocery store shelves in the coming months.
Cooler weather and rain throughout parts of the Midwest Wednesday helped provide some relief. But forecasters said it's too soon to say the drought is over.
"You are seeing a few rains here overnight and through this week," said Emily French, a commodities analyst at National Australia Bank. "But our weather forecast guy is calling for a return of these hot, dry conditions again."
As triple-digit temperatures continue to blanket much of the east, farmers struggled to keep their livestock cool. Clark Emmons, a dairy farmer in Fayette, Ohio, was running fans to cool off his 250 cows.
"This kind of heat can be deadly," he said.
That was the case for dairy farmers in California, where thousands of milk cows succumbed to the heat.
"Dairy produces $4.5 billion in income at the farm gate level," said California Farm Bureau Administrator George Gomes. "So if you knock that production by 15 to 20 percent, that becomes a significant hit to the dairy industry."
Power grid strained
Natural gas prices surged again Wednesday, as gas-fired power plants struggled to keep up with record demand from home and office air conditioners running full blast. Residential natural gas prices have doubled in the past three years, and tight supplies could force heating bill higher this winter.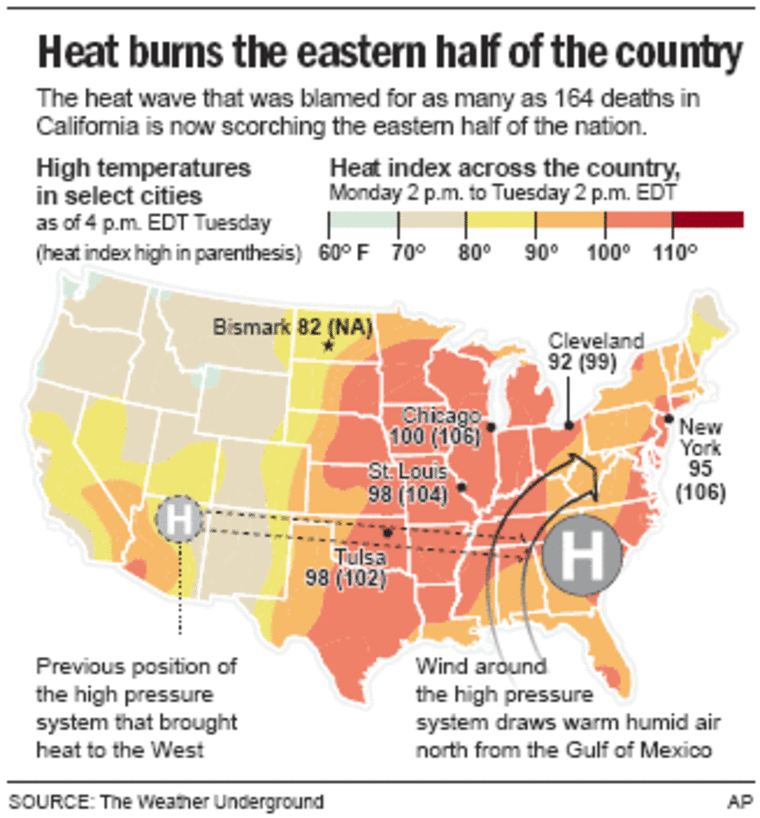 "It's record temperatures throughout the country, and the power grid is under tremendous pressure," said Oppenheimer analyst Fadel Gheit.
The PJM power grid, the largest in the U.S. with over 50 million customers in the midAtlantic and Midwest, posted record demand of 144,000 megawatts. That demand surge sent power prices soaring along with the thermometer. On Tuesday, spot prices high $1,000 per megawatt, the highest price permitted in the region. Power grids serving New York and New England also served up record volumes of electricity.
Though those prices aren't passed along to consumers right away, the added costs could eventually show up on household power bills in future rate increases.
Meanwhile, auto repair shops were doing a brisk business fixing busted belts and hoses and replacing overloaded, dead batteries.
"We are seeing a call volume that rivals a major snowstorm or ice storm," said R. Gary Overstreet, manager of emergency roadside assistance for AAA in the Mid-Atlantic region, which has some 3.6 million members.
Shoppers flock to air-conditioned malls
Retailers in air-conditioned malls saw a predictable increase in traffic, as consumers looked for ways to beat the heat. But that added foot traffic doesn't necessarily translate into higher sales — especially for clothing stores that are already showing off next seasons' fashions, according to Paul Walsh, a meteorologist and retail industry consultant.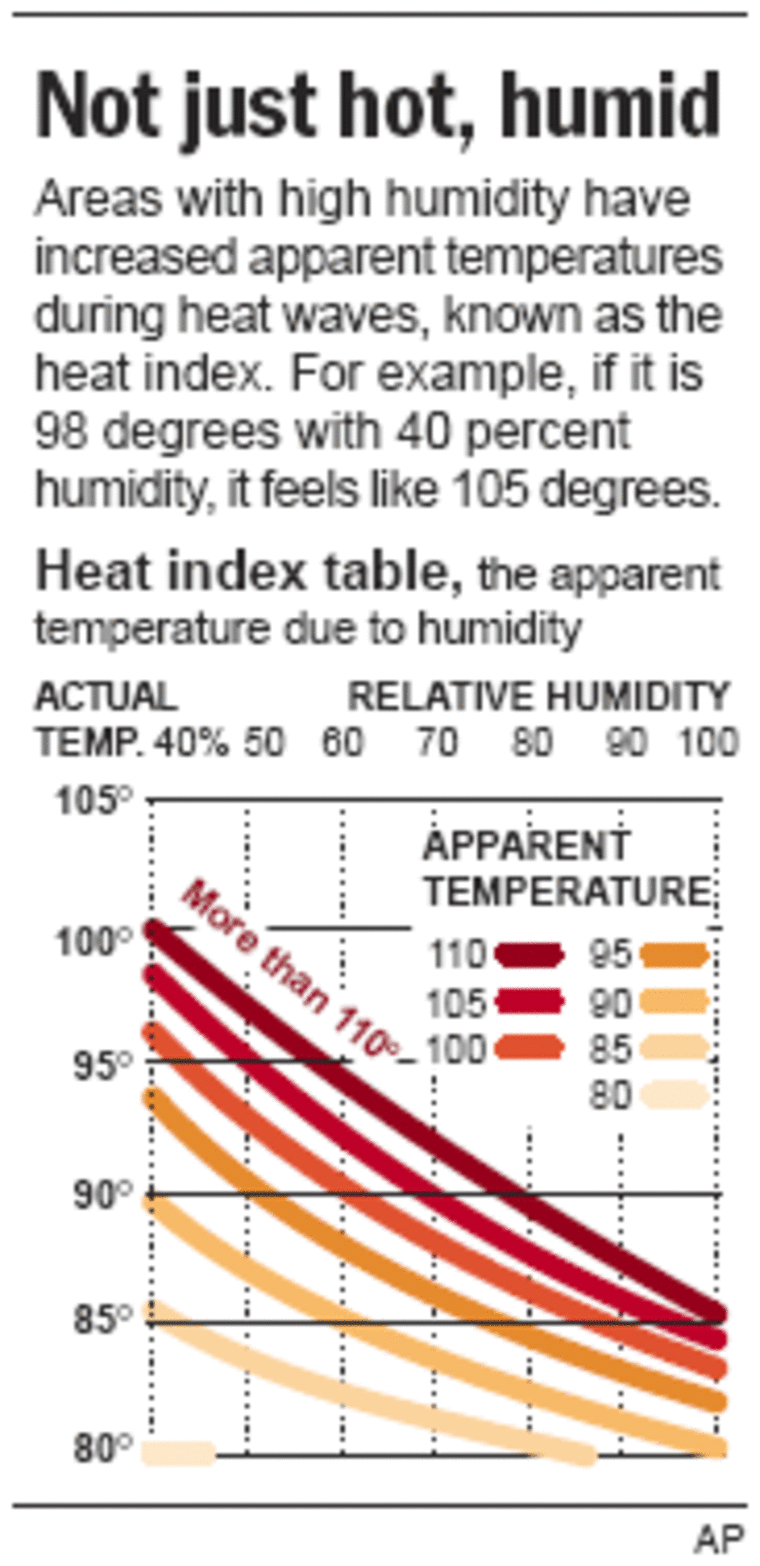 "If you happen to be walking to the mall because it's just too hot to do anything outside, and you walk through the store and look in at window display of sweaters or even dark clothes, it's a turn off," he said.

Still, consumers were in a buying mood for anything that could help beat the heat — from air conditioners to cold beer. But they had to get to the store first.
"If it gets too hot, business goes down," said Kristin Tidd, a manager of a roadside market in Jaffrey, N.H. Even sales of ice cream are hurt — because it melts too fast to be eaten, she told the Associated Press.
But beaches, water parks and other recreation destinations offering relief were banking on a strong boost in attendance.
"Nobody else is excited about the heat, but we are," said Sally Christner, general manager of the Aquaboggin Water Park in Saco, Maine.  "This is a great place to be when it's hot."