/ Source: The Associated Press
Worried retailers got a reprieve in July, scoring solid sales gains as searing heat in much of the country sent consumers back into the stores in search of summer clothes. But the outlook for the back-to-school season remained uncertain as higher gasoline prices and rising interest rates are still expected to challenge shoppers.
As retailers reported their sales results Thursday, stores that pleased Wall Street included Wal-Mart Stores Inc., Limited Brands Inc., Nordstrom Inc. and J.C. Penney Co. Inc. Many companies catering to teens, including Bebe Stores Inc. and Wet Seal Inc. did well, helped by such back-to-school fashion trends as skinny jeans and walking shorts that hit stores late last month.
There were a few stragglers including Target Corp., usually a top performer, and Gap Inc., which has struggled to find the right fashion formula for months.
"Things look good. Clearly, teens are shopping. I feel like the consumer is looking backward and still seeing good times," said Richard Jaffe, a retail analyst at Stifel Nicolaus, noting shoppers are still enjoying job security.
The International Council of Shopping Centers-UBS sales tally rose 3.5 percent, above the 2.5 percent estimate. The tally is based on same-store sales, or sales at stores opened at least a year. Same-store sales are considered a key measure of a retailer's health.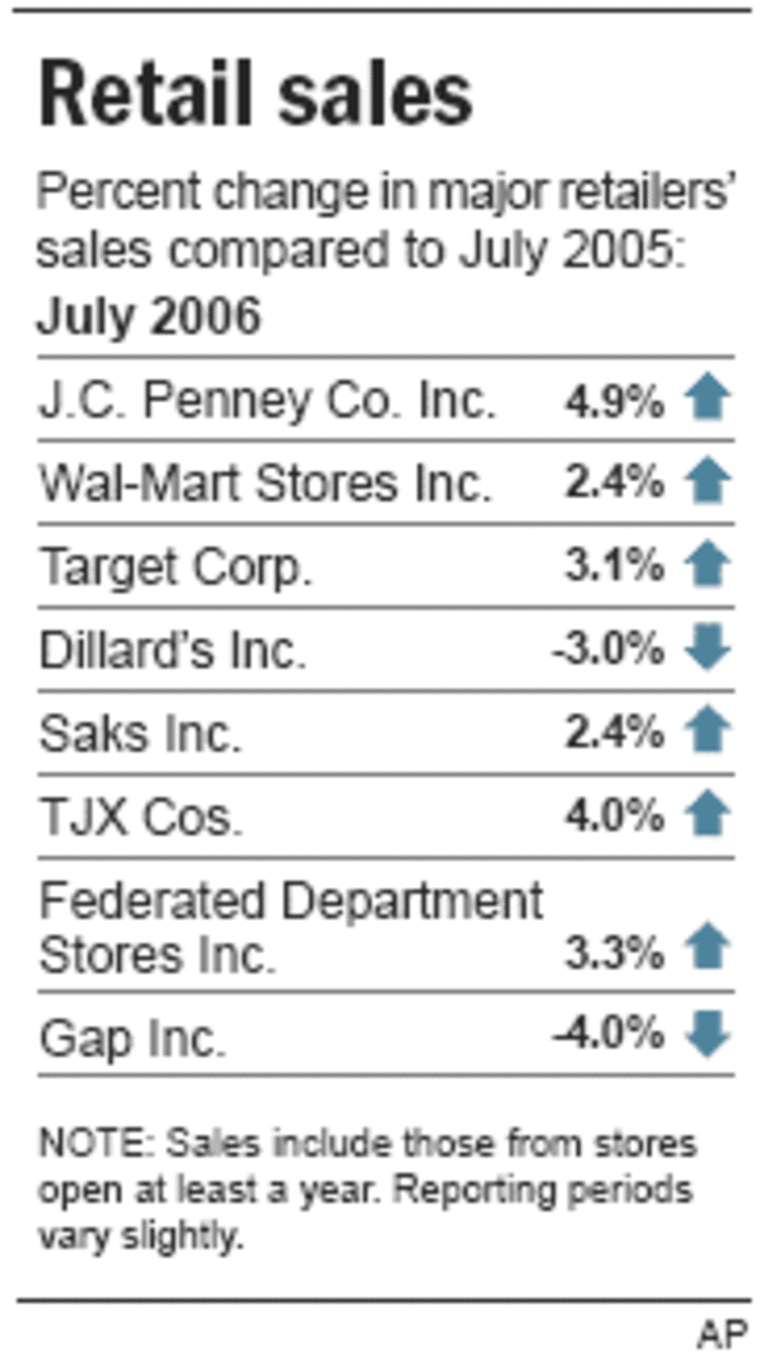 The 3.5 percent increase was better than the 2.6 percent pace posted in June, but still falls short of the 3.8 percent average gain seen in retailers' fiscal year.
But analysts warn not to overinterpret July, one of the least important months in the retail calendar. The month is a time when stores are clearing out summer goods to make room for fall merchandise.
July had a lot going on, particularly the scorching temperatures, which had both negative and positive effects on sales, according to Michael P. Niemira, chief economist at ICSC.
And worries only mounted last month about the resilience of the consumer who's faced with a barrage of concerns from a slowing housing market to war in the Middle East that has driven the price of oil higher. While a solid job market helped lift consumer confidence last month from June levels, a recent batch of reports indicate the economy is showing the effects of shoppers' financial juggling.
Last week, the Commerce Department said economic growth slowed dramatically during the second quarter, hurt by the housing market and a decline in consumer spending. And while the government reported Monday that personal income rose in June, the increase was not enough to lift the personal savings rate out of negative territory, where it has been for 15 straight months.
Economists are closely watching the job market, which has slowed since spring but remains healthy. On Thursday, the Labor Department reported that the number of new people signing up for unemployment benefits climbed by a seasonally adjusted 14,000 to 315,000 last week. Still, the results pointed to decent conditions in the job market.
The government issues its employment report for July on Friday.
In Thursday's retail reports, Wal-Mart had a 2.4 percent same-store sales gain. The results were above the 2.2 percent estimate of analysts surveyed by Thomson Financial.
Wal-Mart's July results were a little better than its disappointing 1.2 percent gain in June, but executives remain cautious about their core customer, who is vulnerable to rising gasoline costs.
"Our customers continued to prioritize spending on food and consumables and they responded early to price breaks for essential back-to-school supplies," Tom Schoewe, Wal-Mart's executive vice president and chief financial officer, said in a statement.
Wal-Mart's rival Target had a 3.1 percent gain in same-store sales, below the 3.8 percent projected by Wall Street.
"We met our sales plan in the second quarter despite experiencing slower sales growth in July than we had enjoyed in May or June," said Bob Ulrich, chairman and chief executive officer of Target in statement.
He added that he remains confident Target will at least meet Wall Street's second-quarter profit forecasts.
Department stores again saw improvement last month.
Nordstrom posted a same-store sales increase of 5.3 percent, exceeding Wall Street's 4.5 percent forecast.
Saks Inc., which has shed its mid-market department stores to focus on its luxury chain Saks Fifth Avenue, had a 2.4 percent gain in same-store sales, above the 2.2 percent estimate.
Penney posted a 4.9 percent gain in same-store sales in its department store business, above the 3.0 percent estimate.
The company said in its news release that despite a solid start to the back-to-school season, it's cautious about the future given overall economic conditions.
Federated Department Stores Inc., which acquired May Department Stores Co., last year, had a 3.3 percent gain in same-store sales, better than the 3.2 percent estimate. Same-store sales include only Macy's and Bloomingdale's.
Limited Brands had a 5 percent gain in same-store sales, also beating the 4.5 percent projection.
Gap had a 4 percent decline in same-store sales, better than the 3.8 percent forecast.
Among teen retailers, Abercrombie & Fitch Co. posted a 3 percent gain in same-store sales, in line with the 2.9 percent forecast.
Bebe had a 10 percent same-store sales gain, well exceeding the 4.0 percent prediction. Wet Seal had a 6.4 percent gain in same-store sales, above the 2 percent estimate.
Pacific Sunwear, however, suffered a 10.6 percent drop in same-store sales, well below the 1.4 percent Wall Street anticipated.
On Wednesday, American Eagle Outfitters Inc. announced a 7 percent increase in same-store sales, helped by what the company described as a favorable response to its back-to-school assortment. The results came in below the 8.6 percent estimate. Still, the company raised its second-quarter earnings outlook based on a solid July performance.
Hot Top Inc. said Wednesday that same-store sales dropped 7.2 percent, worse than the 0.7 percent projected decline.