/ Source: The Associated Press
One of two men arrested in a string of serial shootings in the Phoenix area has denied any wrongdoing.
"I am not a monster," said Dale S. Hausner in a jailhouse interview Sunday with the St. Paul Pioneer Press.
Hausner, 33, told the newspaper he is not a killer, but said the other man arrested for the crimes — Samuel John Dieteman — might have taken Hausner's car and guns to commit the crimes.
"I feel very sorry for the families of the people who were hurt, but I didn't do it," Hausner told the Press.
Hausner said his brother introduced him to Dieteman, 30, six months ago. About a month ago, he said he let Dieteman move into his apartment because he felt sorry for a guy with no job or home.
Dieteman declined to be interviewed by the Press. The sheriff's department has not yet responded to requests from The Associated Press for interviews with the inmates.
Hausner told the newspaper he believes Dieteman implicated him in the killings to deflect blame, though he said he's not sure Dieteman is capable of such violence. During the manhunt for the "Serial Shooter," Hausner said he didn't suspect Dieteman was involved.
Hausner said Dieteman didn't have weapons of his own, as far as he knows. Now, Hausner said, he wonders and worries about whether Dieteman used Hausner's firearms and car during the killing spree.
Dieteman, 30, and Hausner, 33, face two counts each of first-degree murder and 14 counts each of attempted first-degree murder. A preliminary hearing is scheduled Aug. 14.
Overall, they are being investigated in 36 shootings, including 17 that targeted people and others that involved animals.
Police who interviewed Dieteman said the two took turns shooting people in the city over the course of more than a year.
Some nights it was Dieteman, a burly electrician with a ragged mop of jet black hair. According to court documents, he'd blast at lone pedestrians from the window of a silver Toyota Camry in what he called "random recreational violence."
Police said he told them that on other nights, the trigger was pulled by Hausner, a baby-faced janitor and freelance photographer.
After each shooting, the pair would drive slowly away, leaving little evidence other than the victim's body on a sidewalk.
'Team killings'
"We are so confident that these are the people," Chief Jack Harris told The Associated Press.
An expert on serial killers, Katherine Ramsland, said it's common in team killings that one person is "egging the other on" to join in.
"If one was the quiet timid type, he may have been the follower who got himself in a situation and just kept going because the reality was created by the dominant partner," she said. "That happens in team killings quite often."
Until last week, investigators had no idea who was responsible for the late-night attacks. They didn't know if the attacks were committed by one person or more, and grouped the attacks under one name: the "Serial Shooter."
The arrests are expected to free up about 50 officers to help track down another shooter, dubbed the Baseline Killer, who is believed responsible for eight killings, some in the area of Baseline Road.
While the Serial Shooter investigation isn't complete, police believe the attacks started just past midnight on May 24, 2005, with the killing of 56-year-old Reginald Remillard, who was shot in the neck while he slept at a bus stop.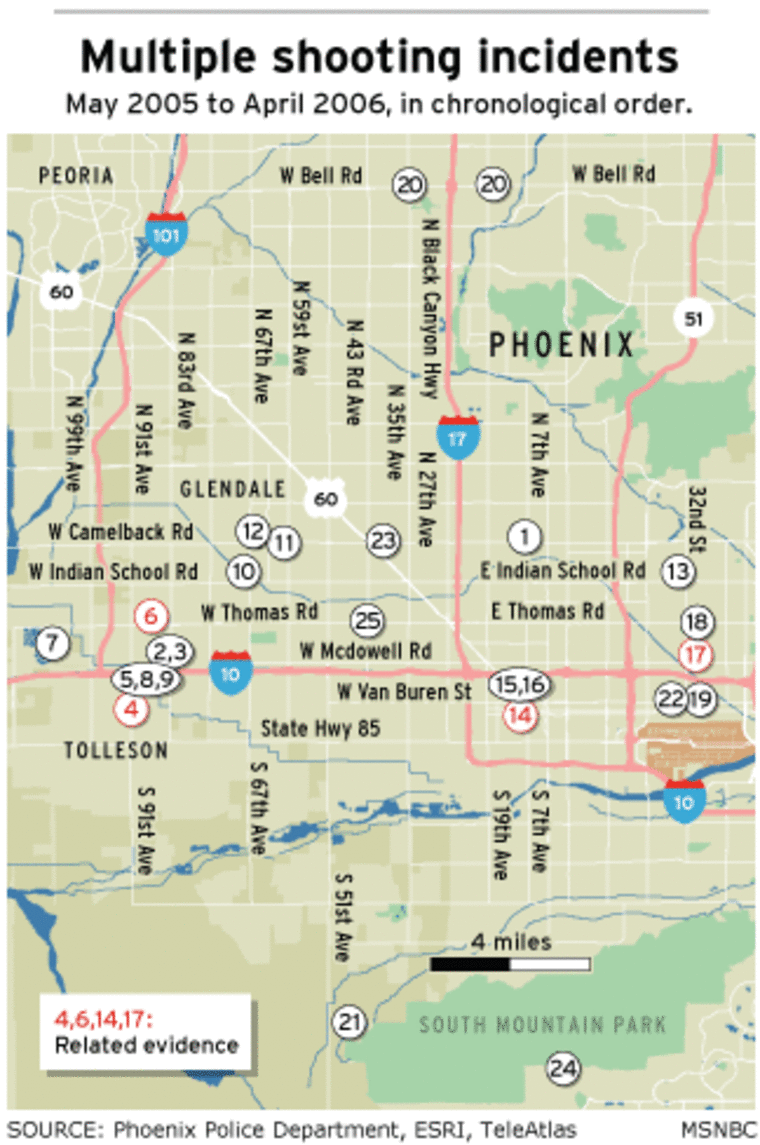 The last shooting the men are accused of occurred on July 30. Robin Blasnek was shot in the back as she walked to her boyfriend's house in Mesa. She was alive when a neighbor found her, but died later at a hospital.
In between, a probable cause statement alleges, Dieteman and Hausner had taken turns driving while they selected victims at random.
On May 2, the probable cause statement said, Hausner pulled along the curb next to Claudia Gutierrez-Cruz, 20, after she stepped off a bus on her way home from work at a Scottsdale restaurant.
Dieteman allegedly fired one blast from a shotgun, hitting Gutierrez-Cruz on the left side. She died later at a hospital.
A few minutes later, police say, the duo shot a 17-year-old in the back while he was walking along a street.
After targeting people and animals across Phoenix and its suburbs on the west side, the attackers moved east.
Early on the morning of July 22, they found a man in his 30s riding his bicycle in Mesa. Dieteman told police that Hausner pulled close in the Camry, pulled the shotgun over the steering wheel and fired out the driver's side window, according to the probable cause statement. The man survived but was seriously injured.
Police say the last attack, the one that killed Blasnek, occurred less than three miles away from the apartment Hausner and Dieteman shared. Hausner shot her while driving, Dieteman said, according to the statement.
'How wicked'
"The circumstances of Robin's death tells us how wicked this world has become," Blasnek's mother, Sandra, said Saturday at her daughter's funeral.
Investigators had started looking for Dieteman in July as a suspect in arson fires in June at two Wal-Marts in suburban Glendale, but didn't spot him until one day after Blasnek was shot. They found out where he lived and kept him and his roommate under surveillance for most of the week.
Thursday night, police decided they had enough to make the arrests in connection with the Serial Shooter attacks. Authorities said their evidence against the men included weapons and a map marking the locations of dozens of shootings.