/ Source: The Associated Press
Memo to job hunters: Note that the country's employment machine is losing some of its oomph. It may take more work to find work.
Filled with caution, employers slowed hiring in July, pushing the nation's unemployment rate to a five-month high and putting pressure on the Federal Reserve to take its foot off the economic brakes.
The Labor Department reported Friday that employers added just 113,000 new jobs in July, down from 124,000 in June — the latest in a string of mediocre job gains in recent months.
With companies wary of increasing workers in a slowing economy, civilian unemployment jumped from 4.6 percent in June to 4.8 percent, matching the rate of last February. The last time the jobless rate was higher was in December, at 4.9 percent.
"Companies are feeling the strain of rising costs for energy and raw materials as well as higher interest rates. They also remain uncertain about the economy's prospects for the balance of the year. Therefore, they are reluctant to aggressively bulk up their payrolls," said Lynn Reaser, chief economist at Bank of America's Investment Strategies Group.
For blacks, the unemployment rate rose from 9 percent in June to 9.5 percent in July, the highest in eight months. The jobless rate for Hispanics. however, held steady at 5.3 percent.
It's a challenging time for certain jobseekers.
Job cuts were reported at factories, department stores and telecommunications firms. Real-estate companies and specialty home-building contractors also shed jobs, reflecting the cooling in the once-hot housing market. Those employment losses tempered overall job growth.
Health care firms, computer designers, hotels and motels and foodservice companies were among those boosting employment.
The overall picture, though, was of a job market losing more momentum than many analysts had anticipated.
The Federal Reserve is meeting on Tuesday, and some economists believe the central bank will leave interest rates alone, taking its first break after tightening credit for more than two years.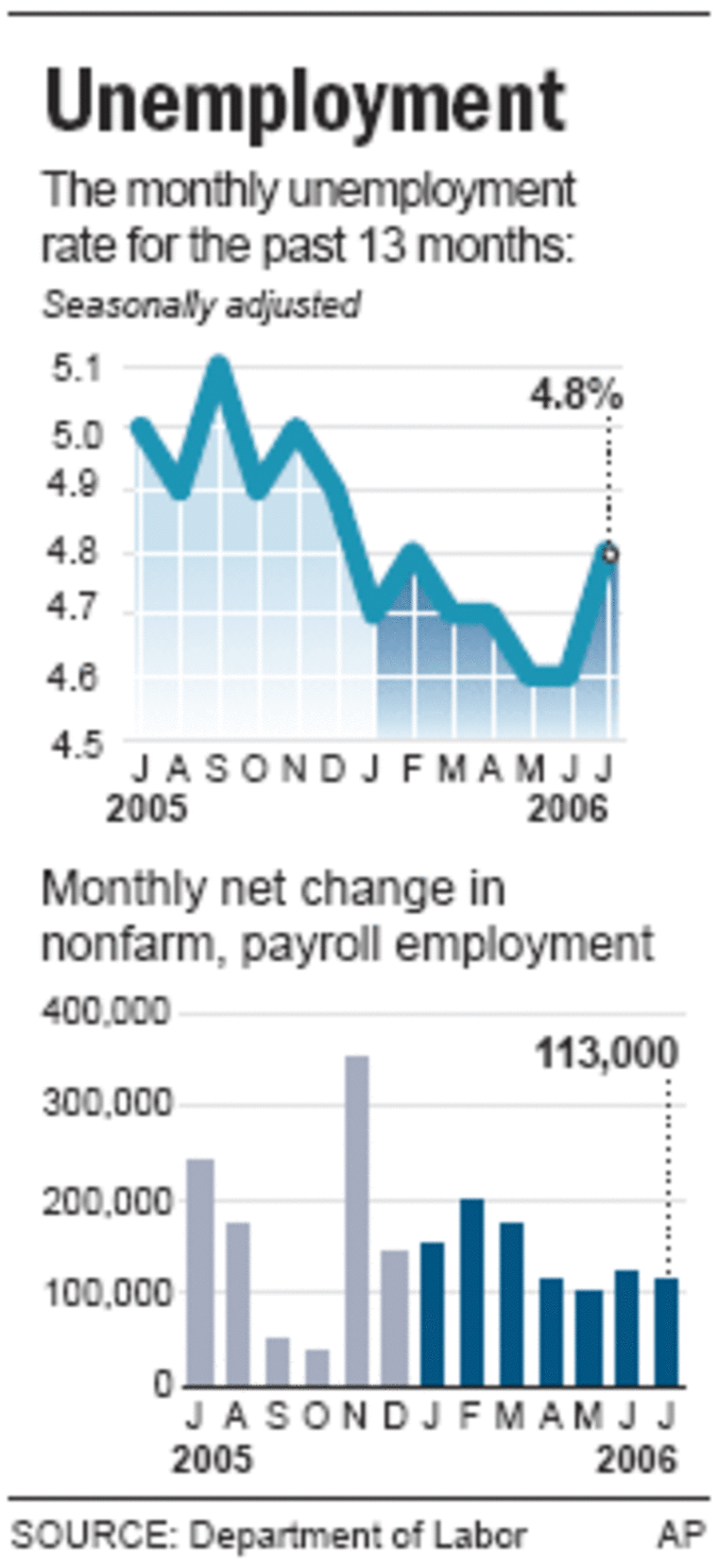 Friday's weaker job growth would justify such a breather, offering more evidence of slowing economic activity. "This pushes Fed policymakers toward a pause," predicted Bill Cheney, chief economist at John Hancock Financial Services.
Other Fed-watchers who are worried about inflation, however, think policymakers have another interest-rate jump in store.
On Wall Street, jittery investors sent stocks slightly lower. The Dow Jones industrials, which were up in the morning, finished the day down 2.24 points at 11,240.35.
The Fed has raised rates steadily 17 times since June 2004 in increments of one-quarter of a percentage point. The Fed's goal is to slow the economy enough to prevent inflation from taking off while not crimping economic activity so much that it throws the economy into a recession.
Even if the Fed were to take a breather on Tuesday, some economists believe rates probably will need to go up in September or some other time later this year to fend off inflation. "All the inflation indicators are flashing yellow and may soon be flashing red," warned Nariman Behravesh, chief economist at Global Insight.
Federal Reserve Chairman Ben Bernanke told Congress last month he was concerned about rising prices, but hoped a slowing economy would ease inflationary pressures.
Workers' average hourly earnings rose to $16.76 in July, 0.4 percent higher than in June and slightly faster than economists were expecting.
Wage growth is welcomed by workers. But a rapid and sustained pickup in wages, if not blunted by other economic forces, can touch off inflation fears.
For the last 12 months, wages have gone up 3.8 percent. But those wage gains are still trailing inflation, economists said.
The hiring slowdown comes as companies cope with soaring energy prices and higher interest rates. Oil prices reached a new closing high of $77.03 a barrel in the middle of July, though they have moderated slightly since then.
In these conditions, businesses and consumers — engines of economic activity — have turned cautious. That, in turn, has slowed the economy.
Growth in the second half of this year is expected to stay subdued, at a pace of about 2.5 percent to 3 percent, according to economists' projections.
The economy slowed to a pace of 2.5 percent in the April-to-June quarter, less than half the brisk 5.6 percent pace seen in the first three months of the year.
With the economy and the labor market weakening, the hunt for a job is taking longer.
The average time that the 7.2 million unemployed spent searching for work in July was 17.3 weeks. That was up from 16.2 weeks in June and was the longest since February.
The slowing in the job market and in overall economic activity comes as President Bush — in an election year — is getting low marks from the public for his economic stewardship.
Commerce Secretary Carlos Gutierrez, in an interview with The Associated Press on Friday, expressed confidence that the economy is in fundamentally good shape. The 113,000 job gain is "a healthy number, and the key thing is to keep job growth going," he said.
Democrats, however, worry that the job market could turn worse. "Payrolls are not expanding at a very strong pace, and there is increasing concern that slower economic growth will dampen job creation even more," said Sen. Jack Reed, D-R.I.