/ Source: msnbc.com news services
The U.S. and France agreed Saturday on a draft Security Council resolution that seeks a full halt to fighting in Lebanon, breaking a three-week impasse caused partly by Washington's refusal to press Israel to end its offensive against Hezbollah.
Despite the agreement, fighting raged on. Israeli airstrikes on the southern Lebanese village of Ansar killed at least five civilians on Sunday, police and local residents said. Israeli naval commandos struck the southern port of Tyre before dawn Saturday, while Israeli air raids killed at least eight people across Lebanon and a rain of Hezbollah rockets on northern Israel killed three civilians.
The resolution would chart a path toward a lasting peace with a cease-fire monitored by international troops. If passed, it would be the most significant international response to the crisis and raise hopes of ending combat that has killed at least 600 and left Lebanon in tatters.
The resolution must now go before the full 15-nation Security Council and gain Israeli and Lebanese acceptance — and initial comments indicated that would not be easy.
Lebanon rebuffs proposal
Hezbollah warned it won't abide by the resolution unless Israel withdraws from Lebanon entirely, while one Israeli official called the draft an "important development" but vowed to press on with the offensive for now.
A Lebanese Foreign Minister official, Nouhad Mahmoud, said "no" when asked if Beirut supported the text, presumably because the document does not call for immediate Israeli withdrawal from southern Lebanon.
The text also ignored three Lebanese demands: setting a timetable for an Israeli withdrawal from the south, lifting Israel's full blockade of Lebanon and putting the disputed Chebaa Farms area under U.N. control.
President Bush is "happy with the progress being made" at the United Nations, but knows cementing a cease-fire will not be easy, White House press secretary Tony Snow said.
"I don't think he has any delusions about what lies ahead," said Snow, who was with the president on his vacation at his private ranch in Crawford, Texas.
British Prime Minister Tony Blair praised the resolution as "an important first step in bringing this tragic crisis to an end."
"The priority now is to get the resolution adopted as soon as possible, and then to work for a permanent cease-fire and achieve the conditions in Lebanon and Israel which will prevent a recurrence," Blair said.
'A full cessation of hostilities'
The Security Council convened later Saturday to discuss the draft. Diplomats said the document was likely to be adopted early next week at a meeting attended by the foreign ministers of the 15 council members.
The resolution's central demand was for "a full cessation of hostilities based upon, in particular, the immediate cessation by Hezbollah of all attacks and the immediate cessation by Israel of all offensive military operations."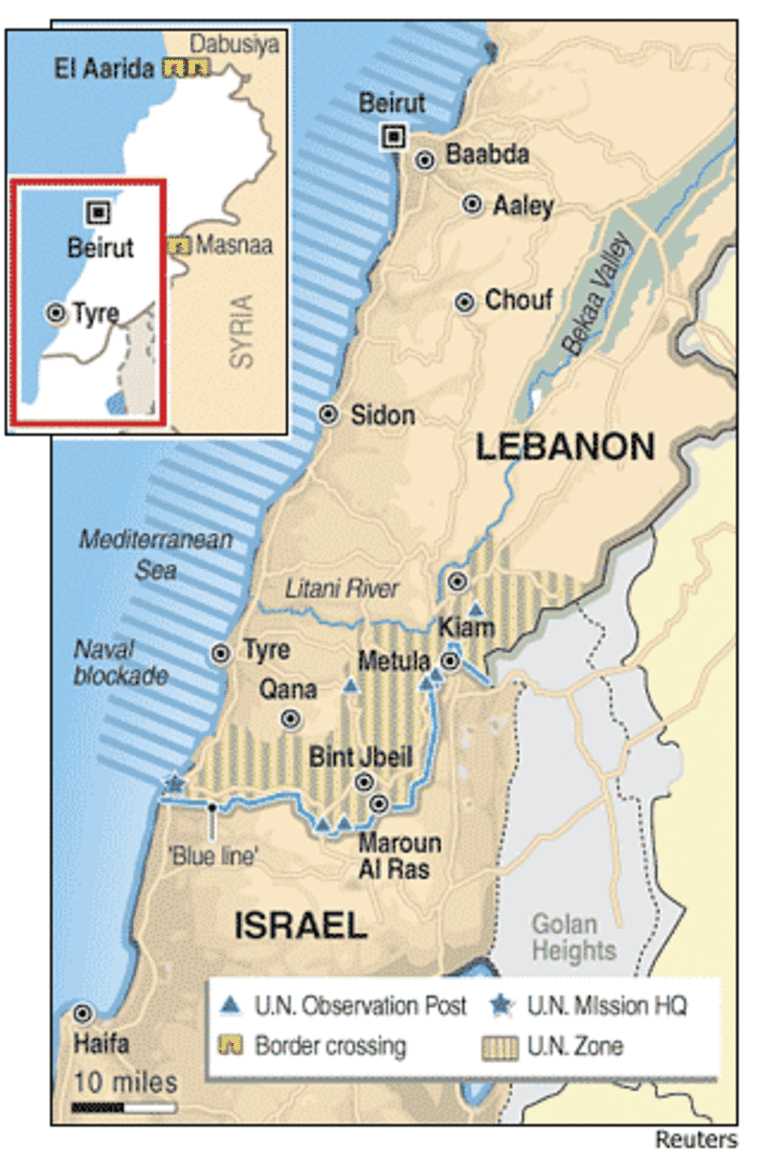 The document then charted a detailed path for the two sides to follow to achieve a lasting peace. It envisioned a second resolution in a week or two that would authorize an international military force for the Israel-Lebanon frontier.
Among those steps would be the creation of a large buffer zone in southern Lebanon free of both Israeli troops and Hezbollah militants, monitored by the Lebanese army and international peacekeepers.
The draft also called for Hezbollah to be disarmed and for Lebanon's borders to be solidified, especially in the disputed Chebaa Farms area, occupied by Israel since 1967.
Another element was an arms embargo that would block any entity in Lebanon except the national government from obtaining weapons from abroad. That was aimed at blocking the sale or supply of arms to Hezbollah from Iran and Syria, which are believed to be the militia's main backers.
'Not ... the comprehensive solution'
The resolution would put significant pressure on Lebanon's government, which ceded control of the south to Hezbollah.
"This is not a resolution that provides the comprehensive solution," U.S. Ambassador John Bolton said. "I'm sure there are aspects of it that are displeasing to almost everyone but the point is this is a way to get started and that's what we hope to do."
The draft's chief goal is to ensure that southern Lebanon does not slip back into the same state it was in before Israel's offensive, which began after Hezbollah guerrillas raided northern Israel on July 12 in fighting that left eight soldiers dead and two captured.
"Who could imagine that such a drama could happen again?" French Ambassador Jean-Marc de La Sabliere said. "It would be irresponsible."
Previous U.N. demands ignored
The U.S. and France had to compromise to get the draft adopted.
Washington backed off its demand for a package of immediate steps, including the deployment of the international force in conjunction with a cease-fire.
France gave up its desire for a blanket halt to violence, agreeing for the resolution to give Israel the right to conduct defensive operations — a term that the Israeli military could interpret broadly in response to any Hezbollah attack.

The draft made no direct demand for the release of the two captured Israeli soldiers. It only emphasized the need to address the causes "that have given rise to the current crisis," including freeing the abductees.
The Security Council has made the same demands previously — most recently with resolution 1559 in September 2004 — but Hezbollah has refused to obey.
"What we're trying to do is lay in the foundation so that you can finally enact the provisions of U.N. Security Council resolution 1559," Snow told reporters in Texas.
The resolution did not address a fundamental disagreement between Hezbollah and Israel, which occupied southern Lebanon in 1982-2000.
It asked U.N. Secretary-General Kofi Annan to play a key role in securing Israeli and Lebanese agreement to the principles for peace, giving him one month to work with the parties to come up with new proposals to implement the demands spelled out in resolution 1559 and elsewhere.
Hezbollah has said it would refuse to abide by any cease-fire until Israel withdraws from Lebanon, and Israel says it won't pull its troops out of the south until a significant international military force deploys in the region.
"We will abide by it on condition that no Israeli soldier remains inside Lebanese land. If they stay, we will not abide by it," said Mohammed Fneish, one of two Hezbollah Cabinet ministers in the Lebanese government.
Offensive winding down?
In Israel, Tourism Minister Isaac Herzog told Israel TV's Channel One that the agreement was an "important development," but said Israel would not halt its assault on Hezbollah for the time being. Still, he appeared to acknowledge the draft meant Israel's offensive would have to wind down soon.
"We still have the coming days for many military missions, but we have to know that the timetable is becoming increasingly shorter," he said.
U.S. Assistant Secretary of State David Welch also met with Lebanese officials in Beirut trying to pave the way for ending hostilities. He talked with Prime Minister Fuad Saniora and Parliament Speaker Nabih Berri, a prominent Shiite who has been negotiating on behalf of Hezbollah.
While meeting fierce resistance in southern Lebanon, the Israeli army claimed progress. Commanders said Israeli troops had knocked out half of Hezbollah's long-range rockets and seized positions in or near 20 towns and villages as part its drive to carve out a five-mile zone along the border free of Hezbollah fighters.
"We plan to carry out the whole mission," Defense Minister Amir Peretz said. "Hezbollah must not have illusions that we plan to give in."