/ Source: The Associated Press
A sport utility vehicle crammed with suspected illegal immigrants rolled over in an attempt to outrun Border Patrol agents, killing nine people and injuring at least 12 others, officials said.
Five of the injured were in critical condition, most with head trauma, a hospital spokeswoman said.
The large SUV was carrying up to 22 people when the driver had tried to circumvent a checkpoint on the highway, Border Patrol spokesman Lloyd Frers said.
With Border Patrol agents in pursuit, the driver attempted to make a U-turn and rolled over, Frers said. He did not know how fast either vehicle was traveling.
"The Suburban was grossly overloaded, and it's difficult to handle on that kind of (dirt) road," Frers said.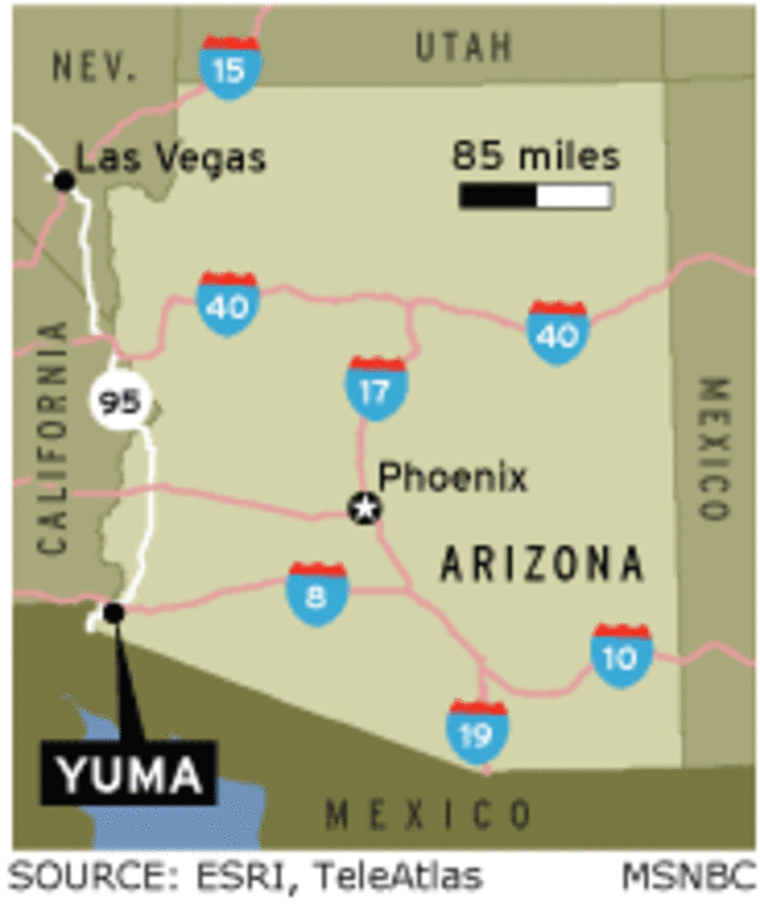 Sheriff's Maj. Leon Wilmot said the car had swerved to avoid a spike strip put out by Border Patrol agents.
Scores of illegal immigrants die each year while crossing the Mexican border into Arizona, many in car crashes. Smugglers often flee from authorities at high speeds or overload vehicles, which makes them difficult to control.
"They just pile in; they're like sardines," Frers said. "It's unfortunate."
Three of the injured were expected to be admitted to Yuma Regional Medical Center, but their conditions were not known, spokeswoman Machele Headington said. Three others were treated and released to the custody of the Border Patrol, she said.
Hotspot for smuggling
The Yuma area, a sandy stretch of desert in southwestern Arizona, has become the nation's busiest immigrant-smuggling hotspot. President Bush visited the area in May as part of his push for a sweeping overhaul of immigration laws.
Last month, after a crackdown on illegal border crossing, the Border Patrol's Yuma Sector reported a 48 percent drop in migrant arrests — from 11,522 in June 2005 to 6,030 in June this year.
The road runs through the Army's Yuma Proving Ground, and agents from the Border Patrol's El Centro, Calif., sector, who have been helping man highway checkpoints in the area, were involved in the incident, said spokeswoman Veronica Lozano.