/ Source: Special to msnbc.com
Imagine a hotel designed like a gigantic terrarium, set in the center of a modern metropolis. No, wait, make it an oceanfront resort where your guestroom is also a houseboat that can be sailed around the local waters. Oh, what the heck, how about a high-rise that hangs down from the Antarctic ice sheet?
Actually, they've already been imagined for you, courtesy of the winners of a just-concluded design competition called, "Hospitality Transformed: Resort Hotels in 2055."
Sure, they're imaginary, but they offer insights on how the travel trends of today may give rise to the hotels and resorts of tomorrow.
The competition invited entrants to explore how and where hotels and resorts might be built in an age of advanced technology and customizable consumer experiences. Using advanced building-modeling software, architecture students from 84 universities in 24 countries set out to answer the question: "What will our vacation experience be like in the year 2055?"
"I was impressed with the students' ability to envision technology that has yet to be invented," says Howard Wolff, senior vice president at Wimberly Allison Tong & Goo, a destination design firm that helped sponsor the contest. "They tackled some tough issues like sustainable design and urban revitalization without losing sight of the guest experience and the human desire for personalization and customization."
Truth be told, I'm not too sure what that last bit means, but I do know this: George Jetson would love these places. What do you say we take a peek inside?
An urban oasis
The way Lionel Leow and Yanling Tay of the Delft University of Technology see it, 80 percent of the world's population will live in dense urban centers by the year 2055. Surrounded by a metastasizing expanse of steel and concrete, they'll become desperately hungry for a natural world that's increasingly out of reach.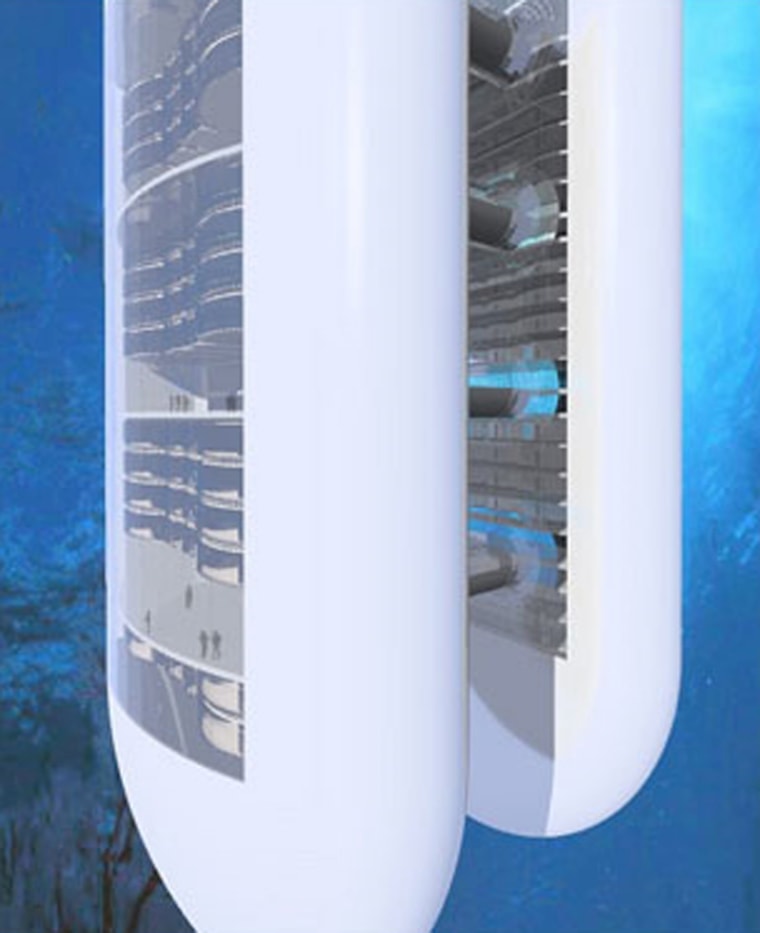 So why not bring nature to the city? Their Hotel Archipelago (Second Place) would do just that by enclosing everything -- rooms, restaurants, gardens, and grounds -- inside a massive glass box. Lining the sides of the structure, guestrooms and suites would overlook a hermetically sealed landscape complete with pools, walkways, and gardens modeled after those of Europe, China, and Japan.
The result would be a rejuvenating haven for nature-starved travelers. Either that, or it will be the biggest terrarium the world has ever seen.
Then there's the Vu'ng Nu'oc Hotel (Honorable Mention), designed by Ryan Dick, a student at the University of Illinois Urbana-Champaign (UIUC). Set in Halong Bay, off the coast of Vietnam, his proposal would utilize a dam, man-made reservoir, and luxury houseboats to create a self-sustaining resort in a place currently devoid of any infrastructure at all.
It would work like this: Thanks to the area's ample rainfall (almost 80 inches per year), the proposed dam and the 30-million-gallon reservoir that would rise behind it would provide the hotel with drinking water, hydroelectric power, and irrigation for its terraced rice paddies. Purified and recirculated, the water would then be pumped up to a waterfall to start the process all over again.
As for guestrooms, many would be integrated into the dam wall and surrounding rice terraces, although savvy travelers may want to hold out for one of the luxury houseboats. (Care to buy? They also serve as time-share units). When docked, the houseboats plug right into the hotel's systems; unplugged, they'll be perfect for puttering around the bay.
Sleeping with the fishes
For sheer spunk, though, you've got to admire the Resort Hotel in Antarctica (a special-category winner) designed by Heehyun Nam, also of UIUC. That's because his hotel wouldn't really be in Antarctica, but rather, underneath it, hanging like an upside-down high-rise from the underside of the continent's massive ice shelf.
The hotel would consist of two long, elliptical pods set side by side -- picture a hotdog bun tipped up vertically -- and linked by tubular passageways. It would be wind-powered (via a turbine on the ice cap) and held in place by electromagnetic forces. Naturally, guests would arrive by submarine.
The idea is to provide a low-impact introduction to Antarctica that lets people experience the continent without overrunning it. Guests would spend their days in what would essentially be an inside-out aquarium, enjoying cocktails while schools of cod swim by or a bit of ballroom dancing as blue whales bob outside the window. Alas, rooms with balconies probably won't be an option.
Of course, this and the other proposed hotels are just that, proposed hotels. (Actually, the first-place winner, a "corporate resort" with expandable/compressible guestrooms and public areas, seems almost buildable.) In the end, they're more about potential than actual pillows and swimming pools. Yet, even if they never get built, the ideas they engender may just lead to something we won't have to wait 50 years to book.