/ Source: NBC News and news services
Israel shut down south Lebanon with a threat to blast any moving vehicles, as ground fighting intensified near the Israeli border, airstrikes killed at least 19 civilians and Arab governments called for a full Israeli withdrawal as a condition of any cease-fire.
With U.S., French and Arab negotiators meeting into the evening at the United Nations, Israel voiced cautious interest in a Lebanese proposal to deploy 15,000 soldiers to control the ground in south Lebanon where Hezbollah has been firing missiles into Israel.
But the warring sides appeared to be some distance apart on the text of a possible resolution, now not expected to come before the Security Council before Thursday.
And Tuesday evening, NBC News' Andrea Mitchell reported a new development at the United Nations. After meetings between the U.S., French and Arab League representatives Tuesday night, diplomatic sources told NBC that the French have agreed to rewrite the U.N. resolution to include language the Lebanese are demanding, language that calls for an Israeli withdrawal.
If so, that would cross "red lines" established by the United States and make the resolution no longer acceptable to the U.S. or to Israel.
Resolving this will require more negotiations in the morning. People close to the talks tell NBC that this could delay getting a draft resolution for 24 hours, or longer.
Almost 800 dead
After four weeks of fighting, nearly 800 people have died on both sides. Rescuers in Lebanon pulled 28 additional corpses from the wreckage of Monday's attacks, raising that day's toll to 77 Lebanese — the deadliest single day of the war.
Early Wednesday, Israeli gunboats shelled a Palestinian refugee camp in south Lebanon, killing at least one person and wounding three others, Lebanese and Palestinian officials said.
The shelling was the first time Israel attacked the camp since the fighting between the Jewish state and Hezbollah began more than four weeks ago.
'Not enough' humanitarian aid
In Tyre, part of the south Lebanon region where Israel declared the no-drive zone, only pedestrians ventured into the streets. Country roads and highways were deserted throughout the region because of the Israeli threat. Although Israel said it would not attack humanitarian convoys, the U.N. was not taking any chances.
NBC News' Richard Engel said the Israeli army dropped leaflets in Tyre, warning residents that any car moving in the city below the Litani River would be considered a target.
Engel reported that most shops were closed and few cars were on the road. Lebanese residents said the Israeli leaflets were psychological warfare.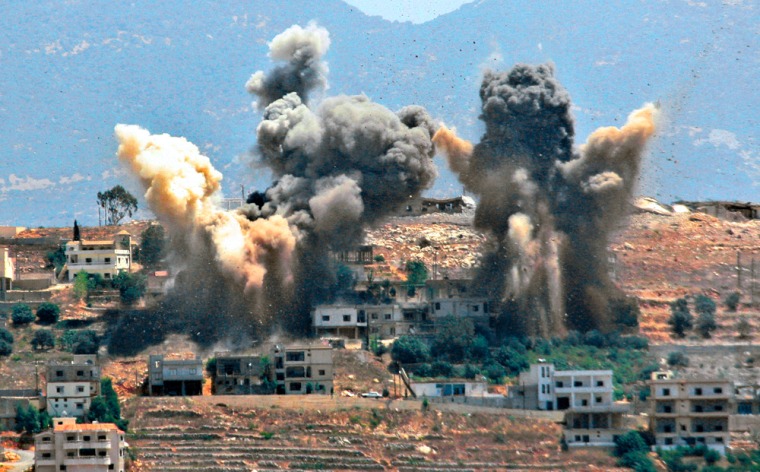 NBC News' Charles Hadlock reported Tuesday that the Israeli government was offering remaining residents in the Israeli border town of Metula a chance to get away from the war zone for a few days. The town of 17,000 has been hit by dozens of rockets since fighting broke out.
"There are two words that sum up where the humanitarian situation is, and these are 'not enough,"' said Wivina Belmonte of the U.N. Children's Fund. "Fuel supplies are not enough, hospitals are on life support, supplies of humanitarian goods trying to get into the country are not enough."
At least 160 Hezbollah rockets hit northern Israel, most of them in and around the towns of Nahariya, Kiryat Shemona, Maalot, Safed. No Israeli civilians were killed.
Some of the fiercest ground fighting raged around the village of Bint Jbail, a Hezbollah stronghold that Israeli has tried to capture for weeks. Three Israel soldiers were killed there Tuesday, the military said, claiming 35 Hezbollah guerrillas died in the fighting. Hezbollah would not confirm any deaths.
Olmert: Lebanon plan looks 'interesting'
The issue of who will patrol southern Lebanon, where Hezbollah militants have been operating in their fight against Israel, has become the dominant sticking point in cease-fire negotiations at the United Nations.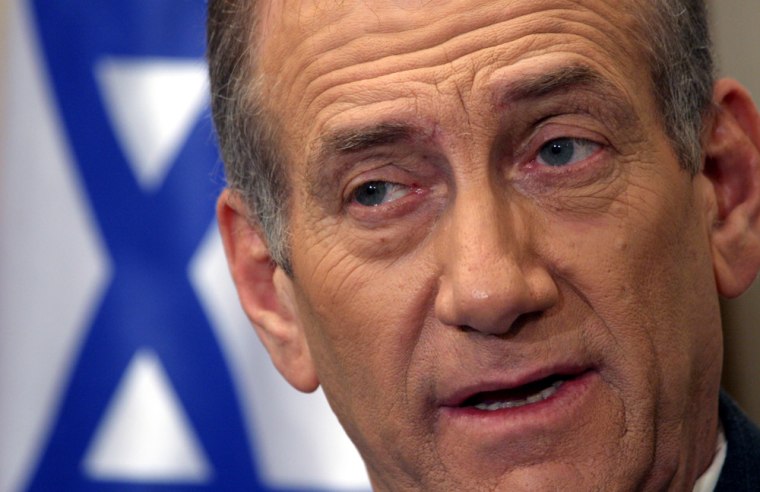 Israeli ground troops currently are in the area, and Lebanon and other Arab nations are insisting they must leave when a cease-fire agreement is reached.
President Bush says he wants an international force to replace the Israeli soldiers, but that could take weeks.
Both Israel and the United States issued positive, if lukewarm, assessments Tuesday of the Lebanese government's plan to dispatch 15,000 soldiers into south Lebanon after a cease-fire and the withdrawal of Israeli forces.
"It looks interesting and we will examine it closely," Israeli Prime Minister Ehud Olmert said.
'The proper way'
The White House said it was willing to consider the proposal but is convinced that Lebanon is not equipped to handle the job on its own.
"The administration understands that the Lebanese armed forces are going to need some help, and we're working with allies to try to figure out the proper way to do it," White House press secretary Tony Snow told reporters gathered near the president's vacation home.
A day after his Cabinet conditionally approved dispatching the troops to the south, Lebanese Prime Minister Fuad Saniora praised Hezbollah's resistance, but said it was time for Lebanon to "impose its full control, authority and presence" nationwide — as directed in previous U.N. resolutions that also called for the government to disarm Hezbollah.
"There will be no authority, no one in command, no weapons other than those of the Lebanese state," he said on Al-Arabiya television.
Room for limited compromise?
The U.N. Security Council put off for at least one day voting on a U.S.-French cease-fire proposal to allow three leading Arab officials to present arguments that the resolution was heavily tilted in favor of Israel and did not "take Lebanon's interest and stability into account." Both the U.S. and French envoys to the U.N. indicated there might be room for limited compromise.
Travel in Lebanon's south has been severely limited since early in the conflict because roads were cut by Israeli airstrikes, many civilians were killed trying to flee the fighting, and rescue and aid workers also were in danger.
But residents had been able to move in vehicles with relative safety inside towns and villages to continue daily routines. Now, with Israel declaring a no-drive zone extending some 18 miles from the border to the Litani River, they are feeling trapped in their homes as well as under constant threat of air attacks.
The United Nations suspended attempts to send relief to southern Lebanon because of heavy shelling in the area, said Christian Berthiaume of the World Food Program in Geneva, Switzerland. However, aid shipments were arriving elsewhere in the country.
"The Israeli forces were warning today, saying that there shouldn't be any vehicles in the southern part of Lebanon," Berthiaume said. "They had exempted humanitarian convoys (but) we decided not to go because there has been heavy shelling the last 24 hours."
The WFP and other U.N. relief agencies said they were frustrated over the difficulty of moving aid into Lebanon, and said what they had brought in so far was insufficient.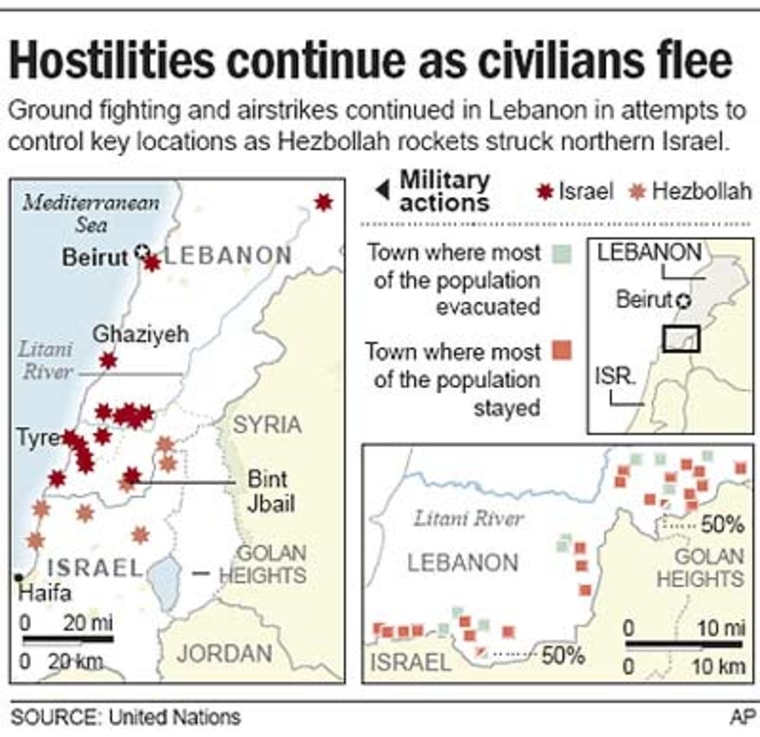 Death toll rises
The total number of Lebanese civilian deaths rose by 47 Tuesday, as rescue workers pulled 14 more bodies from the wreckage to two buildings in south Beirut that were hit by Israeli missiles the night before. The toll in that attack now stands at 30.
All but six of the Lebanese civilians killed Tuesday died in air raids that Israel said targeted guerrilla rocket positions near the Mediterranean port of Sidon.
Since the fighting began, at least 689 people have died on the Lebanese side of the conflict. The Israeli toll stood at 100 killed — 36 civilians and 65 soldiers.
One of the most tragic stories was that of Ali Rmeity. He was badly wounded and winced with pain in the Mount Lebanon hospital near Beirut. Three of his children were dead and his only surviving son was in intensive care. He hadn't been told because doctors said they feared the 45-year-old could not stand the shock.
Rmeity was at home with his wife and four children shortly after nightfall Monday when Israeli missiles slammed into their apartment building in the predominantly Shiite southern Beirut suburb of Chiah.
'Crying for help'
Half of the 30 people killed in the strike were from Rmeity's family.
"I had been feeling tired, so I went into the bedroom and laid down on the bed. Five minutes later the bombs fell and I found myself crying for help under the rubble," Rmeity said Tuesday. "My wife who was on the balcony was thrown in the air. They found her somewhere, I don't know where."
His wife, Hoda, was being treated in an adjacent room for severe lung injuries and several fractures. Their 9-year-old son, Hussein, was in intensive care with head trauma and brain contusion.
The Rmeitys three other children — Mohammed, 22, Fatima, 19, and 16-year-old Malak — were killed. So were Ali Rmeity's parents, his three brothers and two sisters. His brother's family, who lived in the same building, also died.