/ Source: The Associated Press
A volcano in the Philippines showed more signs of erupting Tuesday, belching ash three times overnight as officials evacuated tens of thousands of villagers.
The Philippine Institute of Volcanology and Seismology raised the alert for the 8,118-foot Mayon volcano to Level 4 on Monday — the second highest level — after six explosions sent ash columns up to a half mile high. The explosions prompted the mandatory evacuation of about 35,000 villagers in Albay province, about 210 miles southeast of Manila on Luzon island.
Officials also extended the government's permanent "danger zone" from 4.3 miles to 5 miles on the volcano's southern side.
Mayon ejected ash at least three times late Monday and was emitting unusually high volumes of sulfuric dioxide, said volcanologist Ed Laguerta. He said instruments detected more than 100 volcanic earthquakes overnight, mostly unfelt by humans.
"This means there is more magma rising from beneath the volcano," he said.
More than 28,600 of the 35,000 villagers who were ordered to leave their villages on the southeast slopes of the volcano had been evacuated by late Tuesday, said Jukes Nunez of the Provincial Disaster Coordinating Council of Albay province.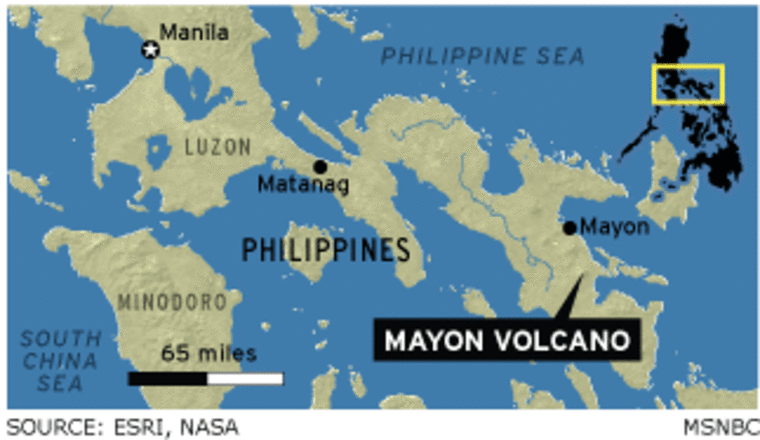 An additional 20,000 people would have to be moved out of harm's way in case of a major eruption, said Albay Gov. Fernando Gonzalez.
'We are confident'
President Gloria Macapagal Arroyo commended authorities for an orderly evacuation so far and predicted no casualties even if a major eruption occurs. She assured evacuees there would be enough food rations and services in temporary shelters.
"With the ... effective handling of this crisis, we are confident of achieving a zero-casualty goal in this looming natural disaster," she said. "We call on the local residents not to flirt with danger by going back to the declared danger zones."
Despite the mandatory evacuations, many villagers stayed put on farms around Mayon to tend their crops and livestock while guarding their homes and belongings.
In Matanag, a farming village of about 1,400 people, about 600 residents left Monday, but many more chose to stay behind. An army truck sat at the village entrance, ready to assist in a quick escape and soldiers dropped a coconut tree across the road to Matanag to block incoming traffic.
"My mother said that we would not evacuate now unless it's really urgent and there's a big eruption," 13-year-old Jennilyn Nantes said as she walked to school.
Lava began flowing from the volcano on July 14 and has been slowly extending down Mayon's slopes. Its most violent eruption, in 1814, killed more than 1,200 people and buried a town in mud. A 1993 eruption killed 79 people.
The Philippines is in the Pacific "Ring of Fire," where volcanic activity and earthquakes are common.