/ Source: The Associated Press
Theone Watts is pulling waterlogged drywall out of her modest brick home, determined to gut and rebuild. So far, she is doing it with little government help.
"The money would help a great deal," said Watts, a 57-year-old resident of New Orleans' once-bustling Gentilly neighborhood. "But as I see it, a lot of it is going to have to be self-done. It's frustrating the money is slow to come."
More than 11 months after Hurricane Katrina, Louisiana's "Road Home" housing-aid program for victims of Katrina and Hurricane Rita has yet to come through with money for Watts or the roughly 100,000 others who have applied.
The first anniversary of Katrina at the end of August could come and go before they see the first dime. And it could be more than two years before the last of the money is handed out.
Designed by the state and funded by the federal government, the $7.5 billion Road Home will be one of the largest redevelopment programs in U.S. history. Road Home will provide grants of up to $150,000 per homeowner to buy them out or help them repair or rebuild.
Help on the way — eventually
It is for Louisiana residents with extensive home damage, and the idea is to make homeowners whole again, by giving them as close as possible to what they had before the storm.
But the bulk of the federal funding was not approved until almost 10 months after Katrina, caught up in disputes over the costs of the Iraq war and other spending. And the program had to run a gantlet of additional state and federal approvals.
Watts and others who can scrape together insurance dollars, loans or savings are rebuilding on their own for now. But others can only wait.
"I think there's a lot more waiting than have started in Cameron Parish," said Tina Horne, administrator of the southwestern Louisiana parish hard-hit by Rita, which flattened homes, fishing and hunting camps, and fields of sugar cane.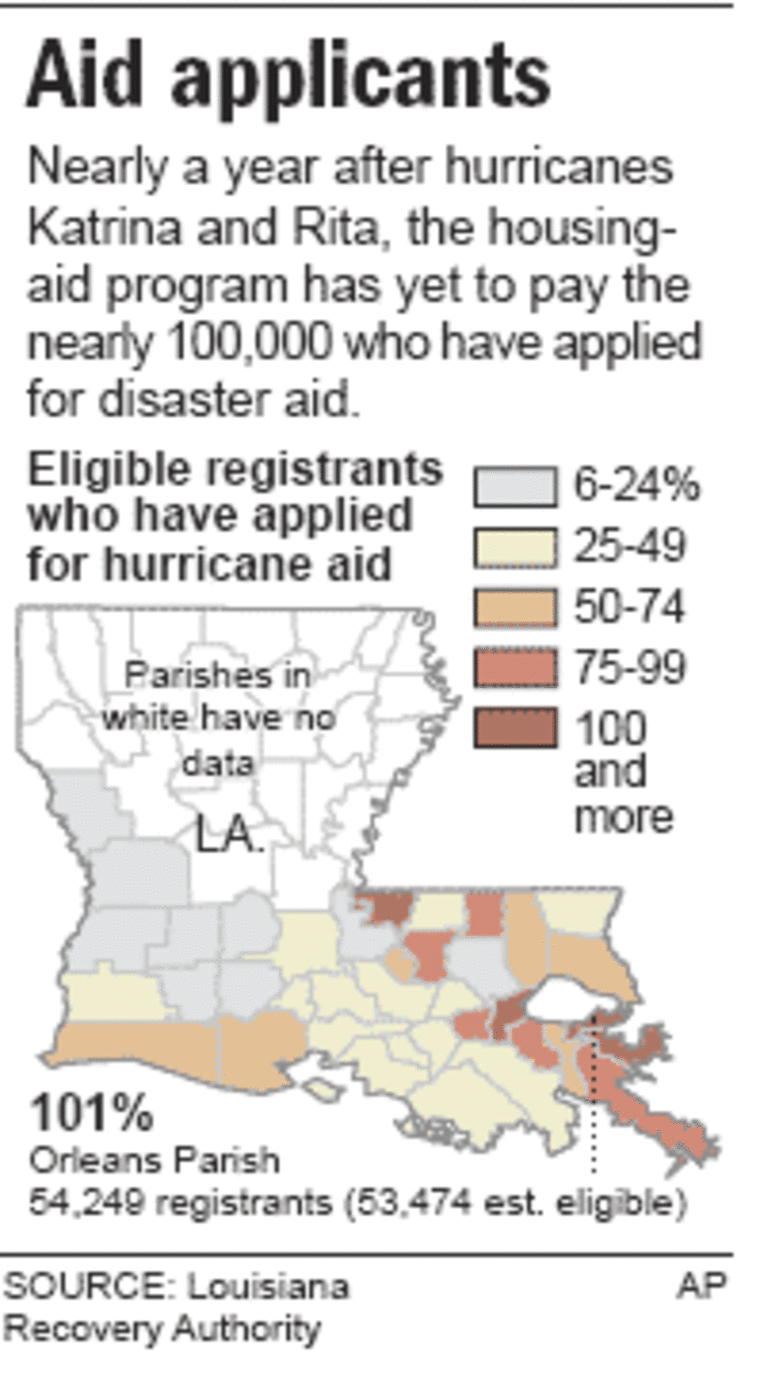 State officials hope the housing aid will start flowing before the end of August.
"We're going to move as rapidly as possible," said Michael Byrne, chief program executive for ICF International Inc., a Virginia consulting firm picked to run Louisiana's program.
Mississippi is setting up its own housing-aid program with federal dollars, but only for flooded-out homeowners who lived outside the floodplain. Grants are capped at $150,000. More than 16,500 people have applied, and the first applications have been approved, said Scott Hamilton of the Mississippi Development Authority.
In Louisiana, homeowners will need home inspections and damage assessments to determine if they are eligible. Title searches will also be have to be done to confirm the applicant owns the property. And any title disputes will add to the delays.
Dollars regulated
The grants will not arrive by check, but will instead be deposited in escrow-like accounts for people to draw down as needed to ensure they spend the money properly.
Those who were in a floodplain and had no flood insurance will have a 30 percent penalty taken off what they can receive. Homeowners who do not want to rebuild in Louisiana will get buyouts of as much as 60 percent of their homes' pre-storm value, up to the $150,000 cap. Any insurance proceeds will be deducted from the grant.
In New Orleans' well-to-do Lakeview section, volunteers from a church helped Eddie Bertrand carry soggy insulation and moldy debris from his home. Bertrand said that the insurance proceeds he received had already been put toward his mortgage.
What was left for rebuilding? "Pocket change," the 44-year-old replied.
Bertrand was skeptical of Road Home.
"You hear good news, then you find out it's far down the road. It seems like the Road Home is going to take place; I just don't naturally believe it's going to be enough. It won't make people whole," he said.