/ Source: BusinessWeek Online
Luxury nameplates are increasingly feeling the hot breath of mass-market brands on the nape of their necks. J.D. Power and Associates' 2006 Vehicle Dependability Survey, released Wednesday, shows that the breach in long-term quality between luxury and non-luxury cars is closing rapidly, shrinking in half over the last four years.
For many analysts and observers, the owner survey serves as a longer-term barometer of industry trends. According to the study, which records the number of problems reported by original owners of three-year-old models, the gap in problems between luxury and non-luxury brands has declined from 31 problems per 100 vehicles in 2003 to 15 problems per 100 vehicles in 2006, a reduction of 50 percent.
Non-luxury brands have made considerable strides in categories that significantly affect customer satisfaction. The two major categories where significant improvements were recorded include ride, handling, and braking, on the one hand, and engine and transmission on the other.
Old favorites remain strong
That's very likely a result of increasing use of shared platforms, which can endow less expensive cars with the characteristics and driving dynamics of retired luxury vehicles. For instance, DaimlerChrysler's wildly successful Chrysler 300 C is based on an older platform built by Mercedes-Benz and some Ford vehicles share elements with Volvos. "In general," says Neal Oddes, J.D. Power's director of product research and analysis, "we're seeing that platform sharing is paying off since the practice distributes similar benefits to multiple models."
Indeed, less expensive nameplates and luxury brands are increasingly hobnobbing at the top of J.D. Power's list. Though Lexus retains the top spot, second- and third-place honors go to Ford Motor-owned Mercury (F) and General Motors-controlled Buick. Both are considered premium brands, with prices spanning from low- to high-end markets.
Old favorites have, nevertheless, stayed strong. Cadillac improved its standings, moving from fifth to fourth place. Despite the looming burden of more and more costly recalls, Toyota  continues to dominate rankings. Not only was it fifth in the overall rankings, four individual vehicles from its luxury division Lexus and four Toyota-badged vehicles took top spots in the segment rankings.
Gainers and losers
Domestic manufacturers have largely managed to pull ahead of the industry average. Of the 13 brands that ranked ahead of that average, the majority were American. In fact, six were U.S.-based brands, five Japanese, and of the other two, one was German and one was British. Chrysler, Pontiac, and GMC, meanwhile, clung close to the industry average but did not do better.
Of the best-performing brands, three are owned by Ford, which is looking to possibly sell off pieces of its Premier Automotive group in efforts to stave off a rapidly worsening financial picture. Notably, Jaguar and Land Rover — two of the brands potentially up for grabs—couldn't be further apart from each other, the former taking ninth place and the latter dead last.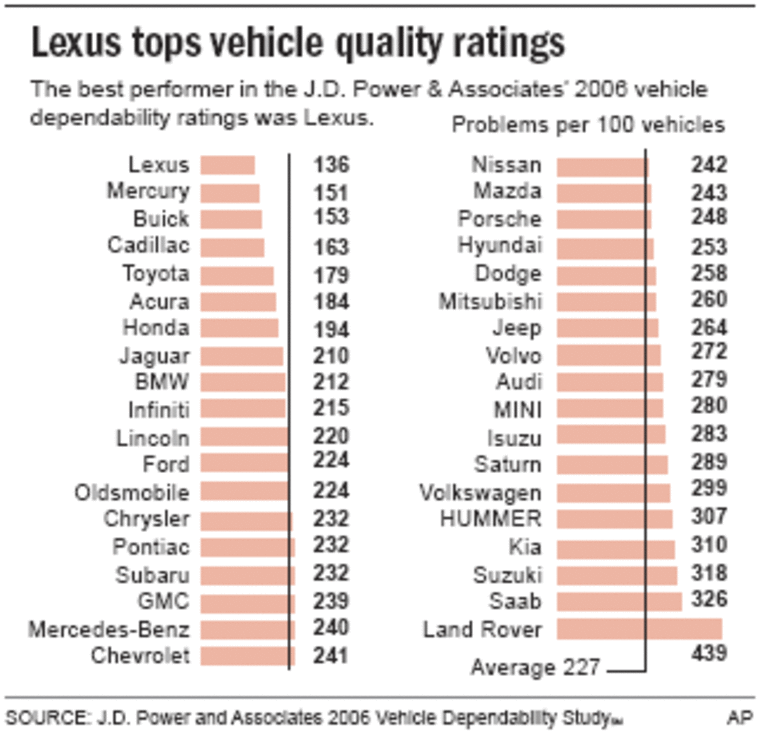 There were some dramatic gains and losses, as well. Porsche, most notably, which took second place in last year's results, dropped a whopping 20 slots. MINI and Kia improved the most, 27 percent and 22 percent respectively, though both rank below the industry average. Kia's progress in recent years has been notable for improving twice as much as any competitor in the last three years. Of the five least-dependable brands, four were imports. Land Rover, at the bottom of the list, was a shocking 26 percent worse than the next worst, Saab.
Bottom-line impact
At a glance, the list may appear obsolete. After all, the best-performing subcompact and entry premium cars aren't even available anymore. But, the results of such surveys still impact consumer opinions, especially during the buying process. Oddes says mass-market brands can leverage dependability results with potential customers. "The manufacturers have taken our data very seriously and are trying to get quality into the initial design process," he says.
The results have implications for the bottom lines of auto manufacturers as well. Manufacturers use such lists to identify potentially expensive warranty claims and curtail future costs. Vehicles with higher dependability levels retain their value longer, and are more commonly recommended and repurchased. Oddes notes that sales to loyal customers, i.e. individuals returning to the same brand name, usually net dealers about $250 more in profit than sales to other types of customers.
(J.D. Power and Associates is a division of McGraw-Hill (MHP), which also owns BusinessWeek.com.)