/ Source: The Associated Press
The shutdown of a large Alaskan oil field because of a small leak in one of the pipes is raising questions about whether there are more widespread problems in other pipelines used to transport oil throughout the United States.
For decades, some critics charge, lax government regulation combined with corporate unwillingness to make costly repairs has allowed corrosion and other wear-and-tear issues to fester.
"I think all the pipelines are in trouble regardless of who operates or who owns them," said Dan Lawn, who previously worked for the Alaska Department of Environment Conservation and is now with the Alaska Forum for Environmental Responsibility, a watchdog group.
The concerns extend beyond corrosion in the pipes, said Stan Stephens, president of the Prince William Sound Regional Citizens Advisory Council, which was formed by federal mandate after the Exxon Valdez spill to advise the industry about potential environmental problems.
Stephens also worries about general maintenance of the aging pipeline system, as well as environmental and safety issues with shipping and storage. He charges that the government has not done enough to force companies to maintain the system.
Doing the right thing
"They have a system that just fails to just really do a good job of oversight," Stephens said. "There's nobody like the state and federal government that's forcing them to do the right thing."
Earlier this week, BP PLC said it would shut down Prudhoe Bay — the biggest oil field in the nation — because of a small leak and severe pipeline corrosion. Energy officials have said the pipeline repairs are likely to take months, curtailing Alaskan production into next year.
The Prudhoe Bay oil field operated by BP accounts for 8 percent of domestic output.
Oil and gas industry officials defend their monitoring practices, although they concede that the leak discovery raises troubling questions.
"We were shocked and disappointed when we saw the results of our inspection," said Scott Dean, spokesman with BP PLC. "Even though we believe we had a very comprehensive and rigorous inspection program, it was clearly not enough."
Dean said BP plans to take steps to replace 16 miles of pipeline that might be affected by corrosion, although the company hopes it will be able to continue to run the oil at a lower capacity during the repairs.
'A unique problem'
Still, Dean said the company has tested other pipelines in the Prudhoe Bay network. "We believe this is a unique problem," Dean said.
Other companies argue that they, too, have been vigilant about inspecting pipes for signs of leaks.
ConocoPhillips, which operates the Greater Kuparuk Area field about 40 miles west of Prudhoe Bay, said it is constantly reviewing its inspection program and will spend $30 million on maintenance this year. BP has allocated $72 million for its corrosion program this year.
Still, the recent issues in Prudhoe Bay have prompted heightened concerns.
Alyeska Pipeline Service Co., which operates and maintains the trans-Alaska pipeline, began a high-tech inspection of its pipeline following a March spill, when corrosion in another BP transit line in Prudhoe Bay caused a spill of up to 267,000 gallons.
The inspection, which originally had been slated for 2007, is about 25 percent complete, said Mike Heatwole, spokesman for Alyeska. But Heatwole said it's too early to say whether there is evidence of corrosion concerns.
Oil from the Prudhoe Bay site feeds into the 800-mile trans-Alaska system.
Problems are not isolated
Alaska government regulators also have stepped up oversight since March, amid concerns that the problems are not isolated.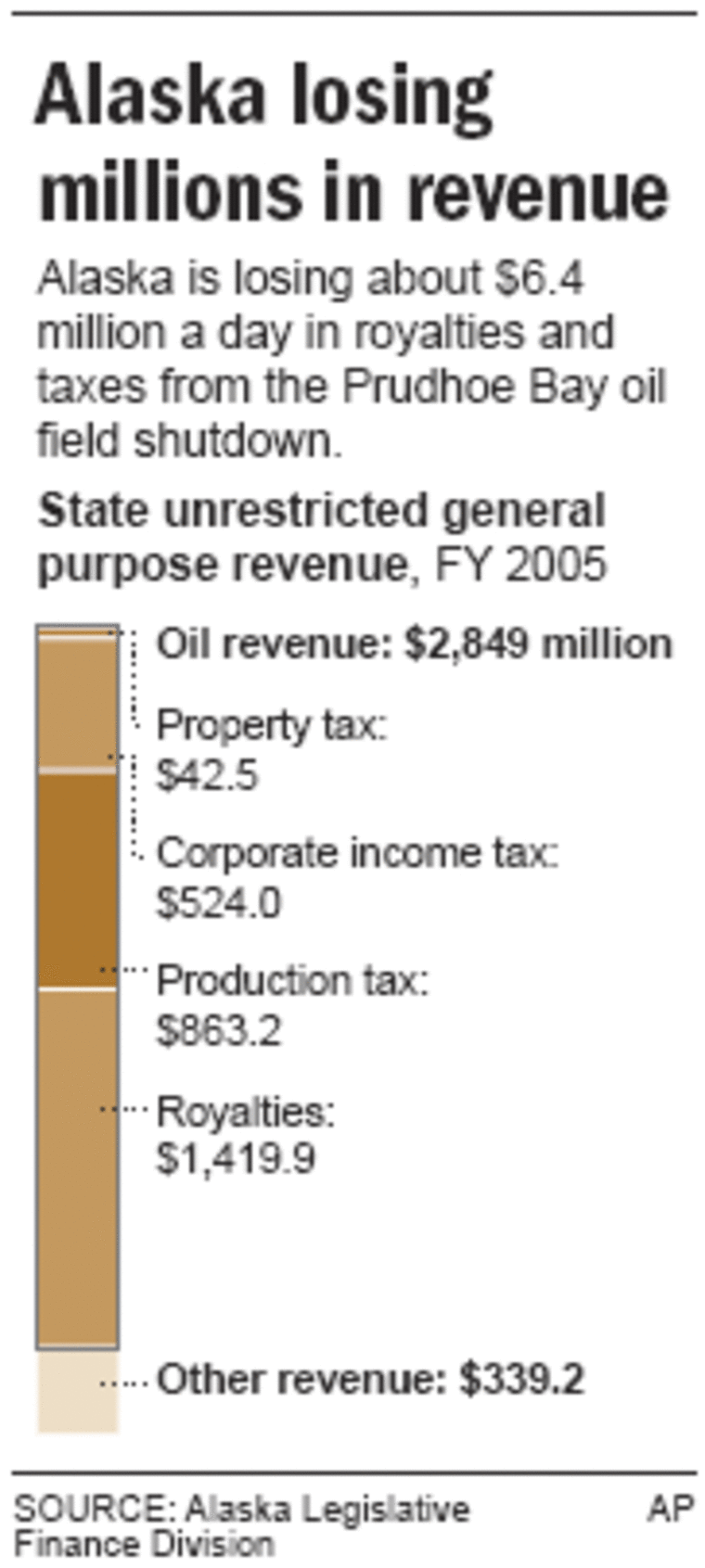 "I think after the March spill we did believe that there was a bigger problem," said Lynda Giguere, spokesman for the Alaska DEC.
Other government regulators are more even critical, claiming industry officials needed to be doing more sooner.
Thomas J. Barrett, administrator of the Department of Transportation's Pipeline and Hazardous Materials Safety Administration, said the industry didn't do enough to care for the pipelines in the years prior to the March spill.
Fadel Gheit, senior energy analyst with Oppenheimer & Co., says it's clear that not everyone in the industry has been subjecting their pipelines to rigorous corrosion checks.
But he thinks this shutdown will serve as a wakeup call, forcing everyone to rethink and ultimately improve their practices. He likens it to the deadly car crashes that eventually prompted widespread use of seat belts.
'It took an accident to get people to pay attention'
"We are going to see more and more companies making routine exams," he said. "Unfortunately, it took an accident to get people to pay attention."
But in the meantime, there are still concerns about what this recent leak will mean for the short-term oil supply. Dean, the BP spokesman, said the company is working with suppliers to get replacement pipeline quickly to the site.
BP has approached the Japanese firm JFE Holdings Inc. and other steel producers about buying 18-inch pipe to replace the corroded sections at Prudhoe Bay, said David Belvin, senior technology manager of sales and service at JFE's Houston office.
Belvin said the company is asking for deliveries in September, which will be a challenge.
Although pipeline work in Alaska is generally done in winter, when the frozen ground makes surface transpiration easier, sections of pipe measuring at least 40 feet could be flown in and welded together sooner, he said.
"Can they work there now? Yes, they can," Belvin said.
Like other steel industry players, JFE is currently very busy, "but can we make some exceptions? I think we're going to," he said, adding that Nippon Steel Corp.'s land pipe operation is booked until September of next year.
"I think BP will have to pay a premium to get it sooner," he said. "They're going to have to break into someone's production ... they're going to have to pay a penalty."